Manchester United are blessed with stars, but Zlatan Ibrahimovic combined attitude with sublime talent to lead comeback against Liverpool
The Swede led the line and led by example as United dragged themselves back into a curious match against their rivals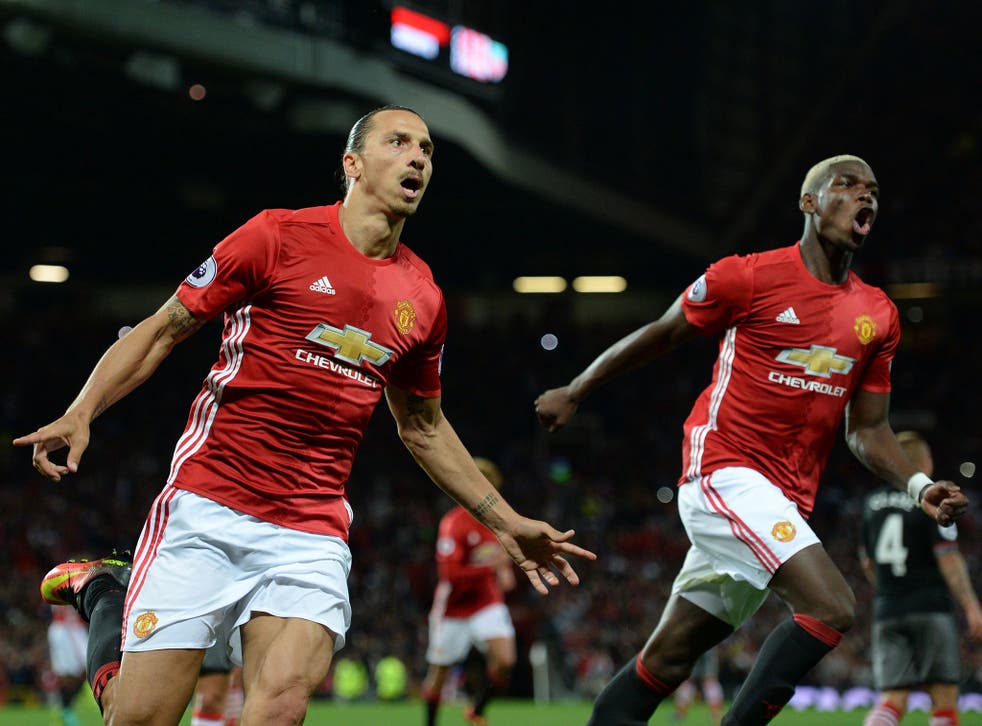 It is hard to believe as you watched him pump his arms towards the stands to demand more noise, more passion as Old Trafford celebrated his equaliser but of the men who Jose Mourinho brought to Manchester in the summer, none was accompanied by more shrugs of the shoulders than Zlatan Ibrahimovic.
He was in his mid-30s, he had relentlessly travelled around the great centres of European football - Milan, Barcelona and Paris - signing ever more lucrative contracts. He may have turned down the Chinese Super League but United's £250,000 a week would be an integral part of his pension plan.
When Louis van Gaal began bringing players he had worked with at Ajax to Barcelona in the late 1990s, Mourinho accused him of playing safe. It showed no sense of adventure. "It is like going on holiday with your parents," Mourinho said.
Bringing Zlatan to Old Trafford was Mourinho holidaying with his parents and it has been quite a lark. Just before they faced Liverpool in the most important fixture of the season, Ibrahimovic gave an interview in which he claimed "to have conquered England in three months."
Like most of Ibrahimovic's statements it was a topping of ego and hyperbole layered on a sponge base of truth. His fitness, precision and coolness when it mattered have dragged Manchester United forward. This was his 19th goal of a season that has seen United entrenched in what for Mourinho and Ibrahimovic is the unusual position of sixth place.
At the final whistle, the man himself was more downbeat than he had been before kick-off. "We got one point, we were not at the top of our game," he said. "We made simple mistakes." He might have added that Manchester United probably deserved to win this, just as Liverpool should have won at Anfield in September.
The second game pitching Manchester against Merseyside may not have carried the emphatic, knockout quality of Everton's rout of City earlier in the afternoon but Liverpool would have been happier at the final whistle.
They had not won at Old Trafford since March 2014 when a team spearheaded by Steven Gerrard and Luis Suarez – players of the quality not available to Klopp's starting line-up – had persuaded the men in the directors' box that David Moyes's six-year contract was not something they should honour.
Klopp's side might, however, be harder and more cold-eyed when it matters than Brendan Rodgers had been. Rodgers had never won silverware, Klopp most emphatically has, including two Bundesliga titles wrested from the grip of Bayern Munich.
More than any other member of the top six, Liverpool under Klopp have perfected the art of winning big. In a table that included just the top six, Liverpool would be runaway leaders with 12 points from six matches. Manchester United would be scrapping it out for last place with Arsenal.
Manchester United would have expected to win this. Liverpool were playing in the kind of high visibility yellow favoured by lollipop ladies and cyclists on dark winter nights. It was also the kind of yellow worn by Claudio Bravo during Manchester City's humiliation at Everton earlier in the afternoon.
Given that they had already lost Sadio Mane to the Africa Cup of Nations, had felt unable to select Joel Matip because of arguments that he should be at the Africa Cup of Nations and lost Nathanial Clyne to injury and had to start Philippe Coutinho on the bench, Jurgen Klopp would have taken a draw.
Manchester United vs Liverpool player ratings

Show all 22
It was a neat contrast that Liverpool's goalscorer should have been James Milner. Given that he has played for Leeds, Manchester City and Liverpool, Milner is not a man who would naturally endear himself to the Stretford End. They may love him a little less after the penalty that gave Liverpool a point.
The two similarities between Milner and Ibrahimovic is that both men speak Spanish and are teetotal. Milner has played in virtually every position except goalkeeper and centre-forward and he started as left back here. But Zlatan would have admired Milner's penalty. In terms of commitment and ability they are made of the same flesh.
Register for free to continue reading
Registration is a free and easy way to support our truly independent journalism
By registering, you will also enjoy limited access to Premium articles, exclusive newsletters, commenting, and virtual events with our leading journalists
Already have an account? sign in
Register for free to continue reading
Registration is a free and easy way to support our truly independent journalism
By registering, you will also enjoy limited access to Premium articles, exclusive newsletters, commenting, and virtual events with our leading journalists
Already have an account? sign in
Join our new commenting forum
Join thought-provoking conversations, follow other Independent readers and see their replies