Russia banned from making Euro 2028 bid as part of Uefa measures
Portugal will also replace Russia in the women's Euros in England this summer while Russian clubs have been banned from next season's Champions League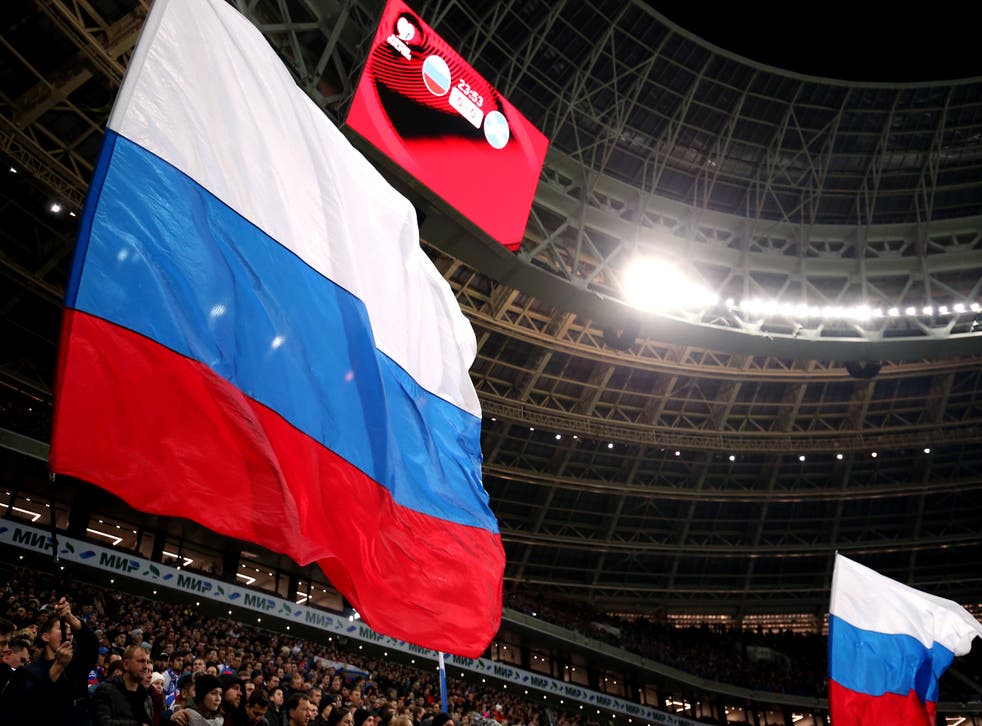 Russia have been banned from making a bid to host the men's European championships in both 2028 and 2032, as part of a number of sanctions announced by Uefa relating to the country's continued suspension from international football.
Russia had declared an interest in rivalling the UK and Ireland for the right to host Euro 2028 but will not be allowed to continue its bid following the country's invasion of Ukraine.
It comes as Uefa reached decisions on a number of areas relating to Russia's involvement in continental competitions.
Portugal will replace Russia in the women's Euros in England this summer, while Russian clubs have been banned from next season's Champions League.
Russia will also take no part in next season's Uefa Nations League and has been blocked from continuing its qualification bid for the 2023 Women's World Cup.
The ban of Russian clubs in European club competition also extends to the Europa League, Uefa Conference League, Women's Champions League and Uefa Youth League.
St Petersburg was stripped of hosting the Champions League final as part of their initial sanctions against Russia announced in March in the wake of the invasion of Ukraine.
Russia was also suspended from international football by Fifa and was kicked out of the European play-offs for the 2022 World Cup in Qatar.
The UK and Ireland were joined by Russia and Turkey in signalling their interest to bid for hosting rights of Euro 2028, with Russia and Turkey also bidding for Euro 2032 alongside Italy.
Portugal were defeated by Russia in a play-off for this summer's women's Euros and will join the Netherlands, Sweden and Switzerland in Group C of the tournament.
Russia's Champions League exclusion means the Premiership champions in Scotland will qualify directly for the group stages regardless of who wins this year's tournament – a scenario which appeared likely as only Villarreal, 2-0 down to Liverpool going into the semi-final second leg, could prevent it.
Zenit St Petersburg have been crowned Russian champions but Uefa published an updated qualifying process which shows the cinch Premiership champions will go directly into the competition's group stages, bypassing the qualifying play-off.
Scotland's second-placed side will go into the third round of qualifying rather than the second.
The bids submitted to host either Euro 2028 or 2032 were dismissed with Uefa's executive committee citing Article 16.02 of the regulations which states that "each bidder shall ensure that it does not act in a manner that could bring Uefa, the Uefa final or Uefa final phase, any other bidder (or any employee, officer or representative of any of the foregoing), the bidding procedure or European football into disrepute."
Russia launched an appeal against its previous suspension which is due to be heard at the Court of Arbitration for Sport, though no date has yet been fixed.
Additional reporting from PA
Register for free to continue reading
Registration is a free and easy way to support our truly independent journalism
By registering, you will also enjoy limited access to Premium articles, exclusive newsletters, commenting, and virtual events with our leading journalists
Already have an account? sign in
Register for free to continue reading
Registration is a free and easy way to support our truly independent journalism
By registering, you will also enjoy limited access to Premium articles, exclusive newsletters, commenting, and virtual events with our leading journalists
Already have an account? sign in
Join our new commenting forum
Join thought-provoking conversations, follow other Independent readers and see their replies