As it happened
ended
1599427164
Soccer Aid result: Rest of the World beat England on penalties in charity game at Old Trafford
Celebrities and former players lined up together to raise funds for Unicef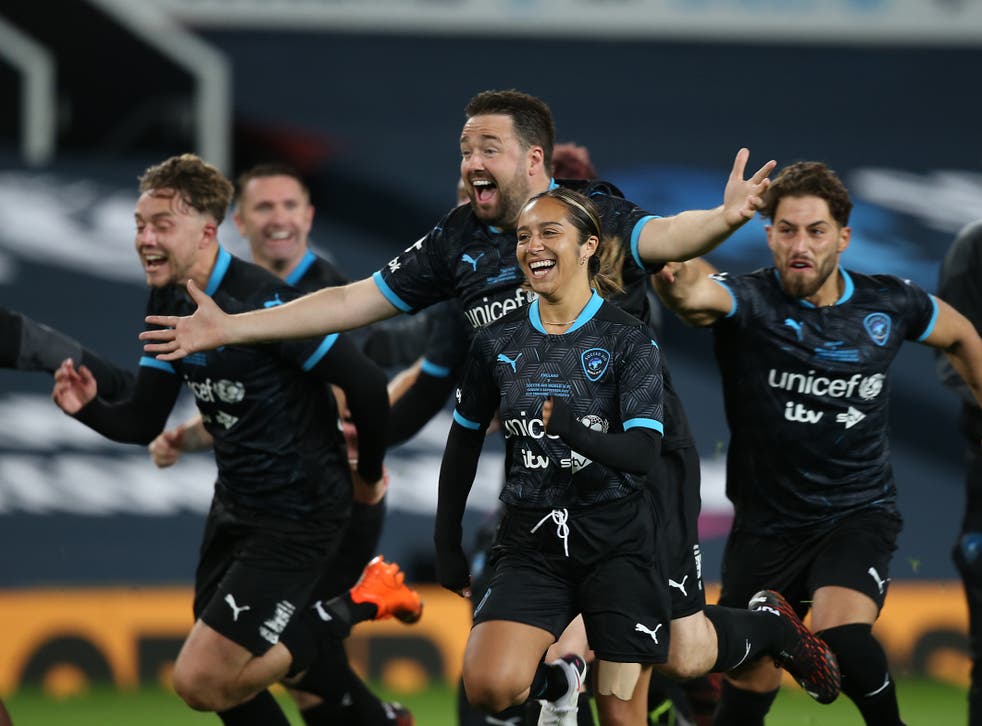 Celebrities and former players lined up in the annual Soccer Aid charity match on Sunday as an England side fell to a Rest of the World outfit on penalties.
The game, which raised more funds for Unicef than any previous edition of the event, saw former Manchester United striker Wayne Rooney managing the England team while the Rest of the World were coached by Harry Redknapp.
Former Tottenham striker Robbie Keane opened the scoring early in the second half after a drab opening period, but England immediately fired back through comedian Yung Filly. A penalty shootout ensued, with musician Chunkz missing the decisive spot-kick as Rest of the World lifted the Soccer Aid trophy. Re-live all the updates below:
1599408078
Welcome to The Independent's live coverage of Soccer Aid 2020!
Alex Pattle
6 September 2020 17:01
1599408455
Tonight's game will take place at Old Trafford, home of Manchester United.
Alex Pattle
6 September 2020 17:07
1599408482
Convenient, as there will be quite a few familiar faces for United fans… but we'll get to that shortly.
Alex Pattle
6 September 2020 17:08
1599408502
The match is taking place in order to raise funds for the charity Unicef.
Alex Pattle
6 September 2020 17:08
1599408521
England take on the Rest of the World, with celebrities and former players lining up together on both sides.
Alex Pattle
6 September 2020 17:08
1599408621
England will be managed by Sam Allardyce and former United striker Wayne Rooney, while Harry Redknapp will coach the Rest of the World.
Alex Pattle
6 September 2020 17:10
1599408741
Here's a look at the squads…
England: Olly Murs, James Bay, Tom Davis, Joel Dommett, Marvin Humes, Danny Jones, Lee Mack, Joe Wicks, Mark Wright, Wes Brown, Katie Chapman, Andy Cole, Ashley Cole, Joe Cole, David James, Kelly Smith.
Rest of the World: Kem Cetinay, Santan Dave, Chelcee Grimes, Roman Kemp, Dermot Kennedy, DJ Locksmith, Jeremy Lynch, Jason Manford, Ore Oduba, Iain Stirling, Billy Wingrove, Patrice Evra, Julie Fleeting, Darren Fletcher, Robbie Keane, Claude Makelele, Lianne Sanderson.
Alex Pattle
6 September 2020 17:12
1599409034
Yaya Toure, formerly of Manchester City and Barcelona, was set to line up for the Rest of the World, but was dropped yesterday after… reportedly sharing a message with pornographic content in a WhatsApp group with team-mates. He is also said to have offered to hire sex workers for players.
Read the full story below, you know you want to.
Charity match takes place on Sunday
Alex Pattle
6 September 2020 17:17
1599409070
Kick-off is expected to be shortly after 6.30pm tonight.
Alex Pattle
6 September 2020 17:17
1599409313
Last year's Soccer Aid was a resounding success. It raised a record-breaking £7.9 million with 100% of the money going to Unicef to help in their work around the world saving lives and helping children grow up happy, healthy and able to play.
The game itself finished 2-2 with Jeremy Lynch bagging a brace for England with Usain Bolt and Kem Cetinay finding the net for the Rest of the World.
The match then went to penalties with Rest of the World winning 3-1.
Michael Jones
6 September 2020 17:21
Join our new commenting forum
Join thought-provoking conversations, follow other Independent readers and see their replies