Jurgen Klinsmann says 'anything is possible' amid Tottenham manager links
Spurs have appointed Ryan Mason on an interim basis until the end of the season while they search for a new manager
Jamie Braidwood
Thursday 22 April 2021 17:25 Comments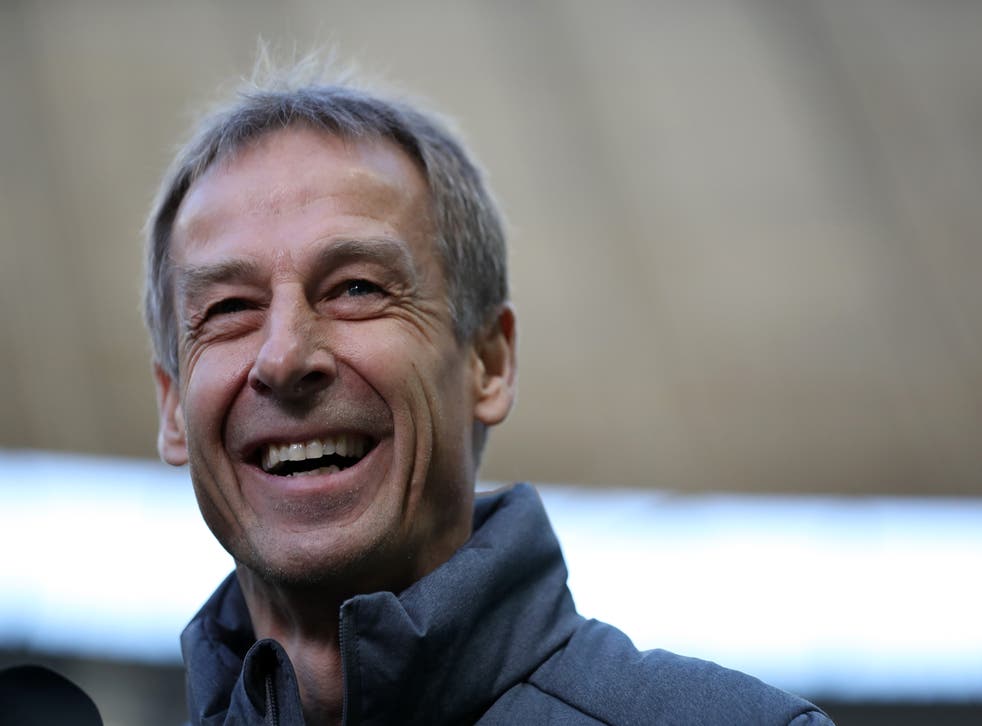 Former Tottenham striker Jurgen Klinsmann did not rule out his interest in becoming the club's new permanent manager following the sacking of Jose Mourinho this week.
Klinsmann made 68 appearances for Spurs across two spells at the club but made a big impression as a player during his time in north London.
The World Cup winner has managerial experience with the German national team, Bayern Munich, the USA and most recently Hertha Berlin.
Ryan Mason has been appointed interim manager until the end of the season.
"I tell you, anything is possible in life," Klinsmann told ESPN when asked about his interest in the vacant position.
"I never thought I would coach Germany at a World Cup. I never thought I would coach the USA for six years or Bayern Munich.
"So we'll see in a couple of months who will be the Spurs manager."
Mourinho was sacked six days before Sunday's Carabao Cup final against Manchester City due to a poor run of form that saw the club go from being league leaders to struggling to qualify for next season's Champions League in the space of three months.
"It's a huge, huge decision," Klinsmann added. "The timing as well, a couple of days before the cup final, they wanted to send out a signal that it wasn't going in the right direction.
"Daniel Levy cut the rope and will figure out what to do over the next couple of months. It was definitely a decision about Jose in terms of his style of play and what the Spurs fans want to see.
"From where they are in the Premier League you can still justify certain things because they are two points away from the Champions League now.
"But what they wanted was to go for the title and they were doing that at the start of the season. They were up there for a little while and then they dropped month by month and Levy has pulled the plug.
"They really need to get into the Champions League. If they win the final then awesome, it's nice to have a little piece of silverware, but it's crucial to get into the Champions League."
Register for free to continue reading
Registration is a free and easy way to support our truly independent journalism
By registering, you will also enjoy limited access to Premium articles, exclusive newsletters, commenting, and virtual events with our leading journalists
Already have an account? sign in
Join our new commenting forum
Join thought-provoking conversations, follow other Independent readers and see their replies