Alexandre Pato to Chelsea: Pato gets second chance to hit the heights with Chelsea loan
The Brazil striker is still just 26 years old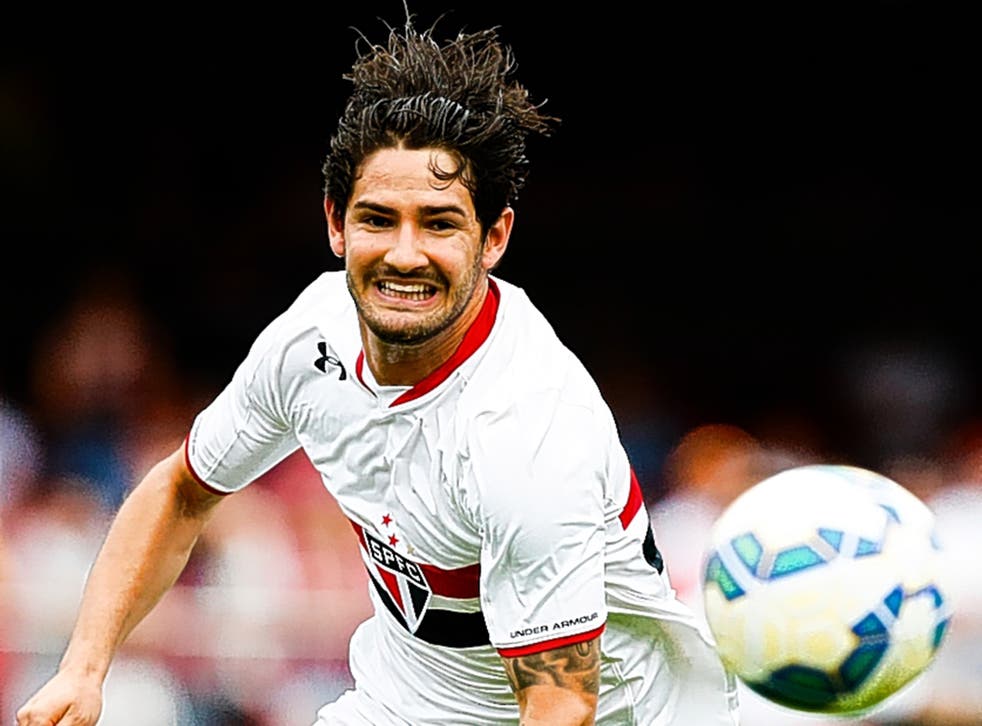 The benefit of having had too much too young is that Alexandre Pato, still just 26 years old, can now try to launch his career in Europe for the second time. The Brazilian striker flew into London today to sign a short-term deal at Chelsea, aiming again for the heights of the game as he did when he first arrived on the continent nine years ago. "I'm so happy," he said at Heathrow Airport. "I am here for my dream."
The story of Pato's career so far is a familiar one, but told at an unfamiliar speed. He was a star for Internacional in Brazil at 17 but had to wait until past his 18th birthday to make his debut for Milan. He scored goals in Italy, but struggled with injuries. By the age of 22 Milan tried to off-load him to Paris Saint-Germain. One year later, in 2013, he was back in Brazil with Corinthians. He had gone full circle by the time some players are still finding their way.
Pato has spent the last three years back at home, trying to rediscover his fitness, confidence and rhythm in the Brazilian league. Milan sold him for £12m but his time with Corinthians was so unsuccessful that it ended with a group of ultras storming the training ground in an attempt to attack him, getting a team-mate instead.
Arsenal 0 Chelsea 1 player ratings

Show all 22
That made Pato's position at the club untenable, so he joined fierce local rivals Sao Paulo on a two-year loan. It was there, while so unpopular with Corinthians fans that he needed bodyguards, that Pato rediscovered his touch. He scored 12 goals in the 2014 season and 26 in an injury-free 2015, as Sao Paulo performed admirably in state and national championships, and the Copa Libertadores.
The big question is whether that means Pato is back to the level he showed as a teenage striker, with that burst of pace for running in behind defenders. Football, unfortunately, is full of explosive strikers who peaked in their early 20s, if not before, then suffered muscle injuries and never recovered that early speed. Chelsea have their own experience of this after spending £50m on Fernando Torres five years ago only to find him to be nothing like the player who terrorised the Premier League in his first few seasons at Liverpool.
It is easy to forget just how much promise Pato showed when he first emerged with Internacional 10 years ago. He was the youngest ever goalscorer in a Fifa competition, scoring at 17 in the Club World Cup, when his side beat Ronaldinho's Barcelona 1-0 in the final. That was enough to alert Milan who signed him at 17 even though they could not play him until January 2008.
That Milan side, managed by Carlo Ancelotti, were the reigning European champions, and Pato played with his boyhood heroes, including the legendary Ronaldo. He settled quickly into Serie A: 15 league goals in his first season, then 12, then 14 in 2010-11, when Milan won the scudetto.
However, injuries started to bite as Pato's body struggled with the workload. His hamstrings let him down and he lost that burst of pace. Milan, sensing what was happening, tried to sell him. They agreed a €28m fee in January 2012 with PSG, in the first flush of Qatari wealth. Milan had even lined up Carlos Tevez, then in exile from Manchester City, as a replacement. But Barbara Berlusconi, owner Silvio's daughter and on the board at Milan, was in a relationship with Pato and vetoed the move.
It was clear enough where Pato stood in the Milan pecking order, and injuries ruined his final 12 months at San Siro before he was sold back to Brazil.
What this means is that Pato, hailed variously as the new Lionel Messi, Ronaldo, Pele and Zico, has spent what should have been his peak years away from the limelight. He has not played in the Champions League since 2012. He has never been to a World Cup. Now he has a second chance to aim for the top, as long as his body complies.
Join our new commenting forum
Join thought-provoking conversations, follow other Independent readers and see their replies