Andy Carroll could make loan move to AC Milan as Liverpool go for Roma striker Fabio Borini
Rodgers refuses to rule out striker shuffle as he closes in on possible deal for Italian
Ian Herbert
Tuesday 10 July 2012 14:10 Comments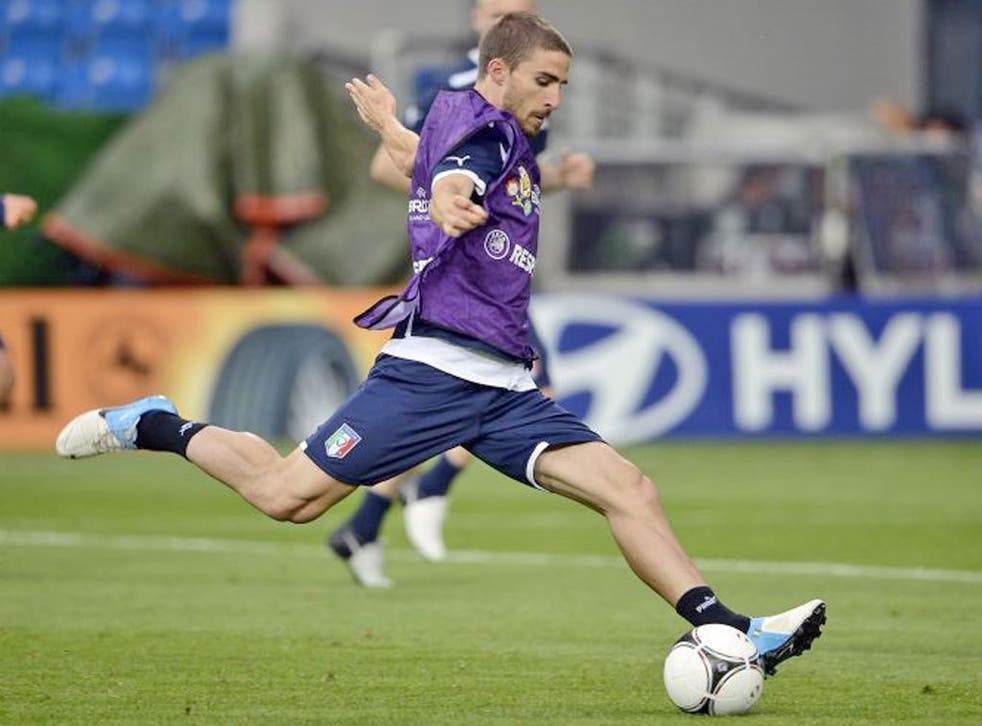 Liverpool manager Brendan Rodgers was non-committal yesterday on the future of Andy Carroll, as his club closed in on adding Roma's Fabio Borini to the Anfield strike force.
Rodgers worked with Borini when he was a coach at Chelsea's academy and was impressed enough to bring the Italian in on loan from Stamford Bridge to Swansea in March 2011, when the 21 year-old scored six goals in just nine appearances and helped get City promoted.
Borini has one senior Italy cap but was an unused squad member at the recent European Championship. There was some confusion about his intentions two weeks ago, when Roma bought out the remaining 50 per cent of his contract, having loaned him from Serie A rivals Parma.
However, the right to purchase a player outright is a significant part of the Italian mercato transfer system and it did not materially affect Rodgers' chances of persuading the Italy Under-21 striker to become his first Liverpool signing. In fact, it has actually simplified it, by ensuring that they have only one club to deal with for a possible £7m acquisition.
The prospect of a Milan loan move for Carroll has been floated in Italy, where the club's president Pier Silvio Berlusconi – son of the former Italian prime minister – has said he was impressed at Euro 2012 with a player whose £35m Liverpool price tag may make his sell-on fee prohibitive.
Rodgers did not reject such an audacious notion when it was put to him that such a deal may not offer benefits for Liverpool, though he did say that he wanted to assess what Carroll could bring to the club. "It's something I would have to look at, I have to be honest," the manager said. "I'm not going to sit here and say I will never let anyone go on loan, then come in here in two weeks and a player's gone, and you're saying, 'You said you wouldn't let them go.' There are many things to going on loan. Is it going to be beneficial for the club? That's the most important thing.
"Sometimes a player going out on loan – in general, not just Andy – can benefit the club in the long-term. It gets them game experience, and they come back a better player, a more confident one. Certainly more so than if they've been sitting on the bench for the majority of the season. That can benefit both parties. It would have to be beneficial for the club and I will judge on that."
Real Madrid's technically gifted 25-year-old midfielder Esteban Granero is another player who appears to fit the bill for the style of play which Rodgers wants to bring to the club. "We have only made three or four inquiries about players and we can maybe close out one deal, maybe two, this week," said Rodgers.
The manager pointed out that he did not have a fortune to spend, as he seeks to rebuild this club on its old footballing principles, described by him as "the Liverpool way". The club "haven't a wee barrowload of money," said the Northern Irishman. "There isn't the money flying about that people seem to think there is."
Rodgers was speaking ahead of Liverpool's US tour, which will see them establish a training base at Harvard for some of the time – prompting him to recall an old Harvard friend who had said the secret of success is being "ruthlessly simple". It was something that had always stayed with him, Rodgers said – though simplicity will be more challenging for him under the pressure he will encounter next.
"I will make mistakes along the way but I will fight for my life to make sure we improve," Rodgers reflected. "We are football coaches, not magicians."
Register for free to continue reading
Registration is a free and easy way to support our truly independent journalism
By registering, you will also enjoy limited access to Premium articles, exclusive newsletters, commenting, and virtual events with our leading journalists
Already have an account? sign in
Join our new commenting forum
Join thought-provoking conversations, follow other Independent readers and see their replies