Alexis Sanchez did not hint at leaving Arsenal for Chelsea as Chile forward had talk of his future mistranslated
A number of reports claimed Sanchez wanted to stay in London at a club with a 'winning mentality', but the Arsenal forward has been misquoted
Jack de Menezes
Thursday 30 March 2017 09:00 Comments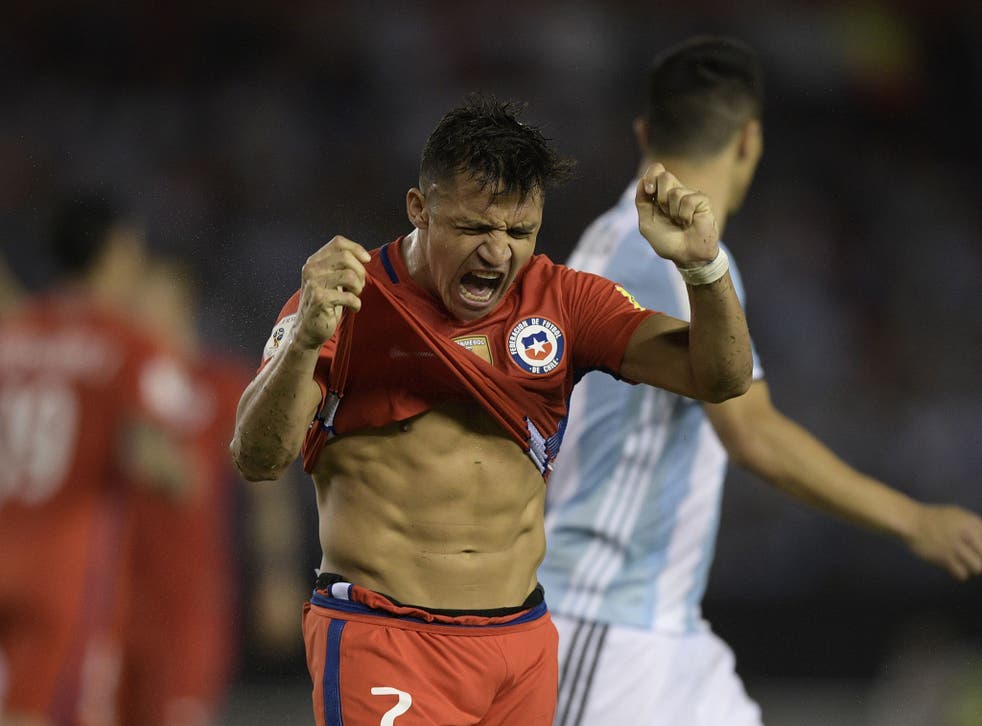 Alexis Sanchez did not hint that he is targeting a move to Chelsea when speaking to the media in Chile this week, although he did hint that he could look to leave Arsenal on a free transfer next summer if the club refuse to sell him in the next two transfer windows.
A number of reports emerged on Wednesday claiming that Sanchez has strongly hinted at a move to another team in London that had a "winning mentality", which left little to the imagination as Chelsea are currently on course to win the Premier League title by a country mile. This also backed up reports earlier in the week that the Blues had made Sanchez their 'top target', with Antonio Conte apparently putting the Chile international at the top of his transfer wish list.
However, what has been lost in translation between South America and the United Kingdom is the crucial use of the letter 'a'. Let us explain.
A number of British media outlets claimed that Sanchez said: "I'd like to stay in the city for a long time, in a team that is a winner, with winning mentality. I'm 28 and I have a lot ahead of me."
This is almost true, but suggests that he is angling either for a new contract with Arsenal or a move to Chelsea, given that no other team in London can currently boast a record like that of the Blues.
But there's been a misquote somewhere along the way, as that's not what Sanchez said. The 28-year-old actually said: "I'd like to stay in a city for a long time, in a team that is a winner, with winning mentality. I'm 28 and I have a lot ahead of me."
As you can see, his use of "a city" and not "the city" makes quite a change, given it removes the certainty that he is talking about Chelsea. He could still be talking about London and the Premier League leaders, although at this stage any interest from Chelsea is in its preliminary stages and Arsenal would be hugely reluctant to allow their best player to join a Premier League rival, given the backlash that came from selling Robin van Persie to Manchester United.
Arsenal have the same season every year

Show all 8
But with interest from Italian league leaders Juventus and reigning French champion Paris Saint-Germain already well documented, Sanchez's admission also raises the prospect of him leaving the Premier League to settle down somewhere for the rest of his career, and with Chelsea already keen on re-signing Everton striker Romelu Lukaku or taking on Real Madrid forward Alvaro Morata for as much as £70m, a secondary move for Sanchez would be very unlikely.
The other important sentence used by Sanchez was his admission that he is "happy in London and I hope to finish my contract well there", a clear sign that he is not currently angling for a move away from the club. Sanchez has struck up a strong relationship with the Arsenal supporters, who have backed the player more than manager Arsene Wenger when the latter decided to drop him following a training ground dispute.
If Sanchez were to try and force his way out of the club, he would risk a fan backlash that would make the remaining 12 months of his stay there very uncomfortable. Wenger has already confirmed his intention to keep both Sanchez and Mesut Özil beyond the end of next season, when both of their contracts expire, but after nearly a year of negotiations the club are no closer to tying down either player, which leaves Arsenal at risk of losing their two most expensive signings in their history for nothing.
Register for free to continue reading
Registration is a free and easy way to support our truly independent journalism
By registering, you will also enjoy limited access to Premium articles, exclusive newsletters, commenting, and virtual events with our leading journalists
Already have an account? sign in
Join our new commenting forum
Join thought-provoking conversations, follow other Independent readers and see their replies