Frustrated Jack Wilshere needs 'honest conversation' with Arsene Wenger as he hints at January move
Wilshere's only six starts this season have come in the EFL Cup and Europa League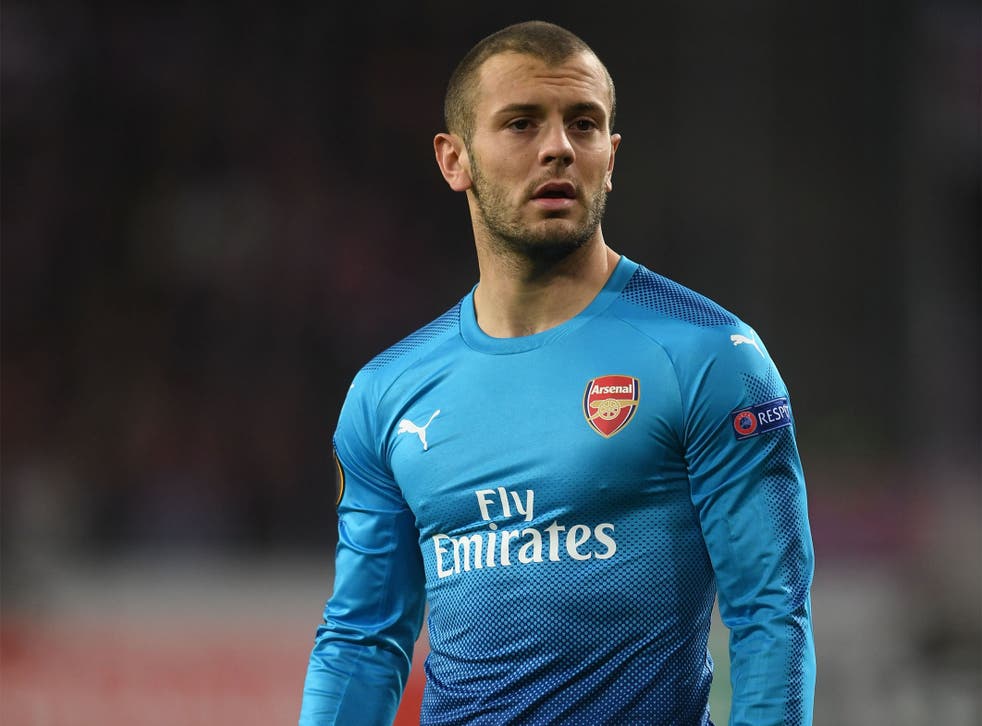 Jack Wilshere has laid bare his frustration at failing to break into Arsenal's first team for Premier League games and called for an "honest conversation" with manager Arsene Wenger about his future ahead of the January transfer window.
Opening the door to a move away from the Emirates, Wilshere said that a decision would have to be made during the window, given his need for first-team football ahead of the World Cup in June. Wilshere's contract expires this summer and Wenger admitted recently he would either be given a new one or sold in January.
Wilshere has made six starts this season but they have all been in the Carabao Cup or Europa League, and his Premier League appearances have been limited to two 12-minute cameos off the bench. Gareth Southgate has made clear that he will not pick Wilshere until he becomes a Premier League regular. Unless Wenger starts picking Wilshere in the league, the midfielder will have to leave to have any chance of going to Russia next June.
Arsenal vs Tottenham: Player ratings

Show all 22
While Wilshere spent last season on loan at Bournemouth, his contract is now just seven months away from expiry, meaning that if he does go in January, it is likely to be permanent.
"I think we will have to talk about that when it comes down to it," Wilshere admitted on Thursday night, when asked about the possibility of a January move. "We have got a month until then and me and the boss will probably have a conversation before then because obviously when January comes I have only got six months left on my contract."
Wenger said earlier this month that "Wilshere's future will be decided in December", and those decisive talks on whether he stays or goes are likely to be before the window opens. Wilshere just wants Wenger to be frank about whether he is in his plans, suggesting that if he is not going to play more regularly, he will want to leave.
"We will see what happens between now and then, I will talk to the boss," Wilshere said. "We have known each other for long enough and we have a good relationship where we can be honest with each other so I'm sure we will be and then we will go from there."
Wilshere's ideal outcome is to get back into the Arsenal team and earn a new contract. But he accepts that if he is not part of Wenger's plans then the manager should admit that to him, so that he can plan accordingly.
"I've said before that I want to stay here and play," Wilshere said. "I've been at this club for 10 years. I don't have to say how much this club means to me, how good they have been to me. But at the same time as well, the boss has got to be honest with me and I'm sure he will."
When Wilshere returned to Arsenal in the summer following his loan at Bournemouth, Arsenal could not find a new club for him so Wenger told him to get fit and get back into the team. He has not suffered any new injuries this season but has not yet shown the quality that made him so exciting when he broke into the Arsenal team seven years ago. Wilshere said how frustrating it was to be on the sidelines for the Premier League campaign.
"I'm a player who wants to play as much as they can," he said. "I want to play in the Premier League so of course I'm frustrated. But the team are playing well, it is a difficult team to get into. I will try everything, I will work hard in training and when I get the opportunity I will play as well as I can but it is a difficult team to get in to."
Wilshere still hopes he will eventually make it into the Premier League games from the start. "It is difficult when you play every three weeks but I feel fit," he said. "I've trained every day. I've played five or six games now so I'm feeling good and am just wanting to play, really."
But after so much time out injured, Wilshere is pleased to be fit enough to train regularly. "I had been injured for two years," Wilshere said "So I'm fit, I'm playing, I'm happy, I'm training every day. I'm happy to be back in the team. I want to play, of course, but I haven't been at Arsenal, fit and feeling like I do for a good couple of years. At the moment, I'm happy. I've said there's going to have to be a conversation because time is running out on my contract. When that time comes, I'll sit down with the boss and go from there".
Register for free to continue reading
Registration is a free and easy way to support our truly independent journalism
By registering, you will also enjoy limited access to Premium articles, exclusive newsletters, commenting, and virtual events with our leading journalists
Already have an account? sign in
Register for free to continue reading
Registration is a free and easy way to support our truly independent journalism
By registering, you will also enjoy limited access to Premium articles, exclusive newsletters, commenting, and virtual events with our leading journalists
Already have an account? sign in
Join our new commenting forum
Join thought-provoking conversations, follow other Independent readers and see their replies