Revealed: The new Premier League rules that mean Arsenal may struggle to keep both Alexis Sanchez and Mesut Ozil
Arsenal are wary of the Premier League's cost control measures that restrict how much a wage bill can increase year on year, and could be forced to sell a number of their players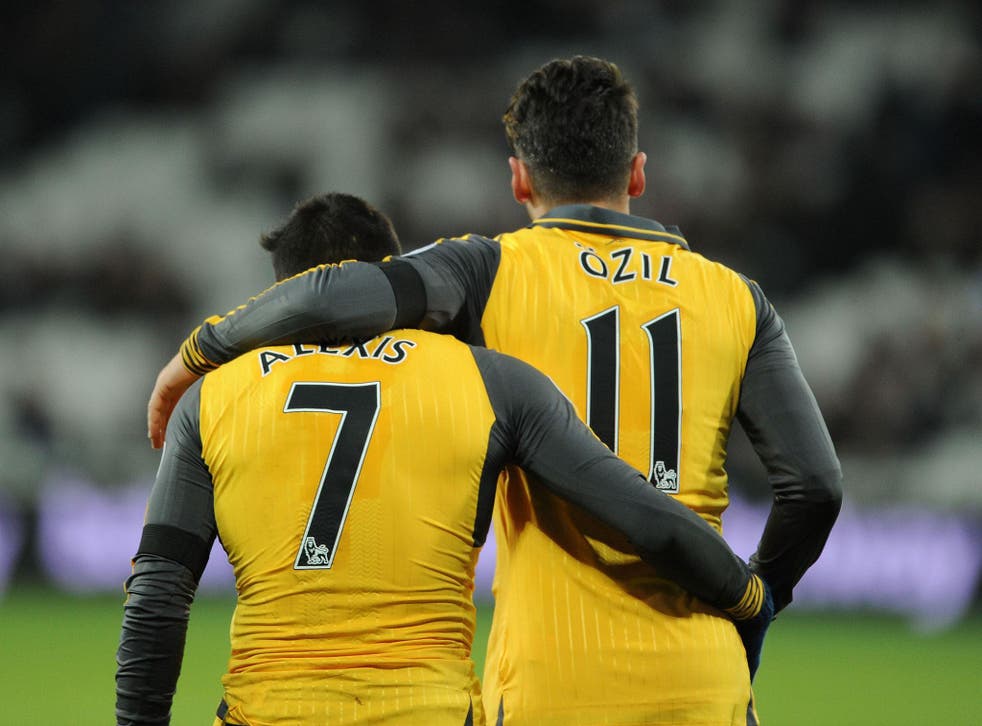 Arsenal's attempts to tie Alexis Sanchez and Mesut Ozil to lucrative new contracts could force the club into a wide-ranging sell-off of players this summer.
Arsenal are wary of the Premier League's cost control measures that restrict how much a wage bill can increase year on year. If Arsenal's 2017-18 wage bill is more than £7m higher than it was last year, as it would be if Ozil and Sanchez signed, they would have to make up the excess through extra external revenue, most likely player sales.
That would see Arsenal sell big names like Alex Oxlade-Chamberlain, Olivier Giroud and Jack Wilshere, as well as the long list of fringe players expected to leave the Emirates this summer.
The squeeze for Arsenal will come if they successfully tie Sanchez and Ozil to the new deals they have been offered. Arsenal are willing to pay the pair close to £280,000 per week each to keep them at the club beyond June 2018, when their current contracts expire. But those deals would be such an increase on their current salaries that they would add up to an extra £15m on the current wage bill, even before any new signings were made. One of the two players signing would add between £7m and £8m.
The Premier League has new cost control measures, coming into force this summer, which are shaping Arsenal's thinking. The rules say that a club's wage bill should not be more than £7m more than it was in 2016-17, or £19m more than from the 2012-13 season. If it does increase beyond that limit, the money can only come from external sources such as player sales, ticketing or commercial money, rather than Premier League central funds.
How could Arsenal line up this season?

Show all 12
If Arsenal's wage bill does jump by as much as they want it to, they are unlikely to make up the money through commercial or ticketing or TV money for next season, not least because Arsenal will be playing in the Europa League, not the Champions League.
This means the money will have to be found in player sales this summer, not just of fringe players, but first-team players too. Hector Bellerin could command a huge fee but Arsenal are determined to block his dream move back to Barcelona, so Oxlade-Chamberlain is likeliest to leave. He has one season left on his deal, cannot agree a new one, and Arsenal have been open to offers for him for more than a year. Liverpool is his likely destination, and Arsenal can hope to receive £25m.
Arsenal are also likely to lose Giroud, now that Italian giants Napoli joined the race for him this week. There is also serious interest from Marseille and West Ham United. After five years at the Emirates, Giroud wants a guarantee of first-team football, which he would not get next year at Arsenal. Then there is Wilshere, also up for sale after spending last season on loan at Bournemouth, but whose wages may slow down a permanent move.
Summer transfer window: Likely deals and biggest rumours
There are plenty of fringe players also likely to depart, including: Calum Chambers, Wojciech Szczesny, Chuba Akpom, Kieran Gibbs, Lucas Perez and Carl Jenkinson.
Arsenal have more than enough sellable assets to make enough money to pass the Premier League's requirements this summer, but until they resolve the futures of Ozil and Sanchez, everything else is still in limbo.
Join our new commenting forum
Join thought-provoking conversations, follow other Independent readers and see their replies