Chelsea target £10m France midfielder Geoffrey Kondogbia
Jose Mourinho makes Seville defensive midfielder a key target and warns against over-spending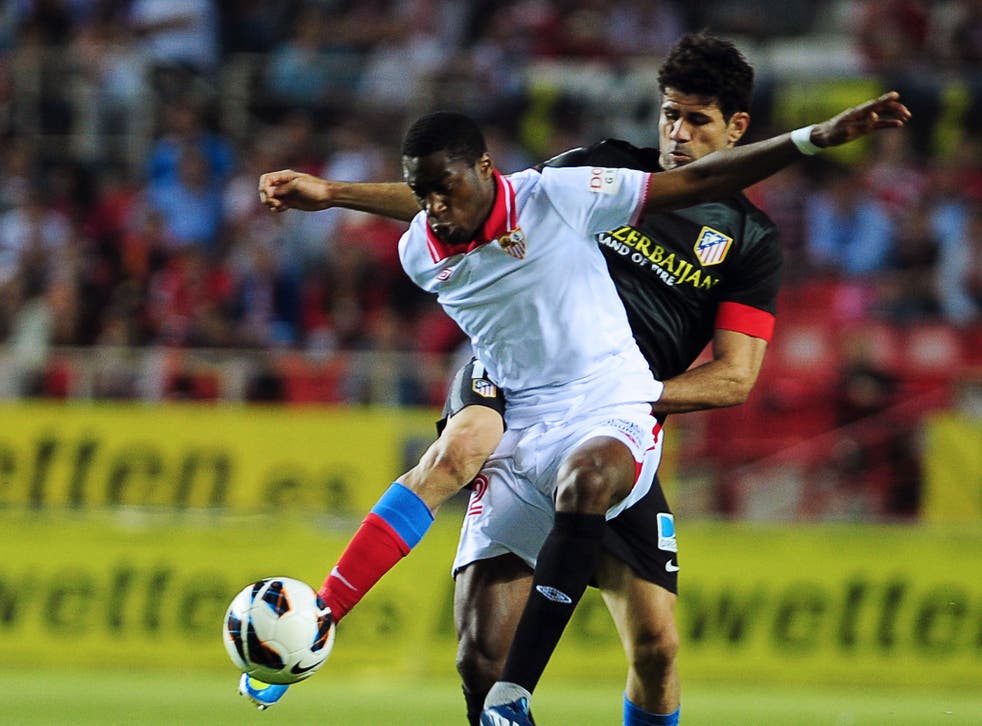 The French midfielder Geoffrey Kondogbia, who has just finished his first season at Seville, is a key Chelsea target as they seek to sign a defensive midfielder as part of their squad strengthening over the summer.
The 20-year-old moved to Spain last summer from Lens and was a virtual ever-present in the Seville side last season. He has been extensively scouted by Chelsea during that time – before the return of Jose Mourinho – and it is anticipated that, despite the four years left on his deal at the Spanish club, he would be a cheaper option in that position than more experienced players.
Kondogbia is not yet a full France international and should be available for around £10m. Seville have already sold Jesus Navas to Manchester City and it looks like Alvaro Negredo may also leave, for Atletico Madrid, but, relatively speaking, Kondogbia would prove simpler to replace than either of those.
Kondogbia is currently part of the France Under-20 squad who are one of the favourites to win that age-group's World Cup in Turkey which starts on Friday. He is part of a promising generation of French players including the Juventus and former Manchester United midfielder Paul Pogba and the Real Madrid centre-back Raphaël Varane, currently injured.
A strong, imposing player who operates in front of the back four, Kondogbia fits the bill for Chelsea. This summer they have prioritised signing a centre-half – the French defender Eliaquim Mangala at Porto – as well as a striker and a holding midfielder. The potential options for a striker – Edinson Cavani, Wayne Rooney and Stefan Jovetic – are all expensive and fraught with difficulty.
In terms of a specialist defensive midfielder, the club have John Obi Mikel in that position. He signed a new deal in December. Michael Essien is returning from his loan with Jose Mourinho at Real Madrid. Oriol Romeu did not play after 8 December when he sustained a serious knee injury from which he has only just recovered. Frank Lampard, Ramires and David Luiz have both operated as deep-lying central midfielders.
Kondogbia is one of those emerging talents who is regarded as a leading target for a number of big European clubs. Reports in Spain have suggested that Real Madrid are interested in him as a long-term replacement for Xabi Alonso.
Chelsea made the unusual step of reporting on how they are handling Uefa's Financial Fair Play regulations on their own website yesterday. The first "monitoring period" took in the past two seasons, over which clubs are not permitted to make losses in excess of €45m (£38m) – with the proviso that those losses above €5m are funded by the owner. At stake is participation in European competition.
Mourinho described the new regulations as "very motivational" and that they had "demanded" more from managers. Certainly the projection of that issue at Chelsea, can be interpreted as a sign that club and Mourinho are of the same mind. The only signing so far this summer has been André Schürrle, a long-term target, for £18m from Bayer Leverkusen.
Mourinho said: "You have to think more about every decision and every move. Every wrong move you make has an influence on the future. You need to work more closely with the board in the financial area, you have to have a different perspective and a different look at the players on loan and youth football. It's more global. Instead of just focusing on your team, and your targets and ambitions, it's an overall view. It's a different profile of job and I'm happy, I'm enjoying that."
He added: "I'm not worried about a definition of success, I'm worried about high quality work in every area I can influence."
Join our new commenting forum
Join thought-provoking conversations, follow other Independent readers and see their replies