'Confused and angry': Seething Wayne Rooney considers transfer request after 'snub' by Manchester United manager David Moyes
United fans may not have much sympathy with England striker's feelings
Ian Herbert
,
Sam Wallace
Wednesday 17 July 2013 13:24 Comments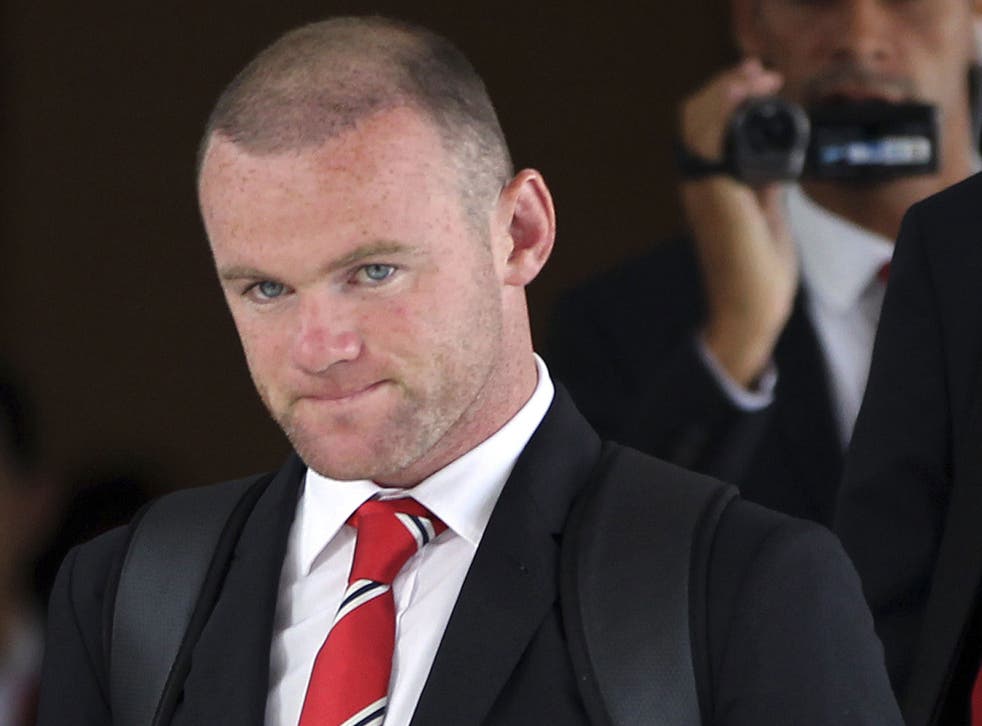 Wayne Rooney was last night considering tabling a transfer request after telling Manchester United that he is infuriated by comments made about him by the club's manager, David Moyes, which he claims have depicted him as a second-string squad player.
Moyes has gone out of his way to placate and motivate Rooney in public since his appointment as manager, declaring that the 27-year-old can overtake Sir Bobby Charlton as the club's all-time top goalscorer. But sources close to the player last night claimed Moyes' comments in Bangkok and Sydney over the past three days have left the player feeling he is at risk of becoming a "second-choice squad player" who will be forced to prove himself all over again next season.
Chelsea's manager, Jose Mourinho, seized on Moyes' weekend comments yesterday, issuing the deeply provocative observation from Bangkok, where Chelsea are on tour, that "if Wayne is a second choice for Man United, then the national team will be affected".
That observation will infuriate United, who will awake on tour in Sydney today to the news that Rooney claims to have been left "confused and angry" by what has been said about him since he left the tour with a hamstring injury on Thursday, hours after the club had arrived in Bangkok. In a further setback, the Barcelona coach, Tito Vilanova, has said of United's £26m bid for Cesc Fabregas that the player does not want to leave.
The Rooney source said that the player considered himself to be "at the peak of his career" and had "no intention of letting that career go backwards" as a squad player or second-choice player. "He doesn't believe he has anything to prove as a player after nine successful years at Old Trafford. Yet that is what seems to have been suggested by media reports which interpret the club… as meaning he is on trial for the season."
Moyes said of Rooney at the weekend that "if for any reason we had an injury to Robin [van Persie] we're going to need him." But there has been no suggestion from the new United manager that he considers him to be second choice for No 10, in the space between Van Persie and the midfield – a role the player enjoys and has flourished in for England. The manager has stated only that he considers that spot to be Shinji Kagawa's best position.
Rooney, who has rapidly made his feelings known to United about the portrayal of his position, has not emerged from that conversation with any belief that the manager's comments have been misrepresented. He is also unhappy about comments by the United chief executive, Ed Woodward, who said at the weekend that there was "no trigger date in the diary" for talks over Rooney's £250,000-a-week contract, which has two years to run. "Would we be afraid to run a contract down?" Woodward asked. "Of course not."
Rooney's feelings are highly unlikely to elicit much sympathy with United supporters, many of whom will view them as a narrow and unreasonable interpretation of what Moyes has said about the striker. Rooney's decision not to make a public commitment to United has already contributed to him dominating the agenda in Moyes' early weeks, when the new manager needs the club pulling together behind him. Many fans will view the forward's unhappiness with what has been reported about him as his way of driving a move away from the club to Chelsea – albeit less overtly than in October 2010, when he declared that United lacked transfer market ambition. He was persuaded then to stay and received a new contract.
Rooney will have to put in a transfer request if he is to leave, with United adamant that he is not for sale. "Unless I was speaking double Dutch, I think I've said Wayne Rooney is not for sale," Moyes said last week when Mourinho first expressed his admiration for the striker.
By then, the absence of a commitment to United had created a minefield for Moyes at his introductory press conference, where he could only repeatedly state "he is not for sale" and declare that Rooney could overtake Denis Law and Sir Bobby. "As far as I am concerned, the way he is working, I am more than happy to work with him and make sure we get success," Moyes said then.
Register for free to continue reading
Registration is a free and easy way to support our truly independent journalism
By registering, you will also enjoy limited access to Premium articles, exclusive newsletters, commenting, and virtual events with our leading journalists
Already have an account? sign in
Join our new commenting forum
Join thought-provoking conversations, follow other Independent readers and see their replies