Hector Herrera deal could see Nicholas Blair, son of former PM Tony Blair, join top flight of football agents
The midfielder's transfer from Pachuca in Mexico to Porto may have earned former British PM's son around $1m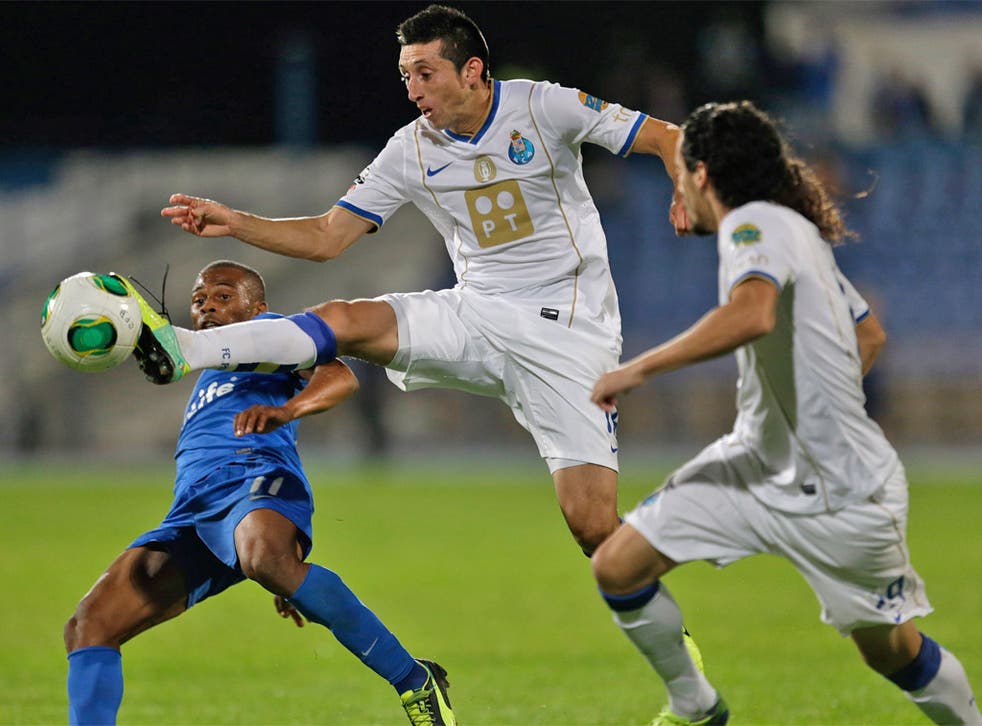 A call to the phone number listed for Nicholas Blair on the official listing for Fifa agents licensed by the English Football Association takes you through to the London office of his mother, Cherie Blair, where there was no response, official or otherwise, to reports of his maiden million-dollar deal in European football.
The career path of the middle son of the former prime minister is well-known but the suggestion that he made around $1m (£630,000) from a deal involving the Mexico midfielder Hector Herrera from Pachuca, in the country's Primera Division, to Porto has caused raised eyebrows in the agent fraternity. Could a rookie agent with no background in football as a coach, scout or player pull off a deal of that size, even with his gold-plated family connections?
Reporters in Portugal have been briefed by Porto since the summer that when it came to dealing with Pachuca, the 27-year-old Blair handled negotiations on behalf of Herrera. In an intriguing collision of worlds, it would appear that a 23-year-old kid from Tijuana has placed his trust in an Englishman who spent his teenage years in 10 Downing Street.
As is common in transfers of this sort there will be no official paper trail and the trend is that the economic rights of the player, essentially his ownership within the framework of football, are likely to be split between investors and his club.
In England, the agents licensed by the FA are arguably the most heavily regulated in the world. Asked why so few of them did deals in Mexico, one British agent replied: "I don't want to find myself buried up to the neck in sand in a Mexican desert."
Mexico has a reputation for being a difficult market and "Nicky" Blair and his company, Magnitude Sports Limited, will have had to be sure of their connections to ensure that they were paid commission on the deal – in that region of the world, ordinarily 10 per cent of the value of the player's contract. As a perk, that is paid on top of the player's wages.
Any dealings with Porto will involve the club's shrewd technical director Antero Henrique, although it is Jorge Nuno Pinto da Costa, the formidable 75-year-old president, who has the final say. It is with Henrique that Blair would have been obliged to negotiate not only Herrera's personal terms but his own fee.
Over the last decade, Porto have been arguably Europe's most successful trading club, selling the likes of Radamel Falcao, Hulk, Anderson, Deco, Ricardo Carvalho, Pepe and James Rodriguez as well as earning significant compensation payments from Chelsea for managers Jose Mourinho and Andre Villas-Boas. But they have often owned just part of the players' economic rights with third-party ownership, banned by the FA, rife in Portugal.
Blair himself is understood to work with his friend Gabriel Moraes, whom he met at Oxford University at Magnitude Sports Agency, which claims to have offices in Brazil and Mexico. Such management companies in England are generally a loose confederation of agents who, while sometimes working together, have been known to poach clients from one another.
What is not in doubt is that Blair passed his FA agents' exam, which is a requirement of anyone, with an exemption for lawyers, wishing to sign off deals involving English clubs. These exams encompass 20 multiple-choice questions, have a 50 per cent pass-rate and are one way in which the FA tries to regulate an industry with a wild-west culture.
In deals involving English clubs, the FA acts as a clearing house for the money paid, including transfer fees and agents' commissions where the norm in the UK is a fee worth 5 per cent of the player's contract. Only when the governing body is satisfied that the paperwork is in order is the money released and the transference of the player's registration completed.
In Mexico it is safe to assume that those kind of checks are not required. Mexican players have not moved to Europe in the same kind of numbers as South Americans because of the relatively high wages paid by the top Mexican clubs, although that is changing.
Magnitude Sports' website says they represent Brazilian players from Desportivo Brasil, an academy that exists to produce players purely for the transfer market and has no senior team. It is owned by the unfortunately named Traffic.
Cherie Blair is a director of Magnitude Sports. In his autobiography, the FA chairman Greg Dyke recalled how, in his days as a Manchester United director, she once rang him to ask him to get her a discount on a United shirt for her oldest son, Euan. He duly obliged.
Magnitude also represents Marco Fabian of Chivas Guadalajara, who could be another potentially lucrative transfer for Blair. But if Fabian comes to an English club, the scrutiny on the size of the agent's fee will be much greater than it was for the Herrera deal.
Join our new commenting forum
Join thought-provoking conversations, follow other Independent readers and see their replies