Jose Mourinho opens door for Memphis Depay's Manchester United return as winger signs for Lyon
The Portuguese was complimentary about Depay and suggested the club could eventually trigger their buyback option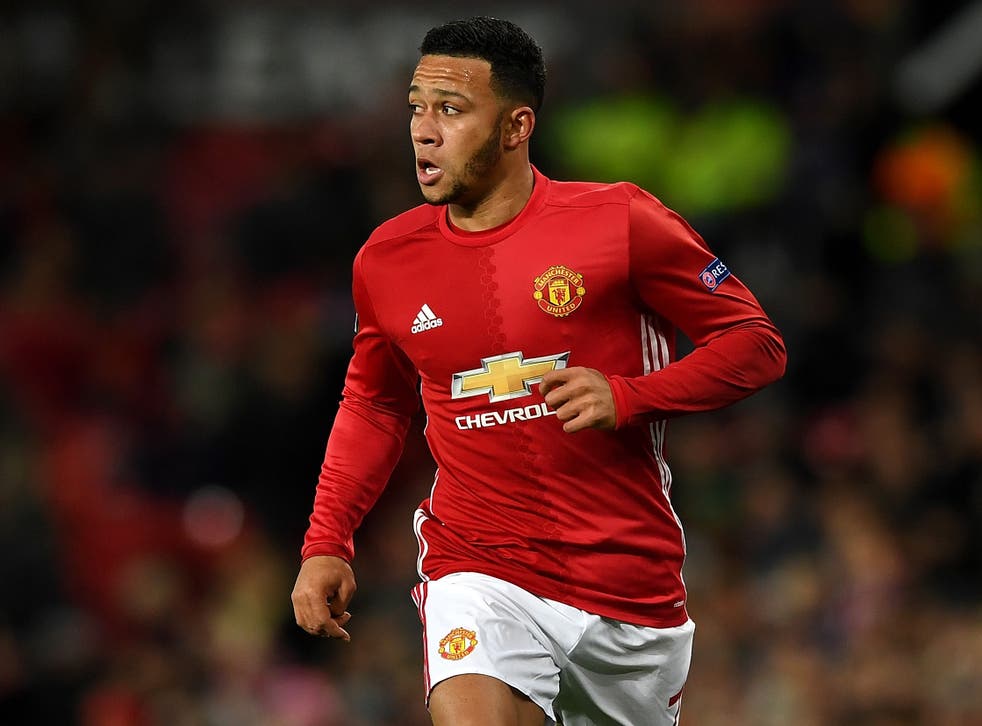 Jose Mourinho waved Memphis Depay off from Old Trafford yesterday with a glowing reference for the Dutch winger and a claim that he would not be surprised to see the 22-year-old return as a Manchester United player one day.
The sale of the under-achieving Depay to French club Lyon this week could eventually see the Premier League side lose around £5 million after former manager Louis van Gaal paid PSV Eindhoven £26.3 million for him 18 months ago.
United attempted to cover some of those losses by inserting a standard sell-on clause in the transfer but, more surprisingly, also wrote in a "buy back" option.
Should Lyon decide to sell Depay in the future, United will have first refusal, at a pre-agreed price, to re-sign the Dutchman and, while that news surprised many observers, Mourinho claimed it made perfect sense.
"Potentially he is a very good player," said the United manager. "I think when Mr van Gaal decided to buy him he did well. He knew him very well from the national team and he was very young in the World Cup.
"He had flashes of top quality. He was playing well in Holland. We know the Dutch league is not the same but he was showing some very good things.
"He didn't succeed in his 18 months but he is very young so I think it's important for the club to keep control of his talent.
"We all wish he plays well at Olympique Lyon and then why not come back because everyone here liked him?"
Mourinho listed the fact that a long line of players - Jesse Lingard, Juan Mata, Henrikh Mkhitaryan, Anthony Martial, Ashley Young, Marcus Rashford and even Wayne Rooney - were ahead of Depay in the chase for a place in the wide positions.
But he had no criticism of the Dutchman's attitude or professionalism despite some headlines to the contrary during his ill-fated stay in Manchester.
"It didn't work for Memphis last season but from my perspective he was a fantastic professional," said Mourinho.
"It is one thing for some picture that somebody takes with him in an amazing car or dressing in a very specific way but that image is totally wrong.
"He's a kid who respects everyone, a kid who worked very hard to try to have more chances, a kid who was frustrated because he was not having that. I only have good things to say about him."
The United manager has also seen Morgan Scheiderlin leave the club in the current transfer window, with a permanent move to Everton.
Mourinho admits their departure leaves United short on numbers as they continue to battle on four fronts but the manager says he is unlikely to bring in any new players this month.
"For some positions we are comfortable in numbers," he said. "Probably for some positions we are going to have problems because we don't have so many options.
"I always think the best time to buy is the summer market. I always consider the January market is an emergency one where you can try to resolve some problems, where you can try to give a little boost to the team for the rest of the season. But it is not an easy market."
However, the United manager has stood by his insistence that any player unhappy at his lack of first team opportunities would be allowed to leave the club in the final two weeks of the window, as long as the offer matched his valuation.
Young, Bastian Schweinsteiger and, even, England full-back Luke Shaw have all been at the centre of rumours suggesting they may fall into that category.
"I was not even thinking about (selling) Morgan and Memphis but we allowed them to go when the right offer arrived," said Mourinho.
"As we have said, if a player is not totally happy here because he does not have the minutes they deserve then I don't think it's human to stop them going - only a bad offer or no offer stops them going. But when the offer is correct, I don't think it's human to stop them going."
Join our new commenting forum
Join thought-provoking conversations, follow other Independent readers and see their replies