Jose Mourinho confirms Manchester United will try to sign Gareth Bale if Real Madrid don't want him
Mourinho will look at Tuesday's Uefa Super Cup to see if Bale will feature in Zinedine Zidane's plans this season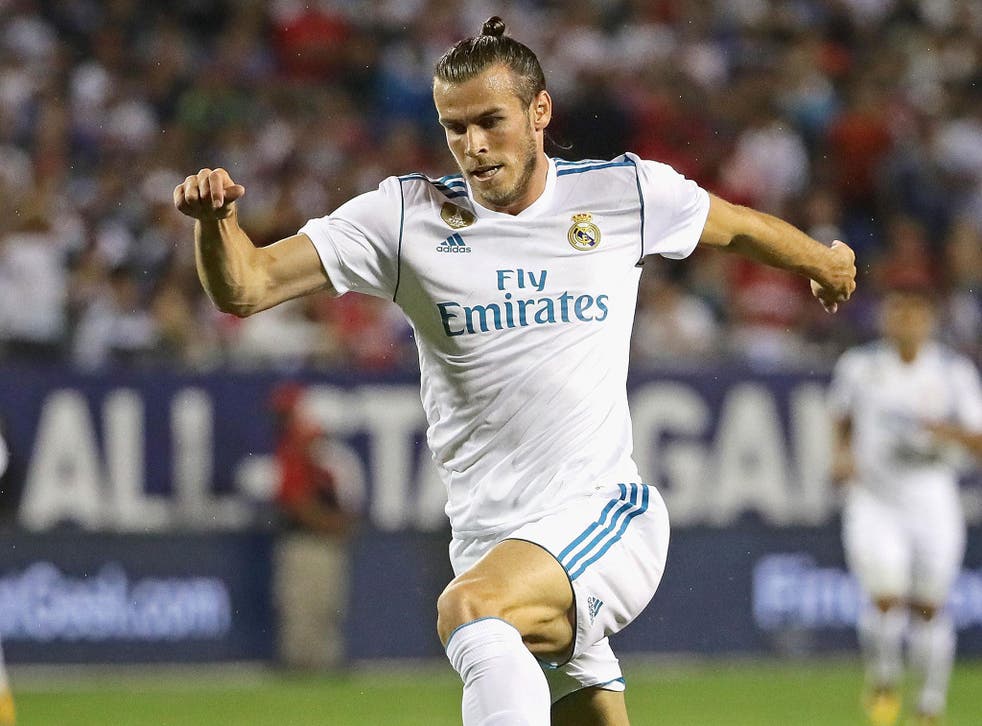 Jose Mourinho says he will push for Gareth Bale's signature if the Welsh star is left out of Real Madrid's team in Tuesday's Super Cup fixture against Manchester United, with Zinedine Zidane only adding further edge to the story by turning down three opportunities to definitively say the winger would be staying.
The possibility of the 28-year-old going to Old Trafford this summer has never gone away and been frequently mooted by sources close to both clubs, with many believing the Spanish champions would be willing to sell if they eventually bring in Monaco's Kylian Mbappe.
That could take the decision out of Bale's hands, even though he had made it clear he wants to stay in Madrid and fight for his place, at least for another year. It is however also known that Old Trafford would be his top preference were he to leave, and some close to United feel that Mourinho's comments were primarily directed at Bale himself to try and force the situation.
How Manchester United could line up next season

Show all 12
The Portuguese has already been filmed telling Bale he would go for him if he spoke up, when they met after the match between the two clubs on the pre-season tour of the USA, and Mourinho publicly revived the story by being so forward when asked about the situation in his press conference ahead of the Super Cup.
If Bale was then looking for assurance from Zidane, however, he did not really get it. The Real boss did not knock the story down and, when asked whether he would still be playing for the European champions on 1 September, merely said: "Bale is a Real Madrid player that's all I can say. I want to talk about tomorrow's match. We are here, him, me and all the other players and the fans are here for the match only. That stuff doesn't interest me very much."
Premier League transfer round-up: Matic moves from Chelsea to Man United
It evidently interests Mourinho, who added "gasoline" - a word Zidane used in relation to press coverage of the situation - by referencing his potential interest.
"If he's playing tomorrow, well, no I wouldn't think of that possibility of signing on [Bale]," the Portuguese said.
"If he is playing tomorrow, it is because he is in the coach's plans and in the club's plans and because he also has that ambition to continue in Real Madrid.
"So I haven't even thought of the possibility of signing him on our team.
"If he's not in the club's plans, if what you are writing right now is true - I am not sure whether it is or not - that the arrival of another player [would] perhaps [mean] Gareth would be on his way out.
"If he is on his way out of Real Madrid, well, I'll try to be waiting for him on the other side and try to fight with other coaches that would also like to have him on his team.
"But I think that if he tomorrow, it is probably the best confirmation that they'll keep counting on him during the season."
This was later put to Zidane, who generally talked quite evasively.
"What's important is that the player is feeling well. He's had a lot of continuous training sessions with us and that's what is important. At the end of last season it wasn't easy for him. He was out for four months but now he is very concentrated.
"What's important for us isn't what the coach said, it's what we are going to do tomorrow… It's the same thing with Ronaldo, we've also had stories there. People seem to want to blow it up out of proportion.
"We're concentrating on what we're doing and that's what is important."
The Independent understands that there had first been contact between the clubs regarding Bale - and other transfer issues - back in April. That contact has never completely ceased, although there is now a feeling that if anything is to happen it will be down to the player. As it stands, Bale wants to fight for his place, but that may change if it is made clear Real have other plans.
Join our new commenting forum
Join thought-provoking conversations, follow other Independent readers and see their replies