Newcastle United new-boy Kenedy beaming over move to the club he knows from the 'Goal' films
Kedeny because Newcastle's first January signing on Monday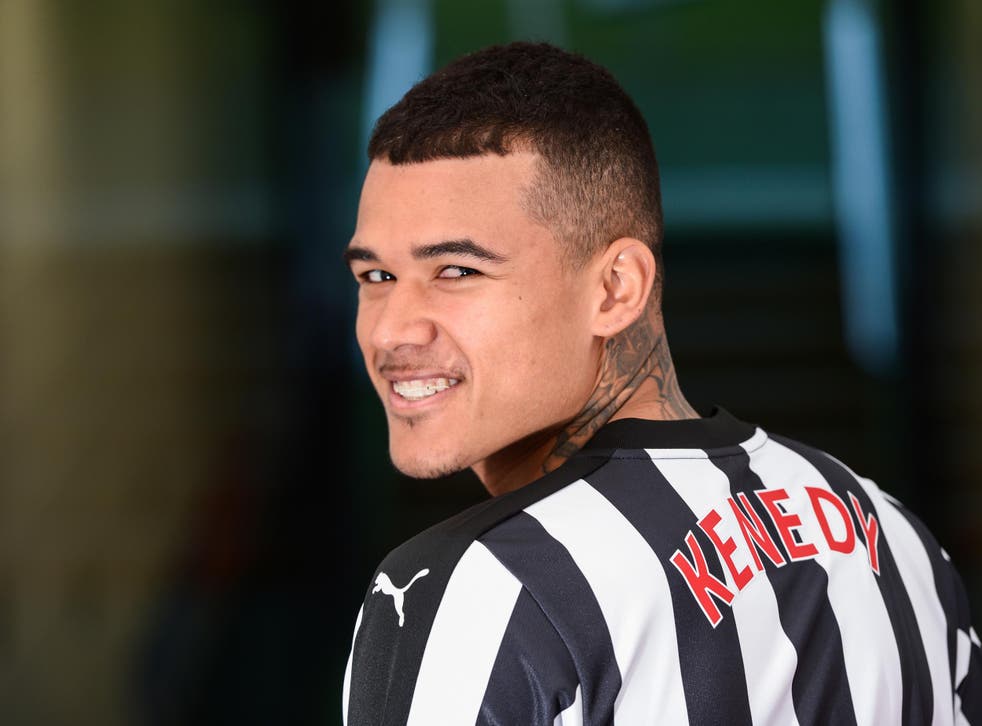 "Yes, Pele is my uncle!" said Kenedy.
There are ways to catch the attention of a fairly browbeaten, motley-looking group of north east football reporters. That was it. Kenedy, the Chelsea player signed on loan to help save Newcastle United's Premier League status, had been asked if the fact his surname (Nascimento) is the same as Brazil's most famous player meant they're related.
Even the Portuguese-speaking interpreter did a double take as Kenedy said yes. Whatever is Portuguese for "really!?" slipped into their conversation. "No, I was joking!" he laughed, immediately. There was lots of laughter.
FA Cup fourth round in pictures

Show all 42
Kenedy correctly identified the first Brazilian to play in England (with Newcastle), as Mirandinha. He knew about the player, he admitted "I'm too young" but he was aware of the club because of the film 'Goal' "It's good," he smiled. There was lots of smiling.
He talked through his vast array of tattoos. On the side of his neck, in Portuguese, is this: "Forgive me, mum, for my crazy life." Above that is a tattoo of red of a pair of lips giving him a kiss. "Life is crazy because it gives you things you have never thought about," he said, smiling, still.
He was asked if his mum had forgiven him. "I don't know!" he replied.
Kenedy is 21. When he was eight his potential was spotted by Friburguense Atlético Clube, 300 miles away in Rio. He moved with his uncle.
"I moved from Santa Rita do Sapucai, a city in the countryside in Minas Gerais, to Rio de Janeiro," he said, as with the entire interview, through his interpreter. "It's about 300 miles, more or less the same as from Newcastle to London. My uncle was my manager."
Were you scared, he was asked. "No, it was fine, it was okay for me."
His boyhood heroes were Adriano, Romario and Ronaldo. He went to Vasco de Gama and then Atletico Mineiro before signing for Fluminense. He made his debut when he was 17 and scored his first goal at the Maracana a year later, with a last minute equaliser in a 3-3 draw with Cruzeiro.
In August 2015 he completed a £6m move to Chelsea and made his full debut under Jose Mourinho in the Capital One Cup at Walsall, scoring in a 4-1 win. His role that season remained largely as a substitute. He went on loan to Watford in 2016, played once, went back to Chelsea because of injuries and last summer caused controversy on the club's trip to China when he posted "Porra (screw) China" on Snapchat. He apologised, along with Chelsea, to the Chinese people and was sent home.
"It was not hard," he said, this time not smiling. "It was a good experience training there and getting to know the city and visiting China."
His left thigh perhaps answered the incident better. "You never know how strong you are until being strong is your only choice," read another tattoo, quoting Bob Marley.
Kenedy almost joined Newcastle in the weeks that followed the issue. Finally last week he signed with the club for a loan until the end of the season, the day after being man of the match in Chelsea's FA Cup win against Norwich.
He said Rafa Benitez had spoken to him before the move. "He's an excellent coach, I think he will help me a lot." More than anything, Kenedy seemed genuinely happy, his mood offering a refreshing contrast to the tortuous gloom that grips Tyneside as transfer windows shut.
"The city is beautiful, the club is wonderful," he said through his translator. "I'm really happy to be part of it. It's a really important time in my career and I hope I can do my best. I'm here to learn and show all my potential."
He was asked what he would give to the team - he is left sided with pace - but was surprisingly reserved in his response.
"I can play in various positions so I will do my best and that's what the fans can expect from me," he replied. "I'm waiting to feel the reception of the fans and the support of the fans and I will do my best for them.
"When I was a child I used to play with my friends in the streets and I always dreamt being in a club like this one, and now the dream has come true."
He was told that Newcastle, like his life, is a crazy club. "I don't know much," he replied. But his impact, with the side one point above the relegation zone, could yet prove crucial.
Join our new commenting forum
Join thought-provoking conversations, follow other Independent readers and see their replies