Newcastle transfer news: Rafa Benitez held talks with owner Mike Ashley after series of January failures
The Magpies have missed out on Nicolai Jorgensen and Daniel Sturridge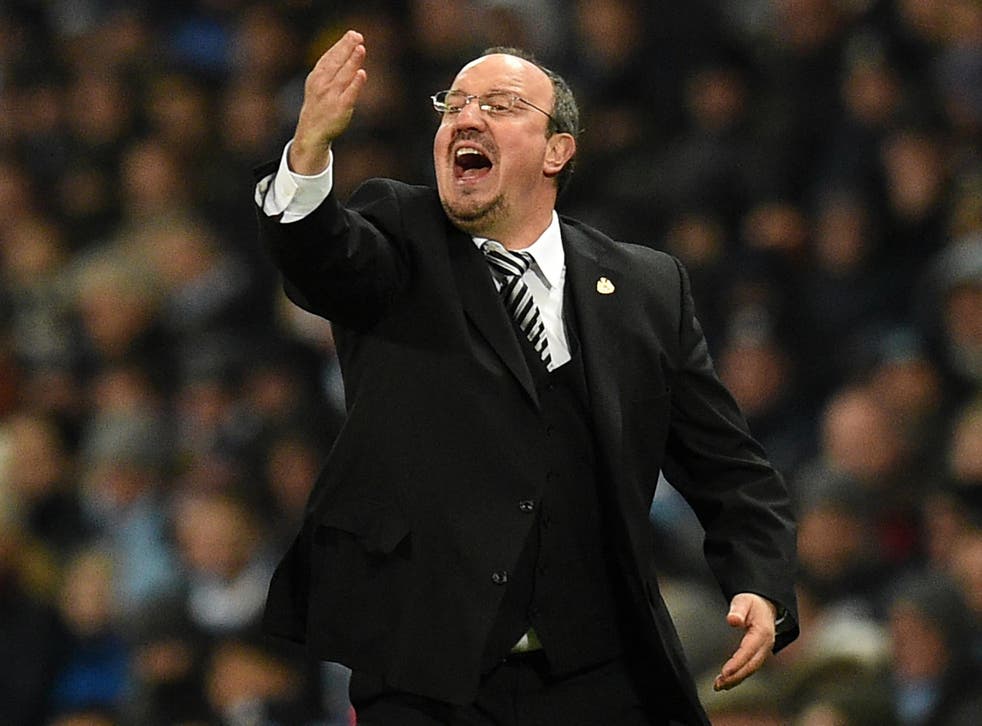 Rafa Benitez held talks with the Newcastle United owner Mike Ashley on Tuesday morning in a bid to find a breakthrough to solve the club failing in another transfer window.
Newcastle missed out on their number one target Nicolai Jorgensen because they would not meet Feyenoord's £22m asking fee and on Monday their move to sign Daniel Sturridge fell through when West Bromwich Albion, who are believed to have offered the player bonuses, tied up a loan deal with the Liverpool forward for the rest of the season.
That has caused major unrest amongst Newcastle's supporters who are concerned that a third successive transfer window will end without major reinforcements and with doubts about the manager's future. Benitez played down those concerns, talking of a commitment to the supporters, who continue to back him amid growing concerns the centre forward the side needs will not be signed.
The club insists there is money for transfers this month, but once more it will go right down to the wire and so far the only addition to a squad one point above the relegation zone has been the loan move for Kenedy.
Benitez still had a semblance of optimism but he admitted he had spoken to Ashley about the situation, something that did not happen last January, when he missed out on Andros Townsend and his relationship with the owner was much more distant.
"I have spoken to him today, a few hours ago," he said at lunchtime on Tuesday. "We have been talking about everything. It is one month with targets, so we had plenty of targets to talk about. We have to talk, it is the way they like to do things. We have to do something before the end and then that's it. Obviously everybody would like to see players early, but they are not here so we will try to do something in one day. We were talking about different options.
"It is not the ideal situation, when you have been working for months, preparing names and analysing players and then you go to January 1 with a list of players and then you start with the names, the main target that you have.
"After you have to go to the 31st and waiting for a phone call from someone else, it means that something is wrong, but we cannot change what is going on here for a while, what I can try is to do my best now.
"In every single club I have been, normally I finish with profit, success and titles, or at least not creating a problem for the books. I understand what is going on in the market and I will try to find players early at the right price. If a player is too much I will not say, "Go for this one". But, in this case, in this time, it has not been the case.
"At this time, which team will sell their top scorer? It's very difficult. So what you have to do is be sure that you can bring someone that can help in one way or another way.
"I will not talk about specific names. We were working and preparing a list and now we are working with different names. We still have one day and we have to concentrate on the next game. Even if we don't bring the first target or we bring the last name on the list, we have to try and win against Burnley, so that's it."
There have been provisional talks this month about Benitez extending his current contract at St James' Park, which runs out next summer, however the transfer market failure has cast a shadow over him seeing out his existing deal.
"My future is very simple and very clear," he said. "Still we have one day for doing business. After that, still we can analyse where we are but I don't think that will change too much because I have a responsibility to the fans, with the players, with the club so it is not just personal.
"I have had the same situation a few years ago when I was at Liverpool and Real Madrid approached me and I gave my word to the players that I would stay. Sometimes, you just have to say 'ok, I will do what I have to do.'
"I have the belief and confidence that even in the more difficult circumstances, still we can stay up and we try to think about that but hopefully, we will have something coming before the end of the transfer window and feel much better and we have three points."
Benitez confirmed that he would not be letting any of his regular first team regulars go, despite reports linking Mikel Merino with a surprise return to Spain with Atletico Bilbao and Jonjo Shelvey once more mentioned with regards to a potential move to West Ham. There remains the possibility that Aleksandar Mitrovic could move abroad.
Join our new commenting forum
Join thought-provoking conversations, follow other Independent readers and see their replies