As it happened
ended
1517400203
Pierre-Emerick Aubameyang to Arsenal: Latest transfer updates and reaction from club-record deal
Follow live updates as the transfer unfolds throughout the day
Wednesday 31 January 2018 11:06
comments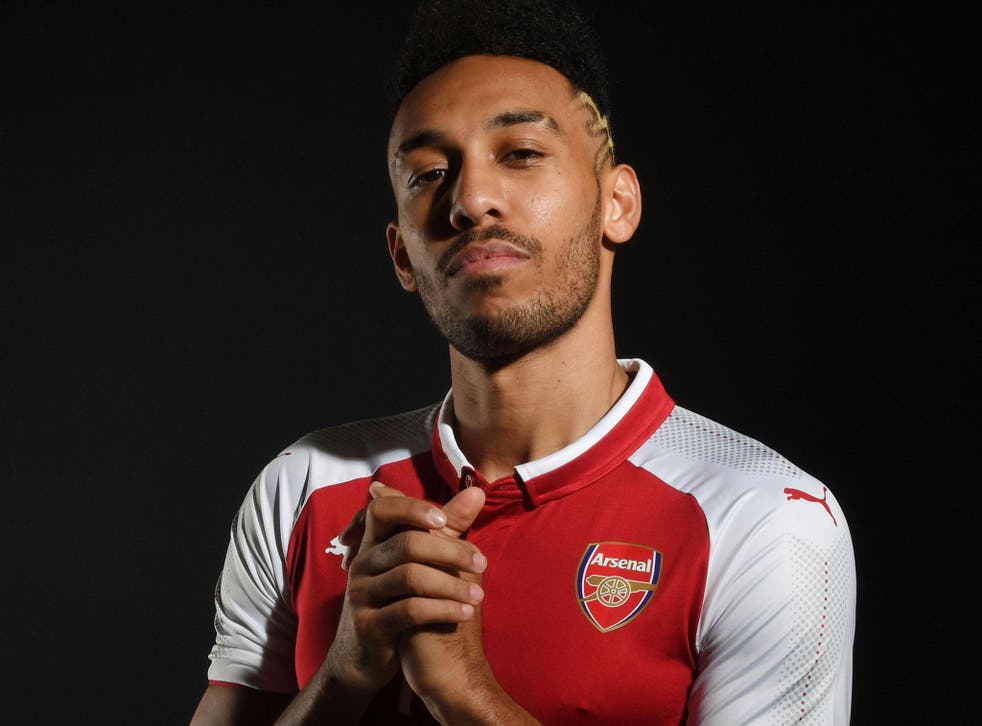 Pierre-Emerick Aubameyang completed his £56m move to Arsenal today, following Henrikh Mkhitaryan through the doors at the Emirates.
Arsenal had been in negotiations with Dortmund over the signing of Aubameyang for a number of weeks but a breakthrough was finally made over the weekend, with the north Londoners eventually raising their offer to £56m, having initially put forward a £40m bid,
Follow live updates below as the transfer unfolds throughout the day:
1517394041
Good morning all! For those Arsenal fans out there itching to know what's happening, we've dedicated a whole live blog to the Pierre-Emerick Aubameyang transfer as it unfolds throughout the day. Aren't you lucky? We'll have every update, rumour and statement covered so make sure to stay tuned!
Samuel Lovett
31 January 2018 10:20
1517394451
Arsenal appear to have jumped the gun on their move for Borussia Dortmund striker Pierre-Emerick Aubameyang after the wrong video was published on their website on Tuesday night.
The Gunners are waiting on Dortmund to give them the green light to announce the club-record £60m deal, which will see Arsene Wenger set a new highest transfer fee for the second time this season after the £52m acquisition of Alexandre Lacazette last summer.
But Wenger has been caught up in what looks to be a particularly messy and embarrassing incident late on Tuesday night after the club posted his reaction video to their Arsenal Player – only for it to be the wrong clip.
Under a headline 'They were hungrier and we were absolutely guilty', Wenger was pictured against the sponsored backdrop at the Liberty Stadium immediately after the 3-1 defeat that leaves Arsenal eight points off the top four and 23 points behind leaders Manchester City.
But the video was evidently not what it was supposed to be, as rather than offer his thoughts on the game, Wenger instead was asked what he thought about their latest signing – Pierre-Emerick Aubameyang.
"Aubameyang is an Arsenal player, you must be delighted to get the deal done?" Wenger was asked.
"Yes, it's good news," he said. "We need people who can give us more offensive power. At the moment we aren't efficient enough going forward, and hopefully I'm convinced he will bring us that. He has a big challenge in front of him, he wants to win the Premier League.
"Overall, I believe he is welcome and that is absolutely good news for us."
Samuel Lovett
31 January 2018 10:27
1517394795
Arsene Wenger on Aubameyang's best qualities and persuaded the club to send chief executive Ivan Gazidis to Dortmund to try and structure a deal.
"I would say overall his pace, his finishing, the quality of his runs, the quality of his reception, including cross and overall his huge physical capacity to repeat runs," Wenger added. "Of course that will be important in the Premier League because the physical challenge is very high."
Aubameyang arrives little more than a week after Alexis Sanchez left the club for Manchester United, with Henrikh Mkhitaryan moving to the Emirates Stadium in a swap deal, and the Frenchman hopes that the addition of Aubameyang and Mkhitaryan will make up for the dearth of goals left by Sanchez's departure.
He said: "That's what we hope and we are keen to see them all together to see what we can do, that is of course very important and overall I believe that let's make that happen soon because it's not over the line yet but hopefully that will be done tomorrow."
Samuel Lovett
31 January 2018 10:33
1517395800
Ummm, don't think we'll be jumping to conclusions over this tweet...
Samuel Lovett
31 January 2018 10:50
1517396458
Arsene Wenger accepts getting a deal for Pierre-Emerick Aubameyang pushed through ahead of the transfer deadline was always likely to prove "complicated".
Speaking after Arsenal's surprise 3-1 defeat at Swansea, the Frenchman was pressed on whether he was confident of completing a deal for Aubameyang before today's 23:00 deadline.
"Every detail can make deals and the deals nowadays are so complicated that, so long as you have not finished it, you cannot be too confident - it doesn't help too much," he said.
Samuel Lovett
31 January 2018 11:00
1517397327
  ↵A reminder - if you didn't already know - that Aubameyang underwent his medical at London Colney earlier this day.
The player flew into London via private jet on Tuesday afternoon and will have no doubt watched Arsenal's defeat by Swansea later that day.
Because we've got a long day ahead of us, here are some of the best reactions to that upset and Aubameyang's imminent unveiling...
Samuel Lovett
31 January 2018 11:15
1517398230
Following Arsenal's 3-1 win over Swansea yesterday, Arsene Wenger has addressed the transfer rumors regarding both the signing or Aubameyang and Olivier Giroud.
Asked whether the two deals were linked, where Giroud will leave if Aubameyang arrives, Wenger said: "Olivier is an Arsenal man and after that he needs to play as well. He has not played many games in the Premier League since the start of the season and he is a regular player in the French national team.
"There is a World Cup where France will go, the places are of course very difficult to get and at some stage it was a difficult situation for him. But he always had his heart 100 per cent in the team and he was committed."
digitalsport
31 January 2018 11:30
1517399263
After confirming the signing of Aubameyang, Arsenal have uploaded a video of Henrikh Mkhitaryan welcoming the striker.
They will reconnect after playing together for Borussia Dortmund from 2013 to 2016.
digitalsport
31 January 2018 11:47
1517400024
With Aubameyang confirmed this could then lead to Olivier Giroud to complete a potential move to Chelsea.
A possible space may be freed up at Chelsea with the departure of Michy Batshuayi.
Pictures have emerged of Batshuayi undergoing a medical at Dortmund before his potential loan move.
digitalsport
31 January 2018 12:00
1517400203
So why didn't Jurgen Klopp make a move for his former player? The Liverpool boss has his say...
Samuel Lovett
31 January 2018 12:03
Join our new commenting forum
Join thought-provoking conversations, follow other Independent readers and see their replies