PSG express interest in Manchester City midfielder Samir Nasri and Newcastle's Yohan Cabaye
Director of football Leonardo refuses to rule out big signings by French club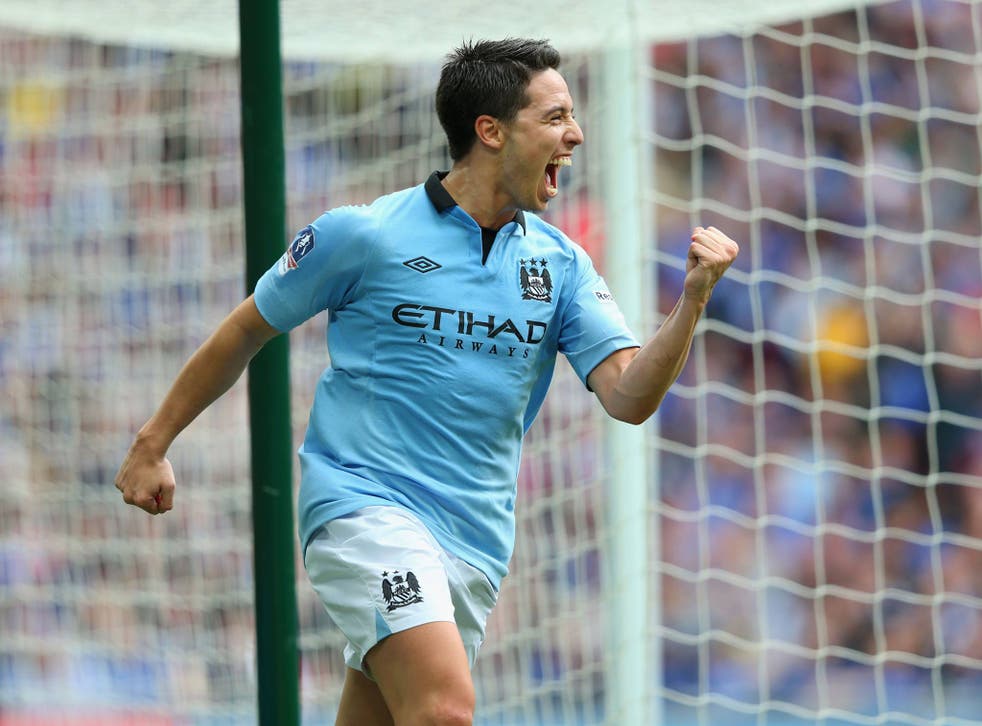 Manchester City midfielder Samir Nasri could be a target for Paris Saint-Germain this summer, while moves for other Premier League stars including Wayne Rooney and Yohan Cabaye cannot be entirely ruled out according to director of football Leonardo.
"The market is opening up," he said when discussing potential recruits. "We may look in Spain or England."
The French side have become the latest players at football's top table following investment from Qatar and have already signed world class players Zlatan Ibrahimovic, Thiago Silva, Ezequiel Lavezzi, Thiago Motta and Lucas Moura, among others.
This season they look on course to win their first Ligue 1 title in 19 years and came close to knocking Barcelona out of the Champions League, eventually exiting the competition at the quarter-final stage on away goals.
The huge resources available has seen the French capital club linked with various players - including moves for Rooney and Cristiano Ronaldo.
Leonardo denies that any transfer negotiations have begun for those particular players, but suggests the arrival of household names over the summer is a distinct possibility.
"On Ronaldo, there has never been an offer," he told Gazzetta dello Sport.
"I've never heard anything about (Wayne) Rooney or (Edinson) Cavani either. I do not rule out big signings, but only if there is a suitable opportunity.
"We do want a larger squad with adequate cover in all areas in order to avoid the sort of problems we had in January in midfield with all the injuries and suspensions."
PSG are reportedly keen to build a French core at the club, with Ronaldo's Real Madrid team-mate Karim Benzema consistently linked with a move to the capital, as well as suggestions that Patrice Evra of Manchester United and Hatem Ben Arfa of Newcastle could join Carlo Ancelotti's side.
Yet it is the names of Manchester City's FA Cup semi-final goalscorer Nasri and Newcastle's Cabaye who were mentioned by Leonardo during his interview with Gazzetta dello Sport.
"The idea of seeing the great French players here is something I like," he said. "I'm not necessarily talking about Benzema, but maybe Nasri, (Franck) Ribery or Cabaye.
"But I do not know if it is feasible and I have not had contact with any of them."
On the subject of Rooney, manager Ancelotti has praised the United striker but does not expect a deal to come off.
"Wayne Rooney is one of the best strikers in the world," the former Chelsea boss said in comments reported by L'Equipe. "I think he is impossible to buy. He is an idol for Manchester United."
Register for free to continue reading
Registration is a free and easy way to support our truly independent journalism
By registering, you will also enjoy limited access to Premium articles, exclusive newsletters, commenting, and virtual events with our leading journalists
Already have an account? sign in
Register for free to continue reading
Registration is a free and easy way to support our truly independent journalism
By registering, you will also enjoy limited access to Premium articles, exclusive newsletters, commenting, and virtual events with our leading journalists
Already have an account? sign in
Join our new commenting forum
Join thought-provoking conversations, follow other Independent readers and see their replies