Rafa Benitez warns Newcastle fans not to expect a transfer bonanza even if Mike Ashley sells the club
However Benitez did pacify concerns about his own position amidst the uncertainty by insisting he will stay in charge at the club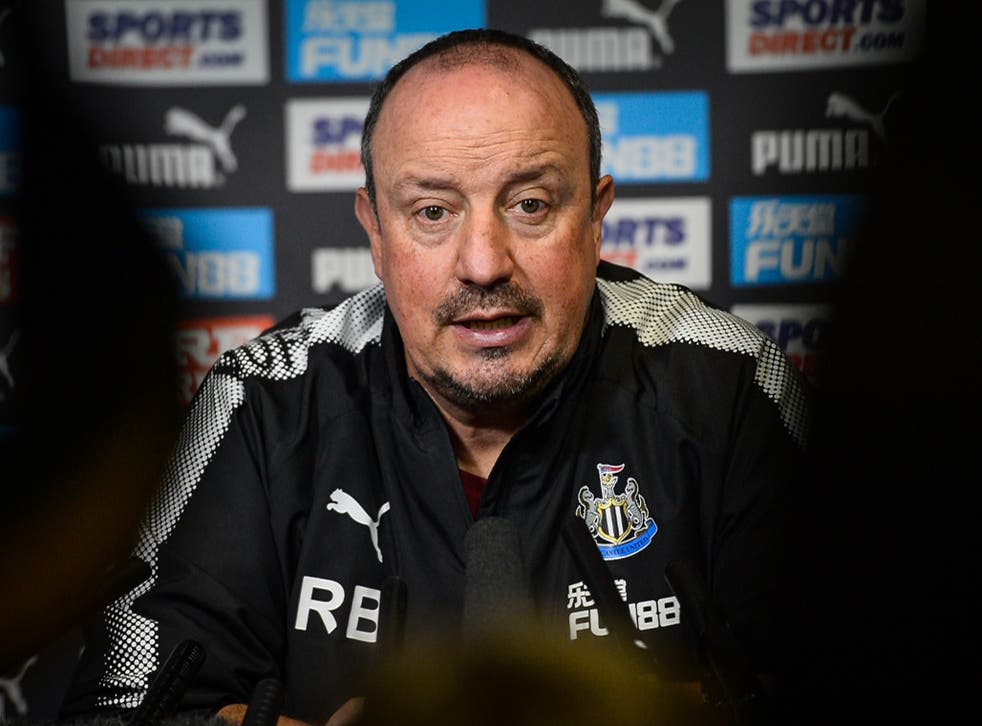 Rafa Benitez has warned Newcastle's expectant support that there will not be a transfer window bonanza, even if the club is taken over by Amanda Staveley.
Staveley's PCP Capital Partners saw their first bid for control firmly rebuffed by Mike Ashley, with her offer falling short of £300 million and the Newcastle owner believed to be asking for around £380 million.
Benitez did pacify concerns about his own position amidst the uncertainty by insisting he will stay in charge at the club, regardless of who is in charge in 2018.
But there was a warning the economic position of the newly-promoted club will not alter dramatically, even with a new owner.
"I don't know the figures of the club but I know it's not that you can say, 'We have £100 million.' No chance," said Benitez.
"If you know the rules and financial fair play rules, they do not allow you to spend massive money. So, (if) you have a change in ownership and (people say) they will have millions to spend in January, but it is not a massive difference for us.
"What we know is we will not have too much money, if it's a new ownership and if it's the same one, the figures could be very similar.
"I am quite pragmatic. What can I do? Nothing. So what I have to do is be sure my team is focused and concentrating on the football. I don't talk to players about that (takeover) because we do not have the information.
"We talk about the next game. We have a couple in the next few days (against Watford and West Brom) which are massive for us. We can do what we have to do. Improve in our training sessions and make sure everything is fine, analyse the last game, prepare for the next one and know what we have to do to beat Watford
"I understand why I am being asked about it (the takeover) but I do not have any answers. Yes, obviously (better to have a resolution one way or another). You know where you are then. But at the moment, we do not know what will happen so we have to carry on doing the same thing."
Fantasy Premier League tips: Gameweek 13

Show all 10
When asked if he would still be in charge in 12 months if the ownership does not change, Benitez replied: "I think so. I'm quite happy with this group of players, they're improving, they're learning. I don't see any difficulty now. Just for me it is a challenge. Was I disappointed after the summer? Yes, but still this is a chance for me."
It is thought Benitez hopes to have around £15 million to spend if Ashley remains in charge. That could potentially rise marginally if there is a change, by around £10 million. The Newcastle manager has already drawn up his targets but admits he needs to move players on, with Aleksandar Mitrovic a possible departure.
"You know I was not very happy in January and also in August," he added.
"But what I said is I know what we have and so I had to concentrate on improving the players that we did have.
"You can maybe manage to bring in a couple of players that we need. Maybe there are two or three that I can move and two or three that I can bring in. But are they available? Can you move players on?
"Before you can run, you have to walk, so I need to be sure that we stay in the Premier league. That is my priority now. In August, I was thinking, 'If we do well, maybe top 10 could be a challenge'. Now it's just, 'Be sure that you are in the Premier League. Still you can go higher in the table, but be sure you are still in the Premier League'.
"When other fans criticise our fans, 'Oh, you are expecting this or that', they say, 'Oh no. What we want is to see our team fighting, working very hard on the pitch', and they have that.
"This team in the Championship, this team in the Premier League, they are giving everything. You can make mistakes and you can concedes goals - I will be upset, I will be disappointed or whatever - but what I want is people working very hard."
Register for free to continue reading
Registration is a free and easy way to support our truly independent journalism
By registering, you will also enjoy limited access to Premium articles, exclusive newsletters, commenting, and virtual events with our leading journalists
Already have an account? sign in
Register for free to continue reading
Registration is a free and easy way to support our truly independent journalism
By registering, you will also enjoy limited access to Premium articles, exclusive newsletters, commenting, and virtual events with our leading journalists
Already have an account? sign in
Join our new commenting forum
Join thought-provoking conversations, follow other Independent readers and see their replies