Van Persie's reluctance to join City puts deal on hold
Striker hopes for bigger bids from United or Juventus but may still be at Arsenal when the season starts
Sam Wallace
Saturday 04 August 2012 01:04 Comments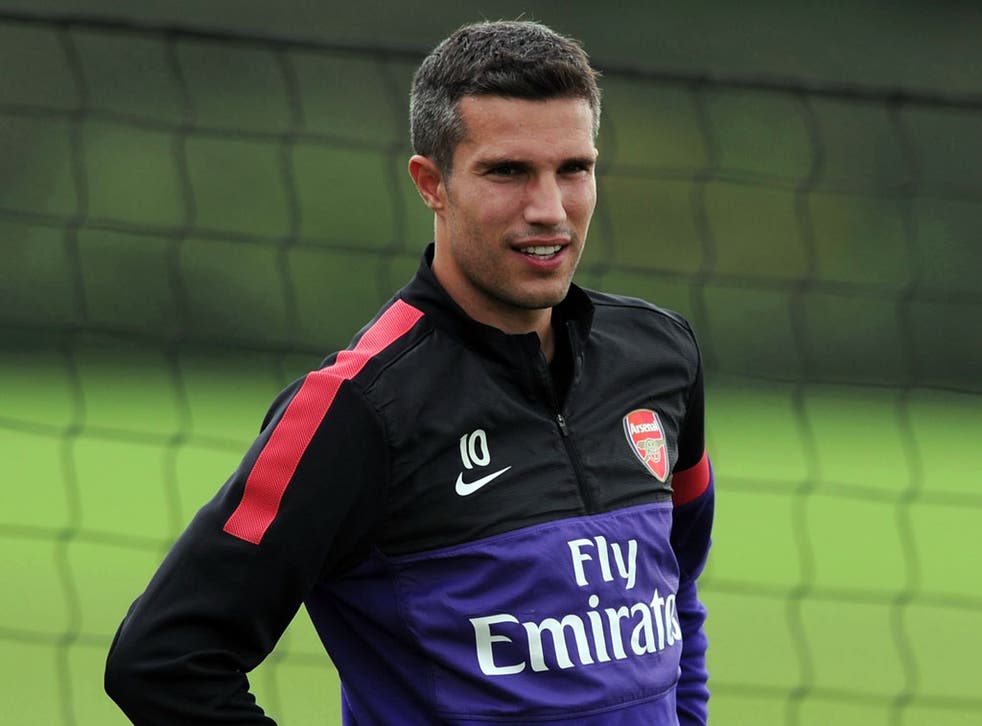 Robin van Persie will have to wait longer for his future to be resolved with Manchester City prepared to pay the most, upwards of £20m, for the signature of the Arsenal captain but the player himself still reluctant to join the Premier League champions.
Van Persie, 29 on Monday, has made it clear to Arsenal that his preference of the three clubs who are pursuing him is Juventus and, failing that, Manchester United. Both clubs' valuation of him falls well short of what City are prepared to pay for a player who will be out of contract next summer. While Arsenal do not wish to sell Van Persie to City either, they do want to earn as much as possible from a player who has stated his intention to leave.
It is understood that although the player is adamant that he does not want to go to City, the prospect of not being able to leave at all is a serious concern for him. Following his public refusal to consider a new contract at Arsenal, he feels he cannot play a final season at the club. Whether that would be enough to convince Van Persie to accept a move to City should Arsenal decide to negotiate with them is a decision he will have to make.
For now, however, the £30m valuation placed on him by Arsène Wenger is way in excess of the amount that both Juventus and United are prepared to pay. Both clubs are hopeful that Van Persie sticks to his guns with Arsenal and insists that he joins one of his two first-choice options regardless of what City are prepared to offer.
Van Persie will join the rest of his Arsenal team-mates on their pre-season training camp in Germany next week, where they will play a friendly against Cologne a week tomorrow, further evidence that the deal is unlikely to be resolved in the immediate future. He had previously missed this summer's tour of Asia last month with expectations then that the deal could be done.
It raises the possibility that Van Persie could even start the Premier League season as an Arsenal player. The intention of the club's hierarchy, however, is still that he should be sold and that the option of allowing him to run down his contract makes no sense financially. As things stand, ideally for both Arsenal and the player himself, Juventus would offer around £25m for Van Persie, although that currently looks a distant prospect.
Arsenal are understood to be close to a deal to sign the Spain international Santi Cazorla from Malaga in the next few days on a four-year deal. The Turkey international Nuri Sahin has been told by Jose Mourinho that he can leave Real Madrid with his destination likely to be Arsenal. Mourinho said of Sahin: "The point is that he's a young boy who wants to play every match. He wants to play to be happy and in Real Madrid with Xabi Alonso, Sami Khedira, Lassana Diarra, Esteban Granero and Mesut Ozil, the situation is not easy.
"Real Madrid is very difficult. It is not an easy club, because we demand a lot. We have great players and when you don't start well, it's difficult to do it. If he stays, he's not a problem for me. He's one more solution. We are leaving the situation in his hands."
The Caen president Jean-François Fortin has said that Arsenal have made a bid for the France international M'Baye Niang, 17, an attacker. He told L'Equipe: "Arsenal made me a proposition, but other clubs are interested – two in England and one in Italy."
Register for free to continue reading
Registration is a free and easy way to support our truly independent journalism
By registering, you will also enjoy limited access to Premium articles, exclusive newsletters, commenting, and virtual events with our leading journalists
Already have an account? sign in
Register for free to continue reading
Registration is a free and easy way to support our truly independent journalism
By registering, you will also enjoy limited access to Premium articles, exclusive newsletters, commenting, and virtual events with our leading journalists
Already have an account? sign in
Join our new commenting forum
Join thought-provoking conversations, follow other Independent readers and see their replies