The Independent's journalism is supported by our readers. When you purchase through links on our site, we may earn commission.
Virgil van Dijk rules himself out of Netherlands' Euro 2020 campaign to focus on Liverpool return
Netherlands boss Frank de Boer had recently said it would be up to the defender to make the call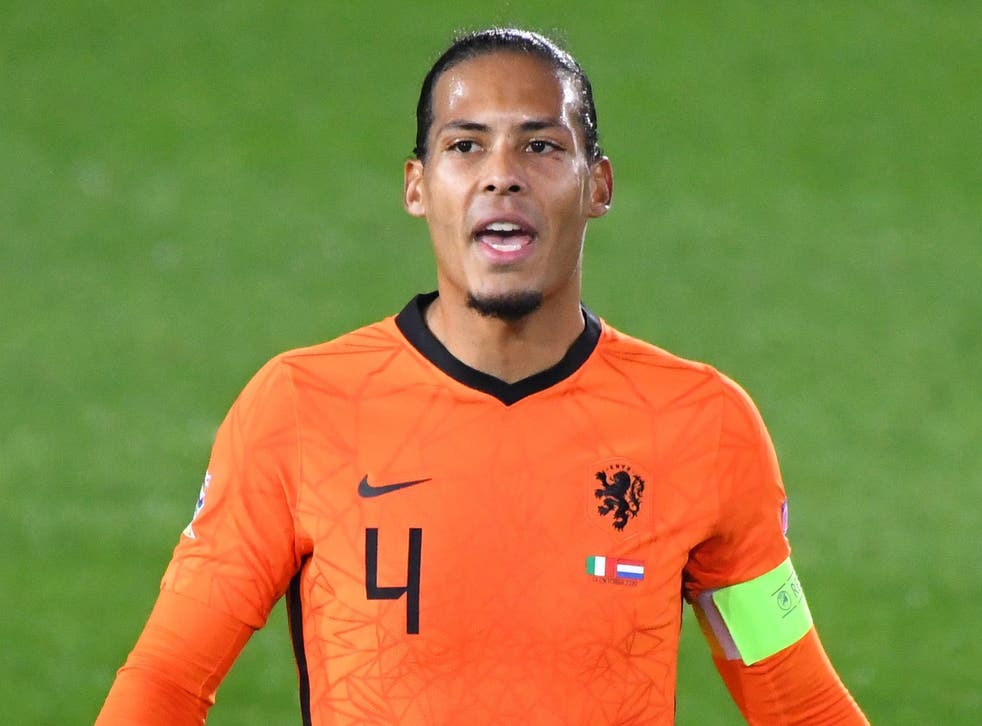 Liverpool centre-back Virgil van Dijk has ruled himself out of Euro 2020 to concentrate on recovering from his knee injury in time for the start of the new Premier League season.
The 29-year-old is captain of the Netherlands national team, but will not be leading his side this summer as he completes his recovery.
Van Dijk suffered a cruciate knee ligament injury in the Merseyside derby in October 2020 and has missed the majority of the campaign as a result.
Club manager Jurgen Klopp had previously been non-committal over whether he would return to play a part in the current season, while his national team boss Frank de Boer insisted it would be Van Dijk's decision over whether or not to feature at the European Championships.
Now he has made that decision, telling Liverpool's club website that while he is "in a good place" now after a "tough journey", he wants to focus on a big "18 months" at both club and country level.
"In this latest stage for myself, I have come to a decision that I had to make: would I be involved in the Euros, yes or no? With everything that is going on, I feel physically it is the right decision that I've decided not to go to the Euros and to go into my last phase of rehab during the off-season," he said.
"So, the full focus will be on pre-season with the club and that's a realistic goal, so I am looking forward to that.
"Obviously I am very gutted to miss the Euros, to miss the European Championship and leading out my own country there, but things have been like they have and I have to accept it – we all have to accept it. I think the decision to not go is the right decision in the grand scheme of things. It's tough, but I'm at peace with it."
Van Dijk highlighted that he hoped for next season to be a more successful one for Liverpool, while the World Cup will also take place at the unusual time of the end of 2022 in Qatar.
Elaborating on his plans for completing his recovery over the summer, the Reds' No. 4 said he wanted to give his knee time to fully get back to peak condition.
"When the season ends it doesn't really end for me. I will train every day, keep training until pre-season starts.
"Obviously there will be a couple of days of sort of rest, but I want to be ready and I will do everything that is possible to get ready, which is normal. I am looking forward to it. The sun is going to be shining again, so it makes it a little bit easier. I will keep working and that's definitely the only thing that I can promise: that I will keep going no matter what.
"It's all positive, I am very gutted to not be going to the Euros, but it is the right decision for this time and hopefully for the future as well."
Van Dijk further reiterated how he was looking forward to playing in front of fans again next season, and insisted that the players at the club were "not happy" with how the 20/21 campaign has gone, with hopes to put that right next term.
Liverpool are next in action when they face Manchester United on Thursday, needing to win to keep their hopes alive of being in the Champions League in 21/22.
Join our new commenting forum
Join thought-provoking conversations, follow other Independent readers and see their replies