Watford vs Liverpool LIVE: Premier League result, final score and reaction today
The Reds face the Hornets in Claudio Ranieri's first game in charge to open this weekend's Premier League action
Michael Jones
Saturday 16 October 2021 16:22 Comments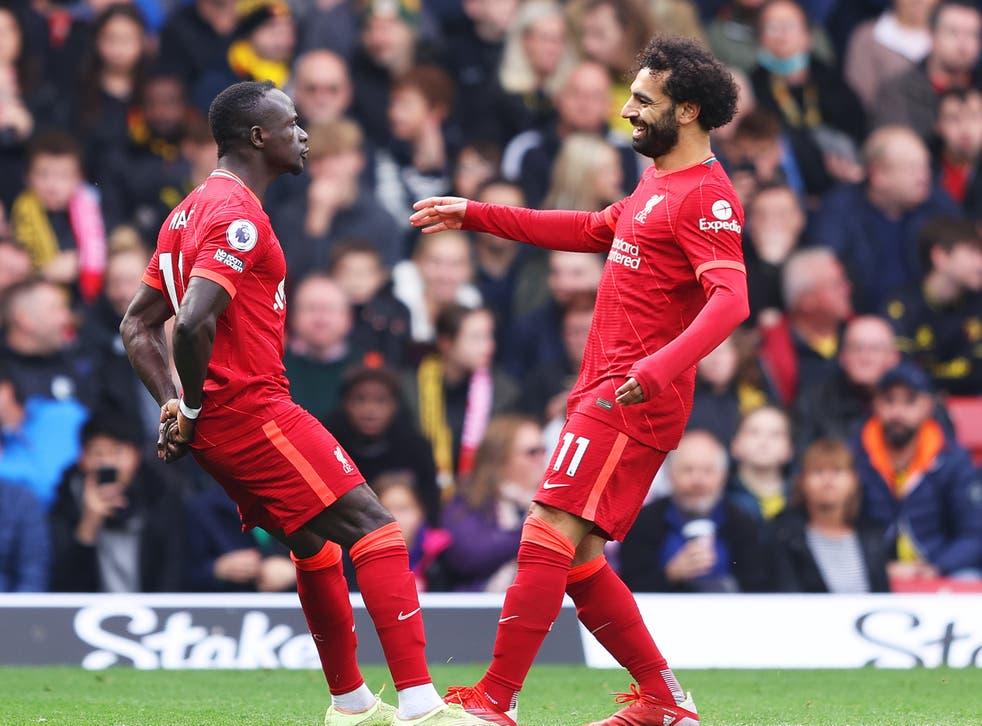 With a deft touch, a roll of the ball with his studs, a dummy and then a sublime finish into the bottom corner, Mohamed Salah produced another goal-of-the-season contender to headline Liverpool's 5-0 win at Watford in the Premier League on Saturday.
On a tough day for Claudio Ranieri in his first match as Watford manager, Salah delivered almost a replica of his stunning individual goal against Manchester City before the international break to show just why many are calling him the world's best player on current form.
It also overshadowed a hat trick scored by Roberto Firmino.Salah's 54th-minute solo goal started just inside the area where he was surrounded by three Watford players. Salah somehow managed to extricate himself out of the situation with marvellous footwork - including the foot-roll that was a feature of the goal against City - before cutting back onto his left foot and curling into the far corner.
The Egypt winger was mobbed by his teammates after his seventh league goal of the season. He has now scored in his last eight games for Liverpool in all competitions.Liverpool was already well clear by then after an eighth-minute opener by Sadio Mane — off Salah's exquisite pass from off the outside of his left boot — and tap-ins either side of halftime by Firmino. The Brazil striker completed his hat trick with virtually the last kick of the game.
Mane become the 31st player to score 100 Premier League goals, and the third from Africa after Didier Drogba and Salah.Liverpool started the eighth round of games in second place, a point behind Chelsea.The 69-year-old Ranieri, who was hired last week as the replacement for Xisco Munoz, will be judged on games against weaker opponents than Liverpool but this was as one-sided a game as it.
1634387930
GOAL! Watford 0 - 3 Liverpool (Firmino, 52')⚽️
52 mins: Liverpool have three! Firmino has two! Sadio Mane drops to collect the ball and slots it out to Robertson on the left wing. He comes inside and carries the ball up to the box. He swings a low pass into the box for Salah who's in an offside position. The ball doesn't reach him though as Cathcart attempts to intercept by sliding at the ball. He turns it back towards his own goal and Foster has to dive across to keep it out. The rebound comes to Firmino who sinks another tap in.
Michael Jones
16 October 2021 13:38
1634387834
Watford 0 - 2 Liverpool
48 mins: Tom Cleverly is on for Watford having replaced Adam Masina at half-time.
Liverpool continue to press, they want to finish this game off. Matip sends the ball out wide to Alexander-Arnold who feeds a short pass to the edge of the box for Salah. Salah turns into the penalty area, checks to the left and hits one forcing Foster into a sharp save.
Michael Jones
16 October 2021 13:37
1634387676
Second half: Watford 0 - 2 Liverpool
Kick off: Watford kick off the second half and send the ball long down the right side. It's won by Robertson who fires a pass up the wing for Firmino. Liverpool burst forward on the counter-attack and Firmino sends the ball across to Alexander-Arnold. He carries it towards the edge of the box and hits one from range but pulls it wide of the far post.
Michael Jones
16 October 2021 13:34
1634387461
Malleable Milner
James Milner becomes the oldest player to assist a goal for Liverpool in the Premier League since Gary McAllister, it's also the 18th consecutive Premier League season when Milner has got an assist.
Not bad for a player who is used all over the pitch by Jurgen Klopp. He's put in a good show so far today.
Michael Jones
16 October 2021 13:31
1634387220
Woeful Watford
Claudio Ranieri won't be able to believe what he's seen from his Watford team today. They've been dreadful so far, there's been no intent, no aggression and no commitment to get to the ball.
Liverpool have run rings around them with ease. They've scored two goal and could have doubled that.
Ranieri needs to give a big team talk during this break just to kick the Hornets into action.
Michael Jones
16 October 2021 13:27
1634386982
100 up for Mane
Sadio Mané has become the third African player to reach 100 goals in the Premier League, after Didier Drogba and teammate Mohamed Salah.
He also becomes just the third player to reach 100 Premier League goals without any of them coming from the penalty spot, after Les Ferdinand and Emile Heskey.
Michael Jones
16 October 2021 13:23
1634386683
Half-time: Watford 0 - 2 Liverpool
45+1 mins: Jurgen Klopp complained about the early kick off before the match but it hasn't done anything to trouble Liverpool. They've eased to a two-goal lead and haven't had to move out of first gear. Watford have offered nothing in front of goal and they've been pretty lacklustre defensively.
Michael Jones
16 October 2021 13:18
1634386591
Watford 0 - 2 Liverpool
45 mins: Alexander-Arnold swings another corner into the box and picks out Matip who heads the ball down. Kucka gets to the ball first and heads it to Cathcart who clears it away.
One added minute to play in the first half.
Michael Jones
16 October 2021 13:16
1634386395
Off the bar!
42 mins: Liverpool confidently work the ball up the left side of the pitch. Milner brings it inside and passes the ball back into the middle to Naby Keita. Keita rolls the ball onto his right foot and drills one from range. He connects well but the ball continues to rise and rattles into the crossbar.
Michael Jones
16 October 2021 13:13
Register for free to continue reading
Registration is a free and easy way to support our truly independent journalism
By registering, you will also enjoy limited access to Premium articles, exclusive newsletters, commenting, and virtual events with our leading journalists
Already have an account? sign in
Join our new commenting forum
Join thought-provoking conversations, follow other Independent readers and see their replies