Phil Neville to 'live and die' by new style as England's change in approach promises success
Neville's use of praise is one way he is implementing a new style and possession ethos on the England team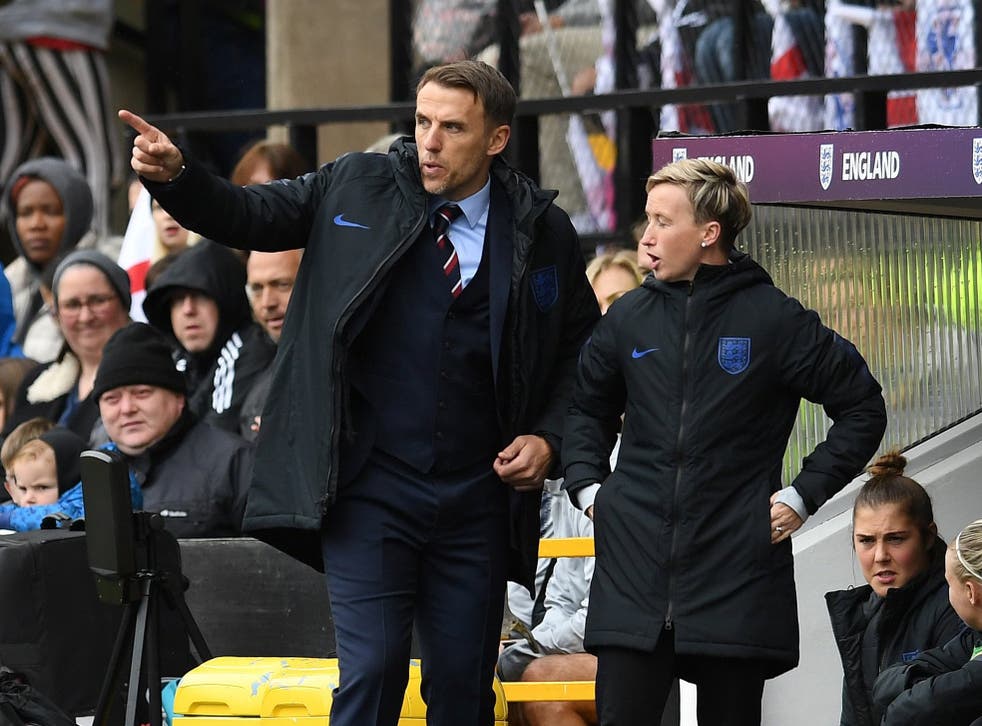 If there is a similarity between Phil Neville and his predecessor as England coach Mark Sampson it is their preference for extravagantly praising players. Take Fran Kirby, who scored the only goal in Saturday's World Cup warm-up against Brazil at Meadow Lane.
To Sampson she was his 'mini-Messi'. Neville has now suggested "I'd take my No 10 over Brazil's No 10," the latter being Marta, six-times and reigning women's world player of the year.
At 32 Marta is no longer at the game's peak despite her recent award, but the 25-year-old Kirby is still climbing a mountain now probably topped in that role by Germany's Dzenifer Marozan. Nikita Parris, who set up Kirby's early header, had a more realistic take when she said: "Fran is a fantastic talent and over last 18 months should be regarded as one of the best. But let's not forget Marta is a fantastic player who has delivered and delivered at World Cups and Olympics. Everyone in our dressing room wanted to be Marta growing up."
So why the hyperbole? After decades of being beaten by the likes of Germany, the United States and France, England had an inferiority complex which needed dispelling.
Sampson led England to victories over these teams, and to two semi-finals. This did much to lift belief but England played a counter-attacking game. Neville is now seeking to develop the more expansive style he believes can take England that extra step. Which means more confidence-building.
After qualifying for the finals Neville said he did not think his team really believed they could win. That may be changing. Kirby, when asked if it was "too early to say England can win the World Cup?" responded: "No absolutely not, we've had two semi-finals now and we felt the hurt in both of them. We've got the experience now, we want to make sure we go all the way."
As if to underline this was not false bravado Kirby was more circumspect when asked about the Marta comparison. "Obviously it's a great compliment for me. I've got massive respect for Marta, I've loved watching her play and I love seeing what she does on the ball. If I can try and emulate that in any way then I'm going to be happy with it.
"It's really nice to hear your manager praise you so much. He makes me feel confident when I go out on the pitch. I feel like I can express myself under him. He wants me to get on the ball, to be brave."
Neville echoed men's team manager Gareth Southgate when he said, "If things go wrong will we revert to route one? No, we're going to live and die by this style."
Underlining this change in approach Kirby added: "Gameplans before have been direct: kick the ball and run after it. He gives us the confidence to try things that you probably wouldn't try normally, whether it's a flick round a corner or a one-two in a tight area. He says he'd be more disappointed if we don't try than if we were to give the ball away. We've got good technical players so why not use them?"
Join our new commenting forum
Join thought-provoking conversations, follow other Independent readers and see their replies