Copa Libertadores final between Boca Juniors and River Plate postponed by Conmebol
The match had originally been scheduled to take place on Saturday evening, but was held back until Sunday following the chaotic scenes which left several Boca players injured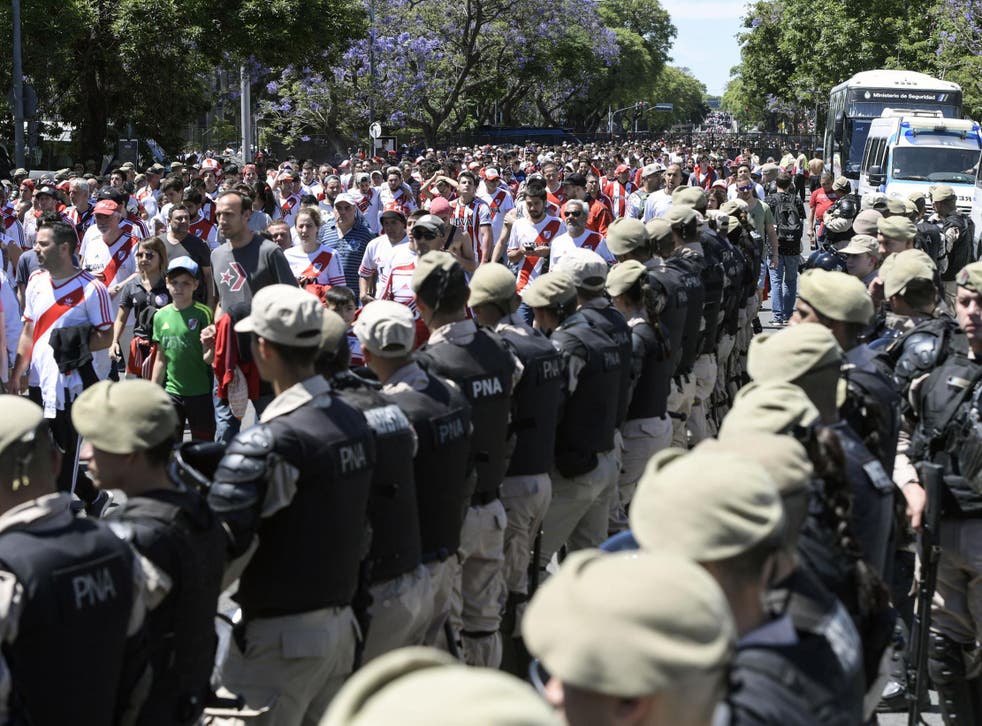 The 2018 Copa Libertadores final second leg between River Plate and Boca Juniors has been postponed until further notice after several Boca players were injured when their team bus was attacked on its way to the match.
The game had originally been scheduled to take place on Saturday evening but was held back until Sunday following the chaotic scenes. And just three hours before Sunday's rearranged 5pm kick-off (8pm GMT), the South American football confederation confirmed the match would be further suspended.
Boca captain Pablo Perez and midfielder Gonzalo Lamardo were taken to hospital after the incident. Perez had injuries to his arm and eye, while Lamardo also an eye injury and suffered breathing difficulties because of the tear gas deployed by police.
Fans take centre stage at Boca-River Superclasico

Show all 24
Alejandro Dominguez, president of Conmebol, said there are not "equal conditions" for both teams after Boca players were hurt on their team's route to Estadio Monumental, the home of their fierce Buenos Aires rivals.
"This is a disgrace that we're talking about a situation like this, because of a few misfits, for what is a game of football," said Dominguez. "This is not football. It's not what any of us want. Football is the opposite. It is athletes, players, professionals, that live, work, give good examples on and off the pitch, that have families, responsibilities, and live the football that makes us all so passionate.
"There is a team who have been injured, and we are here for the good of the spectacle, so that when the starting of XI of both clubs enter the field, they go without any excuse, that match is played on a level playing field
"The organisation is going to be self-critical, but everyone has to be self-critical. It's not a situation where we can look elsewhere for faults. The intolerance, the violence, we cannot leave these aside and take the responsibility for.
"It's not just his [Perez's] medical condition. There were four or five other players. I think in these conditions, this is all logical. That's what's critical."
Earlier on Sunday, Boca had appealed to the governing body in a statement calling for the match to be called off. "Boca considers that [equal] conditions have not been established and asks for the game to be suspended and sanctions applied," the club said.
The match had been billed as the final to end all finals and one of the most significant in the history of world football, but the abiding memory of the weekend will instead be the shattered bus windows and unruly streets which brought the game to its knees before it had even begun.
Register for free to continue reading
Registration is a free and easy way to support our truly independent journalism
By registering, you will also enjoy limited access to Premium articles, exclusive newsletters, commenting, and virtual events with our leading journalists
Already have an account? sign in
Register for free to continue reading
Registration is a free and easy way to support our truly independent journalism
By registering, you will also enjoy limited access to Premium articles, exclusive newsletters, commenting, and virtual events with our leading journalists
Already have an account? sign in
Join our new commenting forum
Join thought-provoking conversations, follow other Independent readers and see their replies