Darby Allin hails impact of returning legend Sting on All Elite Wrestling
Sting is stepping out of retirement for a first bout since 2015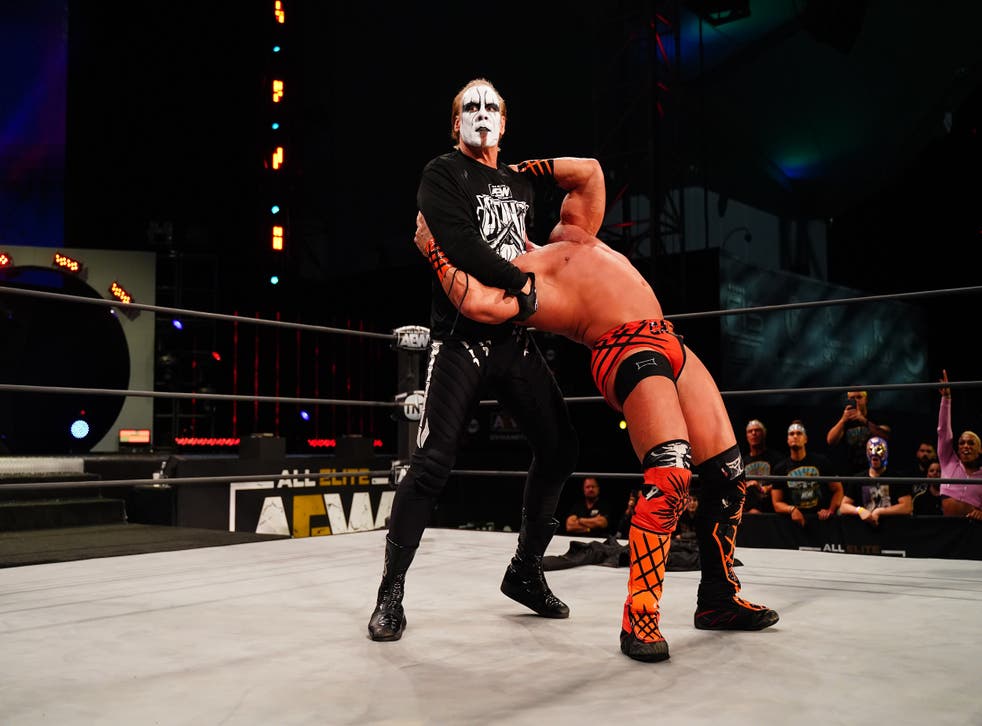 Darby Allin has hailed the impact wrestling legend Sting has had on All Elite Wrestling as he partners with the veteran for his first match in six years this weekend.
One of the most iconic wrestlers of all time, Sting was a cult hero in WCW for much of his storied career and later went on to feature in TNA, WWE and beyond.
Now 61, the beloved figure is stepping out of retirement for a first bout since 2015 – a tag-team clash alongside Allin against Team Taz at AEW Revolution on Sunday.
The path of the returning legend is one well trodden in professional wrestling – and it's not always a happy tale. Allin, though, has hinted that Sting may yet just be a different proposition altogether.
While too often emerging stars are left fearful by those hitting the comeback trail for another dose of the limelight, it's clear the 28-year-old has no such concerns.
That speaks volumes not only to his character but also the culture within AEW, where the likes of veterans Jake Roberts, Arn Anderson, Tully Blanchard and others all play crucial supporting roles rather than looking to hog the spotlight for themselves at the expense of those making their way in the business.
Blanchard is perhaps an ideal example. On Wednesday night he featured sparingly in a tag team match alongside FTR - but neither he nor the others are likely to be reigning for months on end as AEW World Champion any time soon while a star with a bright future cuts a frustrated figure backstage.
In an exclusive interview with The Independent, Allin stressed those on their way up should have nothing to fear so long as they have confidence in themselves.
"If you have what it takes, you shouldn't be worried about someone coming in," he commented. "I see a lot of older people come in, the veterans, and they're more captivating than half the younger guys, so why not have them on TV? Why not have them?
"But then there's a handful of young guys that I feel like are just as captivating. So, if you're concerned about someone coming and taking your spotlight, you've got to look in the mirror, man, and step your game up. Sting is totally there for the young guys and it's cool to have him around to pick his brains with things."
It's evident that Sting and his more experienced colleagues are more than welcome in All Elite Wrestling but, true to form, the charismatic Allin is far from starry eyed at the prospect of working with some of the biggest names of yesteryear.
Quite apart from taking orders and simply being happy to be around, the TNT Champion was adamant there was simply too much work to be done for romanticism.
He insists the shots are being called equally as the duo prepare to battle Brian Cage and Ricky Starks – as opposed to Sting positioning himself selfishly or advantageously. If anything, the fact that at 60 plus the former WCW Champion can still take a pretty neat powerbomb would suggest its conversely Allin's influence that's rubbing off on him.
He added: "You can't stop and smell the roses, there's a lot of work to be done! There is a lot we need to do in the story of everything. The big thing for me is that if I'm playing a part in telling the tail end of his career's story, it is a huge thing for me and an honour.
"I can't stop and think 'Oh look at how crazy and awesome that debut was' because it was time to move on to the next thing. We constantly have to keep going, and it's fun. That's the biggest thing. You can't be a fanboy and be like 'Yeah, whatever you want to do man!' – You have just as much say as he does in this story. It's a good time and I like it. There's pressure, but it's a good pressure. It makes you work harder.
"He's more than receptive – we talk all the time, just visualising things, and he is totally game for everything, promo work, character work… I have free reign. He lets me do me, and that's sick – there's no ego with the man. It's really nice."
As well as Sting's comeback, AEW Revolution features an AEW World Championship match between Kenny Omega and Jon Moxley. Fans in the UK can watch the show from 1am on Sunday, live on pay per view on FITE, with a preview show airing an hour before.
Register for free to continue reading
Registration is a free and easy way to support our truly independent journalism
By registering, you will also enjoy limited access to Premium articles, exclusive newsletters, commenting, and virtual events with our leading journalists
Already have an account? sign in
Register for free to continue reading
Registration is a free and easy way to support our truly independent journalism
By registering, you will also enjoy limited access to Premium articles, exclusive newsletters, commenting, and virtual events with our leading journalists
Already have an account? sign in
Join our new commenting forum
Join thought-provoking conversations, follow other Independent readers and see their replies