BBC Sports Personality of the Year: Jessica Ennis-Hill hoping to put a smile back on the face of athletics
World title-winning heptathlete seeking to give sport a lift with BBC award victory, she tells Matt Majendie
Matt Majendie
Saturday 19 December 2015 01:00 Comments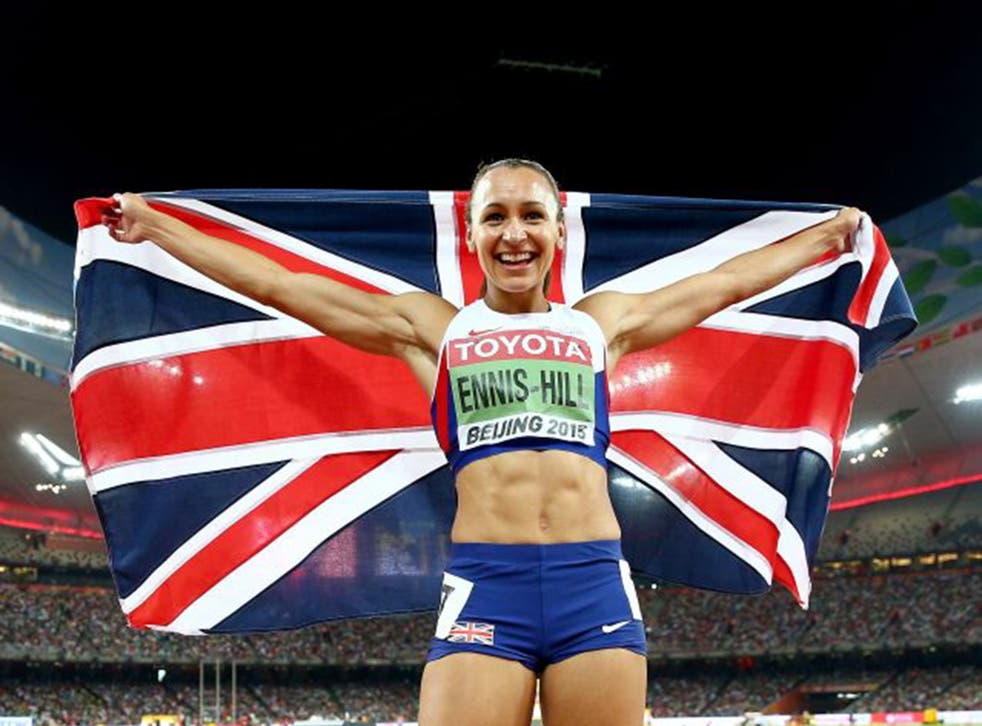 Athletics has had its dark days in 2015 as it rumbles from one crisis to the next but the events of 22 and 23 August stand as an exception.
Over the course of 35 hours, Jessica Ennis-Hill hurdled, jumped, threw and ran her way to what had seemed the unlikeliest of world titles in the heptathlon. The British public is well versed in her capabilities thanks to her starring role at London 2012 but, having given birth to her son Reggie just over a year before the World Championships, there were abundant numbers of doubters, Ennis-Hill among them.
Her achievement is one that puts her among the favourites for Sunday's BBC Sports Personality of the Year, and gives a sport on its knees from tales of doping and corruption the chance of some positive headlines. The 29-year-old is well aware of the need to "round off the year in a much brighter light than the way we started the year".
But Ennis-Hill dismisses the suggestion people might not vote for her because of the sport in which she's involved. "Well, I hope not," she says. "It isn't great for our sport and there has been a lot of negativity, and you can understand why people might look at athletics and think that. But it's really important to highlight what the clean athletes are doing and there are so many of them, and the majority of us are training really hard and doing it the right way. It is just a real shame that everyone is tarnished with that same brush.
"But the public is knowledgeable and, if you are a true athletics fan, you have a better understanding of what's going on. I hope it wouldn't affect how people view the British athletes because we're doing things properly. It would be a shame if people did think that and it deterred them from voting."
The wider public are cynical, as is Ennis-Hill, who has been affected by doping. Russian heptathlete Tatyana Chernova is back after a doping ban and the case of whether she keeps her heptathlon world title from 2011 – when Ennis-Hill finished second – is painfully working its way through the Court of Arbitration for Sport.
Chernova's cheating has made the Briton doubtful about some rivals but says blinkers are required to focus on her goal of next year's Olympics. "It's hard because you don't want to step on to the track and be looking round thinking, 'Does she look dodgy, does she look suspicious?' Because that detracts from the way you perform. But as a consequence of what's come out, most athletes are going to be a bit more aware of it."
As for her own medal and the hope of an upgrade to a third world title, her feelings waver. "I hope I'm closer now," she says, "but we still haven't heard anything. I imagine with what's gone on in the past few weeks that I'm a lot closer to getting that medal back. I'll be very happy to have that round my neck eventually. But there's so much to sort out at the moment and I imagine mine's not a priority."
Her take on the sport's wider malaise is one of "sadness and disappointment", but she is hopeful the seemingly endless negativity will start a proper clean-up. Whether that means Russian rivals on the start line in Rio de Janeiro next year is another matter. "A lot has to change and I don't know how quickly that can happen," she says.
Ennis-Hill has talked repeatedly of how her body has changed since becoming a mum and the hardship of physically rebuilding herself to get back to the top. But parenthood seems to have added another facet: she seems more confident talking of the wider issues of the sport.
Her coach, Toni Minichiello, has been outspoken against Sebastian Coe's approach in his brief tenure as IAAF president but Ennis-Hill, who is aware she may have to break her personal best and go over the 7,000-point mark to defend her Olympic title, is more diplomatic: "I hope Seb is in a really strong position to actually make change now but it's for us to wait and see what happens in the next few months."
The fear is that next month, when further revelations from the World Anti-Doping Agency are set to rock the sport again, things will get worse before they get better. For this weekend at least, Ennis-Hill is hoping for a respite for athletics.
Register for free to continue reading
Registration is a free and easy way to support our truly independent journalism
By registering, you will also enjoy limited access to Premium articles, exclusive newsletters, commenting, and virtual events with our leading journalists
Already have an account? sign in
Join our new commenting forum
Join thought-provoking conversations, follow other Independent readers and see their replies