David Rudisha: Back on track and aiming to be out of this world
Matt Majendie visits one of Africa's most incredible talents at his German training base and talks about Star Trek — and his return from injury which will see him run in Scotland next weekend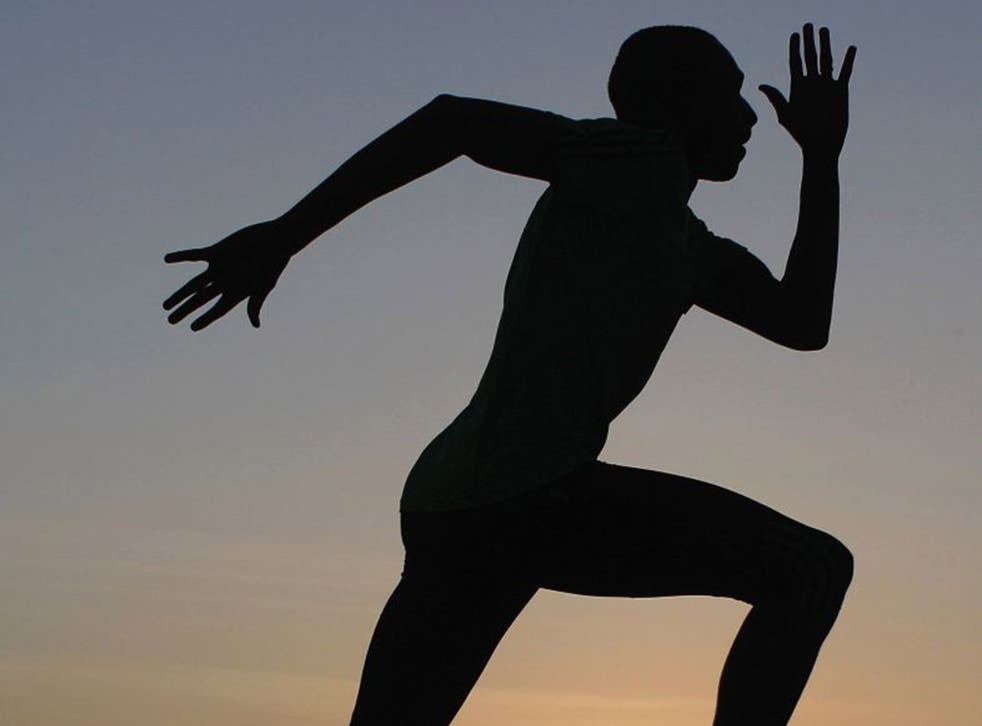 I am sitting watching Star Trek with David Rudisha. The Enterprise has just been overrun by Klingons and Captain James T Kirk has been taken hostage by one of the perpetrators. Rudisha, it is rarely David, almost always Rudisha that he is known by and to which he answers, slowly turns and says: "I love sci-fi."
It is his preferred film genre, befitting an athlete whose track performances in the 800 metres have been other-worldly. His two-up, two-down house in a rather innocuous street in Tubingen, near Stuttgart, boasts a widescreen television and as many gadgets as you could fit into an Apple showroom.
With blinds lowered and lawn burnt by the recent hot weather, there are few pointers to the sporting greatness that lies behind the glass front door. Inside, the accommodation is simplistic: a faded sofa and a simple cooker on which he brews chai. The simplicity of his European base suits Rudisha. He lives to run, he loves to run.
The idea that he might not run again or relive the heady heights of London 2012 when he broke the world record has crossed his mind. A knee injury has restricted Rudisha to just two competitive appearances in the past year: in the Diamond League in Oregon he trailed in seventh while more recently he was victorious in New York.
But next weekend he returns to action in Scotland for the Glasgow Grand Prix, a Diamond League event. The long and tortuous road of rehabilitation is not quite over because he still feels pain in his right knee on some days.
"I can imagine what it's like to never run again," he says, shaking his head at the prospect. "After a year out of competition. I know how hard it is. It's really tough. To not have that again...
"The worst point is when sometimes just walking feels painful and your mind is like: 'will I ever run?' In Iten [where he lives in Kenya] you see athletes running and it comes into your mind – how does it feel? That's really difficult. It's tough but at end of the day you have to be strong mentally."
Such is Rudisha's stature in Kenyan athletics that he was allowed to forgo the national trials for the forthcoming Commonwealth Games, but he knows it will take time to rescale his peaks and he even doubts whether he will win in Scotland later this month.
Running is the one constant in his life. His father Daniel won Olympic silver running the last leg of Kenya's 4x400m relay at Mexico 1968. Rudisha Snr would return from his work as a geography teacher and reward his children with sweets if they ran. "There were five sweets for the winner, three for second and one for third," he recalls. "I was the youngest of three. I cried as I didn't get as many sweets."
A broad grin appears on his face and Rudisha's infectious laugh breaks out as he recalls his tears usually ended with his father capitulating. "In the end, I usually got the same number of sweets as the winner." But it still taught him an invaluable lesson. "I think that really helped me. It's tough and sometimes you don't win."
There was also pressure from his father, who is now in his seventies, as he set about his early career. "I used to see his silver medal and I admired it a lot. This one medal really motivated me. When you're young and you see something like that, it changes your attitude. By me seeing that medal, then my life was all about that.
"But the other kids at school were like 'Rudisha, your father is a hero, you better also do it'. So I always had that pressure of doing better."
If his father was his first idol, he was followed by 800m world champions in Billy Konchella, a neighbour in Kilogoris, Wilson Kipketer and Sebastian Coe. His astonishing 800m run at the 2012 Olympics, which Coe described as "the most extraordinary piece of running I have probably ever seen", confirmed his status alongside those greats of the track.
It was the only individual track world record inside the stadium and, despite all the fanfare, arguably eclipsed what Usain Bolt achieved. "It was the greatest moment of my career,'' said Rudisha. ''I have only run three times like that in my life: the African Championships in 2010 right from the bell, no pacemaking, a time of 1:42.84 – an altitude record. Then at the Kenyan Olympic trial, I ran 1:41.2.
"My belief was I was in the shape to run 1:41.1. I knew if I did that I'd destroy these guys. I had the formula and I was so focused. When I crossed the line I was 'so oh, I've won the Olympics'. I looked at the clock expecting 1:42, I couldn't believe 1:40.91. Some things you can't believe until some hours afterwards."
His Kenyan roots are an important part of his make-up. A member of the Maasai, it is integral to his approach to the sport. "When you grow up in a certain environment, you tend to live like the type of people around you. What I like about them is that they're very courageous people and they are people who like what is good. If they believe in something, they believe it. If you have passion to do it, do it with one heart. That's what I like. If Maasai say 'yes' it's yes, if 'no' it's no.
"They're sometimes stubborn but they're quite respected because they're very honest people. In most places where people are guarding homes and big places like streets, normally Maasai have that job. They are honest, you can't bribe them."
In a sport that has not always been renowned for its level of honesty and is continually beset by doping scandals, Rudisha says it is this inherent honesty which drives him to remain clean.
"We are training and working hard, and there is no place for this [doping], for someone not training hard – it's not right," he says. "I believe you take what is yours and not what is not yours, leave it. You should not cheat. If I don't make it today, say I try tomorrow.
"There are still good and honest people in this sport. The most important thing is the respect of others. If you respect somebody and your colleague, I don't think you can do something like that."
As for where Rudisha stands in the pantheon of athletics greats, he insists it is not his place to say. Many see him as the world's greatest current athlete, better than Bolt with a fraction of the fanfare.
It is not an accolade that he is yet prepared to accept. "Of course Usain is the greatest athlete in the world. He has achieved a lot – gold medals, world medals, world records."
Rudisha has those too but he argues there is more to come. "I'm still young and feel that I can do better. Not this year maybe but next year."
Maybe the first man to run 800m in under 100 seconds? "Wow, that's tough." It would be another other-worldly achievement from a man who has grown used to them.
The psychology of an 800m race…
"It's difficult to describe really. The most important thing in a race is the training and how you prepare yourself. When I'm ready on the line, I just think to myself 'take it easy' but, at the same time, you're nervous as you never know what will happen.
"The 800m is a tough race — it's such a short time in one minute 40 seconds. It's two laps and just 100 metres in lines — basically you can't afford a mistake. It's very difficult to correct that.
"There are so many things to think about — sometimes you get boxed in, sometimes you're pushed in the race. You have to make your own pressure and that's the thing I've learned from early in my career.
"You need to get in a good position from the start and since messing up one race I've always decided to run from the front.
"It's not an easy decision. It's one of the hardest things to do in the 800m as it's just like you're pacing for the other guys. After the pacemaker gets out, you're the one who's ahead.
"Behind you, they watch everything that you do. When you react they see you. It's tough but it's a brave decision that I took. That makes me also work very hard. I really have to push my training so I can do this and think like this in a race.
"If I go to the front and I don't maintain or sustain that shape to the end then I will be doing nothing. For me, it's the best way and that's my way."
Join our new commenting forum
Join thought-provoking conversations, follow other Independent readers and see their replies