Dennis Kimetto breaks marathon record: Is a sub-2-hour race now within sight?
Kenya's Dennis Kimetto becomes the first man  to break the 2hr 3min barrier for 26 miles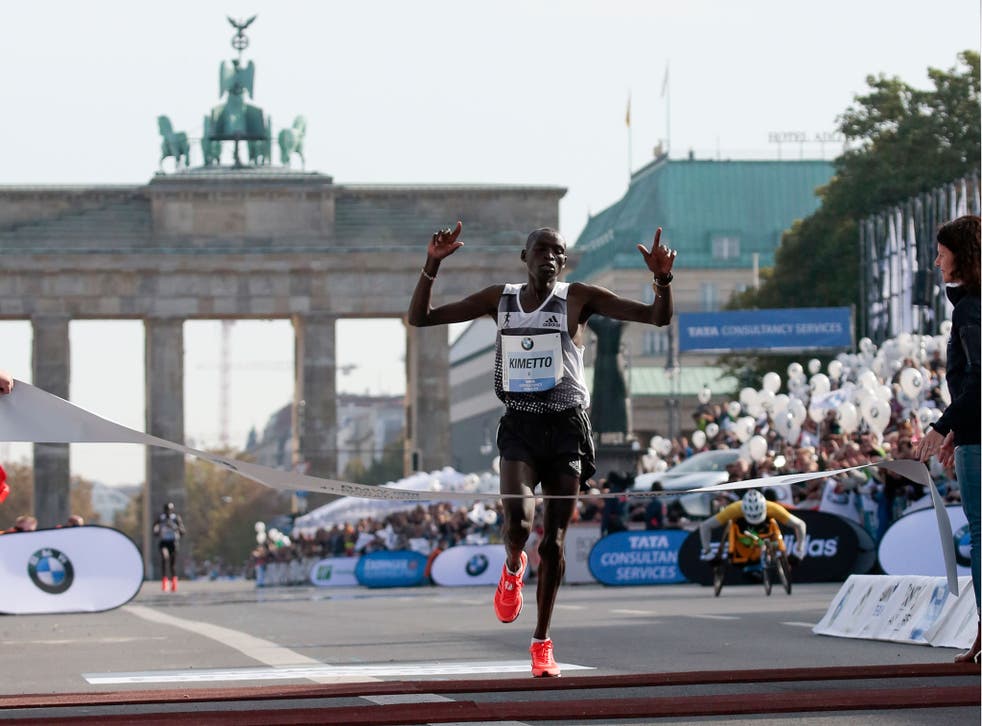 Six years ago Dennis Kimetto was earning a meagre living as a smallholder in rural Kenya, nurturing a dream of running. Today his transformation from farmer to history-making athlete was completed when he pulled on his running shoes and shaved 26 seconds off the world marathon record.
Just two years after he ran his first competitive marathon, the 30-year-old Kenyan won the Berlin race in a jaw-dropping two hours, two minutes and 57 seconds. His triumph revived the question of whether a seemingly insurmountable barrier in sporting endeavour – the sub 2-hour marathon – may be looking increasingly possible.
The performance means the marathon record has been reduced by nearly three minutes since 1999 and, amid advances in training techniques and intense competition among athletes, new world-beating times are being set almost annually.
Kimetto, whose compatriot Emmanuel Mutai finished second in a time that would have also beaten the previous record, was modest about his achievement. He said: "I feel good because I won a very tough race. I felt good from the start and in the last few miles I felt I could do it and break the record."
Running experts say a time of one hour, 59 minutes and 59.9 seconds would be at the very limits of human capacities. But David Bedford, the former 10,000m world-record holder and race director of the London Marathon, said he believed that within "the next 25 years, I will see a sub-two-hour marathon".
He added: "There are four or five athletes [competing] at the moment who could make the record as it stands now move further forward.
The conquest of the 120-minute marathon would be an achievement beyond even Sir Roger Bannister's epochal four-minute mile.
Beating two hours requires an average speed of 13.1mph, which most runners would struggle to maintain even once around a track.
David Epstein, author of The Sports Gene, said: "As the margins of improvement get tighter, I think we're seeing that the course, conditions and pacing matter that much more, such that records can really only be broken now in a carefully manicured setting."
Dennis Kimetto, who won £39,000 for his triumph, will be able to reflect on the benefits of following his dream. With earnings from previous races he has bought a house, increased the size of his farm and paid siblings' school fees.
In an interview last week he said: "What really motivates me to be a fighter is that I come from a humble background. I try to really make sure that I achieve my best so that I can assist my family."
Join our new commenting forum
Join thought-provoking conversations, follow other Independent readers and see their replies