Dick Pound: 'We will never end doping, despite our small victories'
EXCLUSIVE: Former Wada chief Dick Pound believes cheating will never be eradicated but he tells Matt Majendie he is ready to shock the world with new revelations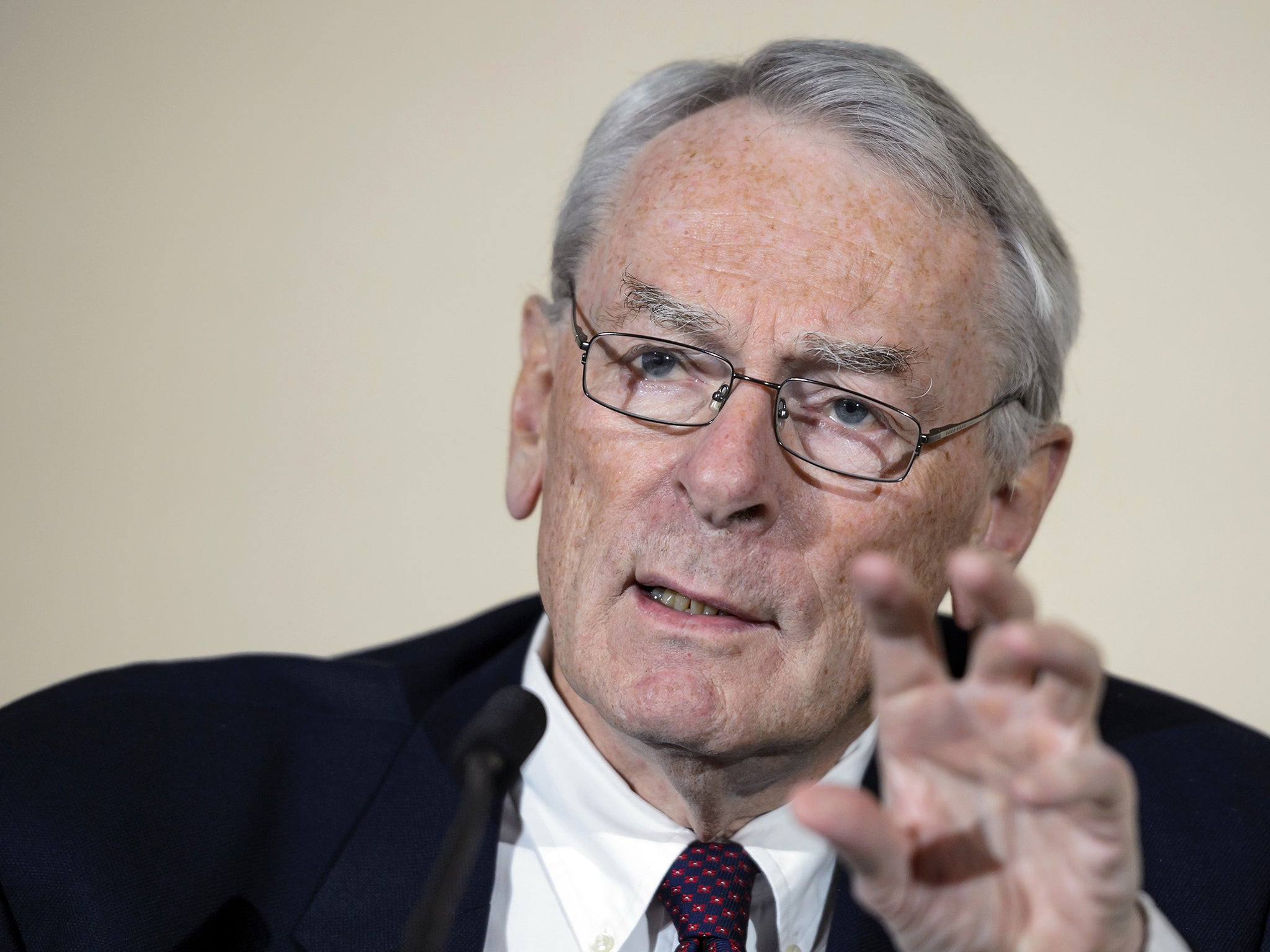 Dick Pound is a realist. There was never a moment he thought the fight against doping would ever be won but despite no prospect of victory the former president of the World Anti-Doping Agency is unrelenting in his quest to eradicate whatever cheats he can.
Two weeks on from the publication of the damning investigation by the Wada independent commission he chaired into systemic doping within Russia, the septuagenarian is partially satisfied his recommendations have been adhered to.
But he remains resigned to the fact the cheating will continue in Russia and further afield.
"I don't think we'll ever hit this for six," he says of the wider malaise of global doping. "There's going to be a series of small and steady victories. I think one of our small victories is making people aware that there is a lot more cheating going on in sport than most people ever thought."
For all his history in doping as the founding president of Wada, Pound says revelations of cheating never get easier to bear, the basic reaction within him always the same.
"I find it offensive," he says. "We have a pretty basic principle in sport that here are the rules and this is the game, this is how you play it, this is what you can do and this is what you can't. I don't want my kids cheated and now my grandkids and anyone else's for that matter."
The extent of cheating going on in Russian athletics – the remit of the commission investigation – produced explosive headlines and he knows he is sitting on more equally eye-catching revelations.
The outcome of second part of the investigation delving into the IAAF, which paved the way for the arrest of its former president Lamine Diack and ex-head of anti-doping Gabriel Dollé and is now in the hands of the French authorities, and the 15,000 leaked blood samples is pending.
And Pound warned: "When we release this information to the world, there will be a wow factor. I think people will say how on earth could this happen? It's a complete betrayal of what the people in charge of the sport should be doing."
The intimation is that the level of doping and corruption – and hence those complicit in it – was far wider than has been revealed to date.
As a result of the amount of information for his investigative team to wade through as well as the state of the French prosecution into IAAF officials, the 73-year-old does not expect the report to be published by the end of the year as was previously planned.
"It would be nice to have it done in 2015," he explains. "But it looks more likely to be January. One fear is that if we issue it on the Friday before Christmas for example no one will notice it and we want to have the maximum impact and deterrent."
Pound has yet to see the lengthy analysis of blood samples while the French prosecution is ongoing into Diack, Dollé and Habib Cissé, a legal advisor at the IAAF to Diack.
The cost of the combined investigation is expected to be in the region of $1m (£664,000), which Pound says he hopes people find value for money, bearing in mind the impact it has had on the wider sporting map.
The main ramification of part one is the global ban on Russian athletes – clean or otherwise – and Pound is unforgiving on his stance towards cheating in Russia and elsewhere.
Of the clean Russian athletes denied the opportunity to compete on international shores as a rest, he says: "I think those clean athletes have to pay the price for being part of a system that is fundamentally corrupt. There will unfortunately be collateral damage, and that's tough love."
And as for wider doping, he adds: "This is a proper fight and no matter how many sad tales you hear of tainted supplements that's nothing compared to the planned, organised and well-financed cheating that occurs. That's not accidental.
"So we're turning over rocks people don't want to be turned over, and that way you set yourself as a target for the bad guys."
In riling "the bad guys", Pound's immediate goals with Russia have been achieved: its anti-doping agency has been declared non-complaint, its Moscow laboratory has had its Wada accreditation revoked, the lab chief Grigory Rodchenkov has been removed from his post and the IAAF has put in place that blanket ban for Russian athletes outside their borders.
But the hope is there will be a wider impact as a result of the revelations in Geneva.
"Yeah, it could be the start of something good," he says while also resigned to the fact that it will not fully eradicate the problem calling on the International Olympic Committee to make more funds available to Wada to undertake further investigations.
Kenya is the one country he singles out for such a probe and one where the spotlight has shifted with allegations of corruption by Athletics Kenya officials, and athletes in the east African nation having taken over the organisation's headquarters over the past two days in protest at the level of corruption.
"It wouldn't surprise me if Wada did end up doing an investigation on the ground in Kenya," he argues, "especially with the level of denial from the sport and the Government authorities amid pretty obvious evidence."
But it is not athletics that simply concerns the Montreal lawyer. In the commission report, he alluded to a wider problem across all sports in Russia and wants more global federations to take action within their own sport.
As for the sports that concern him, he would dearly love to name names but he holds back and instead says more broadly of the issue: "This is the opportunity in certain executive committees to close their doors and say 'as of today, the old system is gone, we'll deal with those that need to be identified in due course but we're going to level the playing field'.
"I think the option is there but will it be taken? I don't know. For some sports their actual credibility is at risk.
"I've always believed if you want to find where the problems lie look who's complaining the most to Wada. That was cycling for years and years."
As for where the sporting problem lies now, Pound is not saying. But with regards to Russia the frustration is there that such a situation was able to exist to such an extent in 2015, 16 years after he and others at Wada set out to try to clean up global sport with, in essence, the foundation of a global anti-doping enforcer in Wada.
And as to whether enough is currently being done to eradicate the problem and, if not, what needs to change, Pound adds: "I remember when we were starting, this was like a brave new world and there was a lot of enthusiasm," he recalls. "Anti-doping was sexy and government ministers wanted to come along to the meetings.
"When they realised it wasn't a quick fix but a long grind of doing this day after day it stopped being sexy, the ministers stayed away, instead the civil servants came and then budgets were cut."
Pound is hopeful that Russia may pave the way for greater awareness and to bring the sexiness back to the anti-doping fight but, at the same time, he is not expecting any great miracles. The fight goes on even if victory will never be his.
--
A swimmer in his youth, Pound was a four-time Canadian freestyle champion and competed at the 1960 Olympics in Rome. He also won four Commonwealth medals, including one gold, in 1962
After retiring from swimming, he became secretary of the Canadian Olympic Committee and latterly its president from 1977 to 1982.
He was first elected to the International Olympic Committee in 1978 and was twice vice-president. he also directed all Olympic television negotiations, marketing and sponsorships from 1984 to 2001.
He acted on behalf of the sprinter Ben Johnson when he tested positive at the 1988 Olympics in Seoul.
In 1999, he became the founding president of World Anti-Doping Agency, served the role until 2007 and remains a member of the foundation board
He was appointed head of the inquiry into corruption charges over the Salt Lake City bribery scandal dating back to 1998
He was the director the Vancouver Organizing Committee for the 2010 Games and today is chairman of the Olympic Broadcasting Services
Join our commenting forum
Join thought-provoking conversations, follow other Independent readers and see their replies