Mo Farah latest: How Alberto Salazar used his mastery of medical detail to get ahead
Elite-distance runner Lauren Fleshman reveals all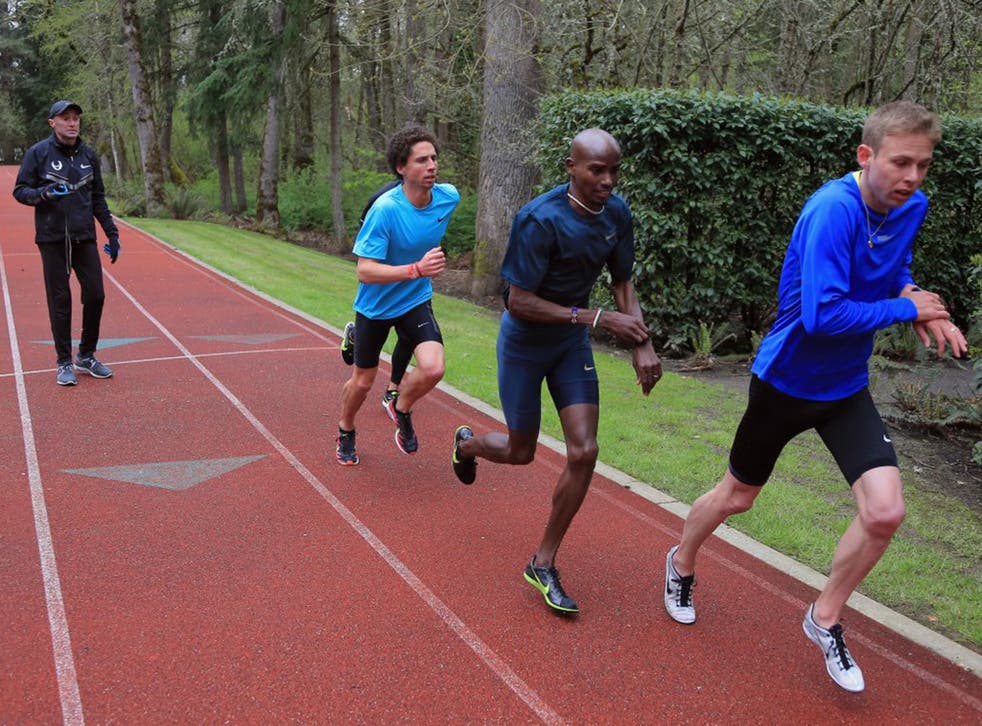 The most revealing testimony is not always the most dramatic. There is neither testosterone nor intravenous drips in elite-distance runner Lauren Fleshman's description of what Alberto Salazar did for her.
But her story – barely picked up in Britain – of how she went to him with seasonal asthma too weak to get a doctor's prescription and ended up with maximum levels of a glucocorticosteroid Salazar told her to take all year round provides the most graphic picture yet of the frail ethical lines in sport and how drugs puncture them.
Fleshman's depiction of how she was diagnosed as sick – published on Wednesday by the ProPublica journalist David Epstein – is extraordinarily prosaic. After a doctor declined her medication in 2004 for the exercise-induced asthma she was experiencing, Salazar set up an appointment at the Nike Oregon Project with a doctor who had an established protocol. The athlete must go to the local track, run around it, work herself up to having an asthma attack, run down the street and up 12 flights of stairs to the office where the doctor "would be waiting to test you". Fleshman did this, failed her health test, and was duly prescribed the Advair brand for the duration of the racing season when the pollen count was highest, as well as rescue inhaler Albuterol.
"Alberto was actually really great," Fleshman says. "He was instrumental in helping me get the appointment, taking me to the appointment... I was a Nike athlete; I wasn't his athlete, but I was a Nike athlete, and to him that was enough." The doctor's Therapeutic Use Exemption (TUE) validated her use of glucocorticosteroid – a banned substance without one – and a sense of unease took time to develop.
"The experience didn't leave me not liking Alberto," she tells Epstein. "I actually really like Alberto. After I got the medication, he explained to me, 'This is going to be great for you, so many athletes once they got on this, did so much better than they'd ever done before'. And he described the ways that could happen: 'There's a glucocorticosteroid in [Advair], and there's a possibility that some of that could get systemically into your body and give you an advantage, and you can legally take it because you have asthma...' He encouraged me to push to be on the highest dose of it year round, which was something different to what the doctor had said."
The doctor had told her to breathe the Advair into her mouth, hold it for 10 seconds, and then breathe out normally. Salazar told her to breathe it in, hold it, then breathe it out of her nose slowly – "because then you expose the glucocorticosteroid to the nasal passages as well. And the theory is if it's supposed to open up your passages, then it will open up your nasal passages too, and make sure that every single passage the air could come down is maximally opened."
It was an educational pamphlet from the US Anti-Doping Agency which first consumed her with guilt. "My interactions with Alberto made me feel... it was OK to look for loopholes and this is just kind of the American way," she relates. "Maybe we're not born in Africa and we don't get raised at 8,000 feet elevation, and have long stick legs and extremely light frames to fly around the track, but we're in the most medically advanced country…"
It was because her coach – Vin Lananna – was prepared to challenge her that she halted her journey down this road. Lananna did not countermand her when she told him she was considering taking more medication for a suppressed thyroid. But he said enough to make her "embarrassed" at raising the notion. Salazar, who has denied all the previous allegations, did not respond to calls. Fleshman left Nike and is with the small women's sportswear brand Oiselle. She runs, writes, tweets and flourishes.
Register for free to continue reading
Registration is a free and easy way to support our truly independent journalism
By registering, you will also enjoy limited access to Premium articles, exclusive newsletters, commenting, and virtual events with our leading journalists
Already have an account? sign in
Register for free to continue reading
Registration is a free and easy way to support our truly independent journalism
By registering, you will also enjoy limited access to Premium articles, exclusive newsletters, commenting, and virtual events with our leading journalists
Already have an account? sign in
Join our new commenting forum
Join thought-provoking conversations, follow other Independent readers and see their replies