Inside Lines: Tories look to 'first lady of football' Karren Brady to succeed Boris Johnson
Tories could look to West Ham vice-chairman in 2016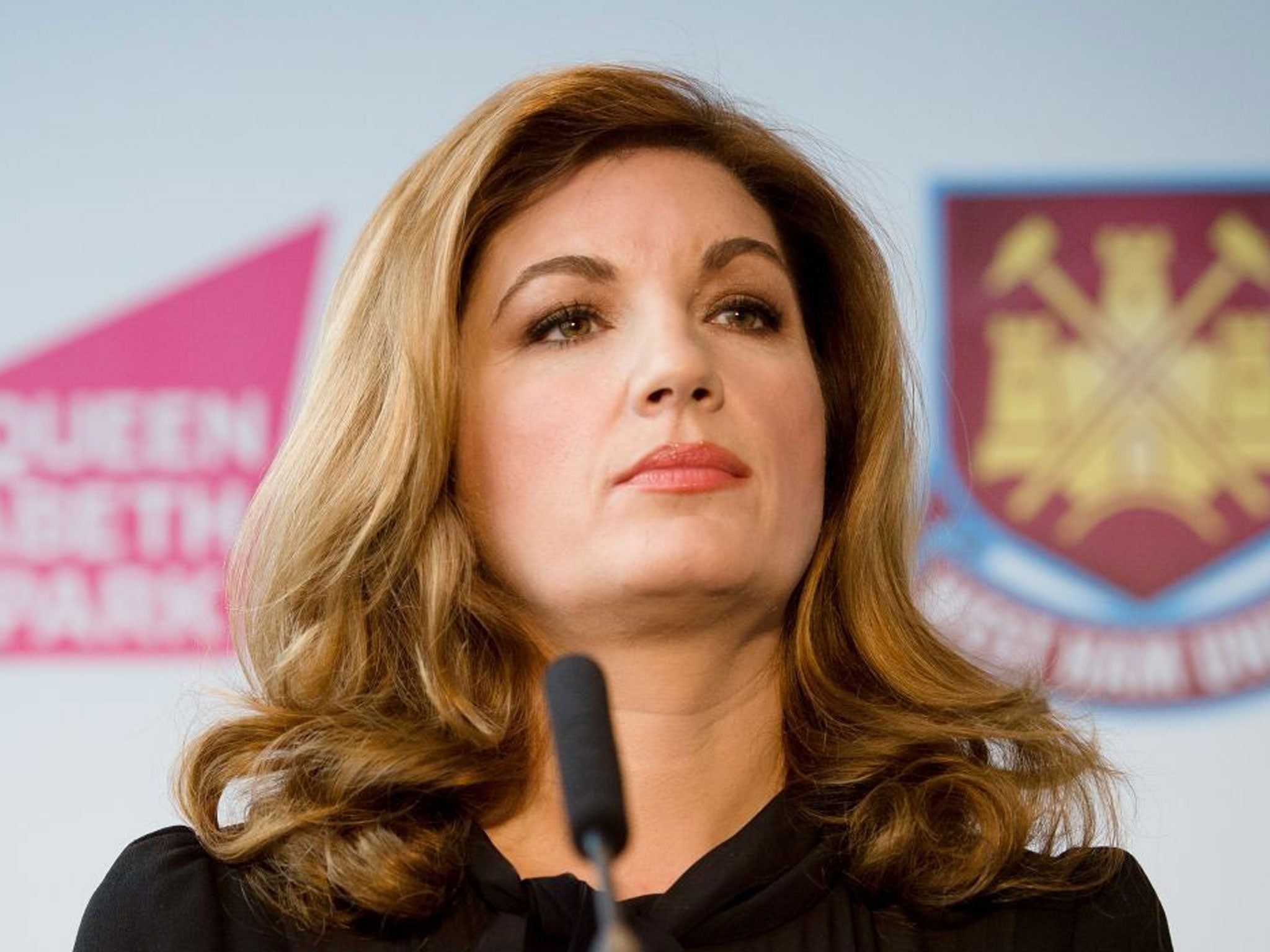 The former Olympics Minister Dame Tessa Jowell, the strong favourite to become Labour's candidate in the next London mayoral election, believes that if selected she could be facing a shock choice from the sporting world in the battle to succeed Boris Johnson.
Jowell tells us there is growing speculation that the West Ham vice-chairman, Karren Brady – now Baroness Brady of Knightsbridge – is being wooed by the Tories as their choice to stand in 2016.
"The feeling is that their candidate will come from the House of Lords and there is a lot of talk about approaches being made to Karren Brady," says Jowell who, as Culture Secretary, first persuaded Tony Blair to bid for the London Olympics during Labour's administration.
It is no secret that, having failed to persuade Lord Coe to run for the post, the Conservatives are anxious to field a high-profile personality. Brady, 47, could fit the bill.
The "first lady of football", previously MD at Birmingham City and currently right-hand woman to Labour peer Lord Sugar on TV's The Apprentice, is, like Jowell, London-born. She is politically ambitious and a close friend of both David Cameron and George Osborne. She also sits on the Sports Council.
If she is interested, the timing could be right, as by the time of the election in May 2016 she will have overseen West Ham's move to the Olympic Stadium. However, she would face a formidable opponent in Jowell, who says she often chatted with Coe when they were on the 2012 board about the possibility of them both running for mayor: "We joked that maybe we should do it as a job share!"
Bubka on the up
London 2012's formidable spinmeister Mike Lee is to be Lord Coe's PR cornerman in the one election Seb does want to win next year – the presidency of the IAAF, world athletics' governing body.
The move suggests the result may not be the shoo-in many anticipate because Coe's chief rival, Sergey Bubka, the Ukrainian pole-vault legend, is garnering strong support from Eastern Europe.
Women on guard
A successful women's World Boxing Championships in South Korea saw British lightwelter Sandy Ryan and flyweight Lisa Whiteside return with silver medals in a tournament again dominated by the phenomenal Irish boxer Katy Taylor, who won her fifth successive world title at lightweight.
The big talking point is whether the next Olympics will see women following the men by boxing minus headguards. British middleweight Savannah Marshall (below, in blue) is strongly opposed, saying: "If it happens, I'd probably turn pro, as the money you get from funding as an amateur is not worth the greater risk of cuts or head injury."
A great Olympian
A lovely lady who contributed much to British sport and the Olympic movement has died aged 96. Dame Mary Glen Haig competed in four Games as a fencer and became one of the first female members on the International Olympic Committee. She was also a founder and president of the Youth Charter, whose executive chair, Geoff Thompson, says: "She was a great competitor, Olympian and servant to sport."
a.hubbard @independent .co.uk
Join our commenting forum
Join thought-provoking conversations, follow other Independent readers and see their replies