London Marathon runner stops 300 metres from finish to help struggling competitor
Swansea Harriers runner Matthew Rees helps David Wyeth complete the course in under three hours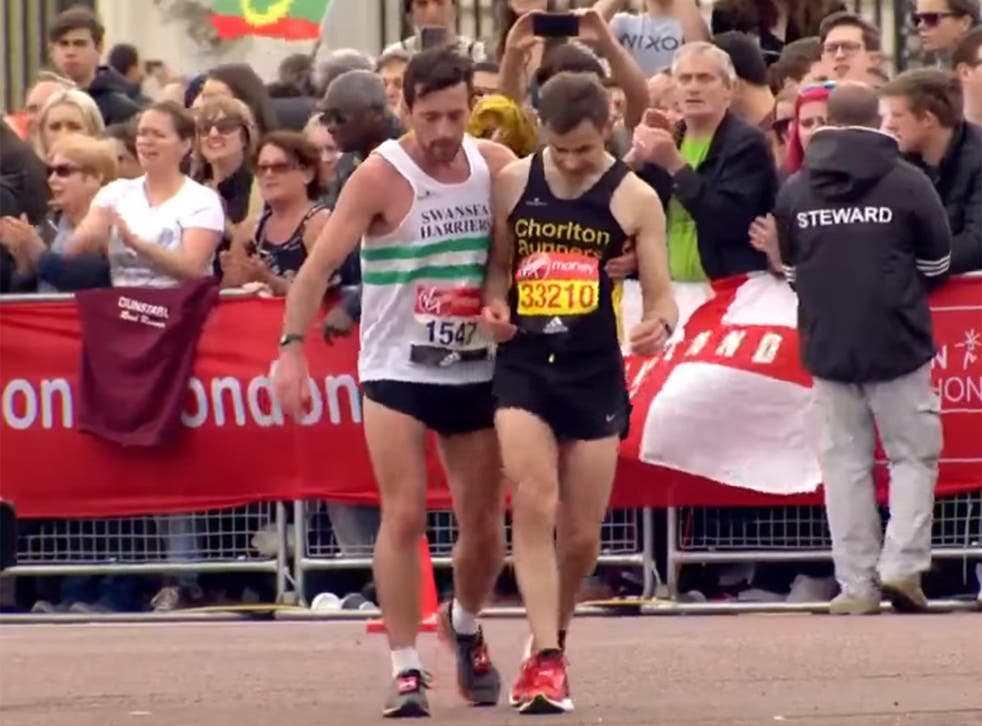 A London Marathon runner helped an exhausted competitor across the finishing line in an act of sportsmanship that increased his own time.
Swansea Harriers runner Matthew Rees stopped 300 metres from the finish after he noticed David Wyeth was no longer able to stand.
Mr Rees realised Mr Wyeth would not be able to finish the race so decided to help him complete the final stretch.
"I came round the final corner and I saw a runner struggling, his legs were collapsing beneath him. Every time he tried to get up, he kept on falling back to the ground," Mr Rees told the BBC.
"I went over to him and said 'come on, you can do this' and tried to gee him up. But every time he tried to get up, I realised he wasn't going to make it.
"I said 'come on, we can do this, we'll do it together, we'll cross the line together'.
"I just helped a guy out when he was in need. I'm glad he got to the line, and I'm glad he is okay.
"That spirit, it encompasses what running is about and what the marathon is about."
Mr Wyeth thanked Mr Rees and said he told him to carry on.
"I was urging him to move on, you know 'please don't sacrifice your race for me'. But he stuck with me and I think a volunteer also joined me on the other side," he said.
"I got up, they helped me up, and I just tried to keep moving."
The pair finished the race in 2 hours 52 minutes and 26 seconds, putting them in the top 1,000 runners.
UK news in pictures

Show all 51
The moment was reminiscent of when Jonny Brownlee carried his brother Alistair over the finishing line in the World Triathlon Series.
Jonny was leading comfortably heading into the final kilometre of the 10km run but then the heat began to take its toll and he started to weave across the course.
He stopped at the side of the road but Alistair, who was in third, put his arm round his brother and carried him across the line.
Join our new commenting forum
Join thought-provoking conversations, follow other Independent readers and see their replies