Paula Radcliffe 'categorically denies' cheating during career and says doping links left her 'devastated'
Radcliffe has issued a strong statement to reject claims of doping after her name was 'effectively implicated' during a Culture, Media and Sport committee hearing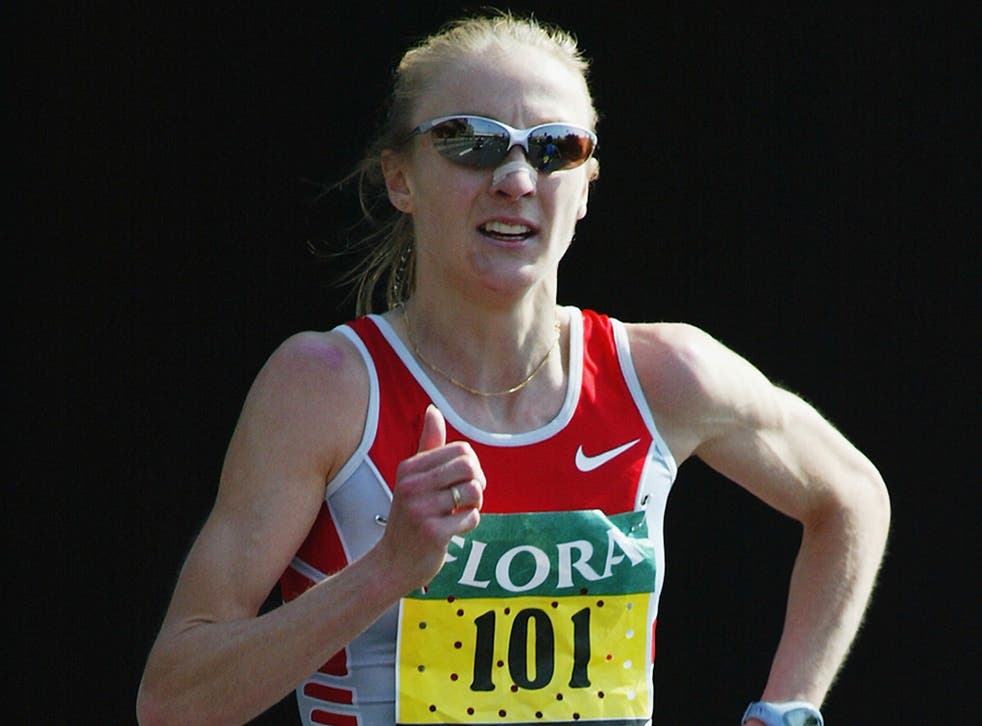 British former marathon runner Paula Radcliffe has issued a furious and "categoric" denial that she has ever cheated, and accused politicians of hiding behind "the cloak of parliamentary privilege" to implicate her in the doping scandal that continues to engulf athletics.
Radcliffe, a three time London Marathon winner and marathon world record holder, has been the subject of constant speculation since the Sunday Times allegations, published last month, claimed a "top UK athlete" was among those with "suspicious" blood results in its leaked dataset, but she has not been publicly named.
On Tuesday morning, the Culture, Media and Sport Select Committee questioned David Kenworthy, the chairman of the UK Anti-Doping Association. The chair of the committee, conservative MP Jesse Norman, asked about the impact on athletics when, "Potentially the winners or medallists at the London marathon, potentially British athletes are under suspicion for very high levels of blood doping."
Norman has since denied he or any of the committee had named specific athletes, but not before Radcliffe published her statement.
"I categorically deny that I have resorted to cheating in any form whatsoever at any time in my career, and am devastated that my name has even been linked to these wide-ranging accusations. I have campaigned long and hard throughout my career for a clean sport. I have publicly condemned cheats and those who aid them," it said.
"These accusations threaten to undermine all I have stood and competed for, as well as my hard earned reputation. By linking me to allegations of cheating, damage done to my name and reputation can never be fully repaired, no matter how untrue I know them to be."
At no point were any individual athletes named, British or otherwise, not even by Michael Ashenden, the scientist who analysed the Sunday Times data, who was also questioned at length, who has seen the information and is understood to know the names of those implicated.
But he was asked at length about high levels of suspected doping in Kenya and Russia, and separately with regard to results in the London marathon. Between 2001 and 2012, the time period covered by the leaked data, the London marathon was won eight times by Kenyan men, four times by Kenyan women and three times by Radcliffe.
"At the time of the recent Sunday Times coverage, I wrestled long and hard with a desire to speak out with the true facts concerning my position, and, to fully explain any fluctuations in my blood data. However by 'coming out' in that fashion I was made aware that I would be facilitating mass coverage of my name in connection with false allegations of possible doping, which would enable further irreparable damage to be done to my reputation. As a result of today's Parliamentary Hearing I can no longer maintain my silence," she added.
Several superstar high profile athletes, including European Champion 10,000m runner Jo Pavey, have agreed to publish all their biological testing data in an attempt to prove beyond doubt they are clean. In an interview with the BBC last month, Radcliffe argued against this policy, claiming it was easy for the data to be misunderstood, because "It is too complicated, people don't understand it."
Since the introduction of the biological passport in 2009, athlete's blood values are not measured against any exact number, but against their own personal, 'normal' levels. It is not, Radcliffe has claimed "a test you can fail", and requires complex analysis and interpretation.
Several natural factors can cause the return of suspicious blood values, among the most significant being pregnancy. Radcliffe gave birth to her first child in 2007, and won the New York marathon later that year. She had a second child in 2010, and ran her final London marathon in April this year.
Join our new commenting forum
Join thought-provoking conversations, follow other Independent readers and see their replies