Usain Bolt accepts challenge from Mo Farah to race over 600 metres
The two stars of the track look set to battle it out for charity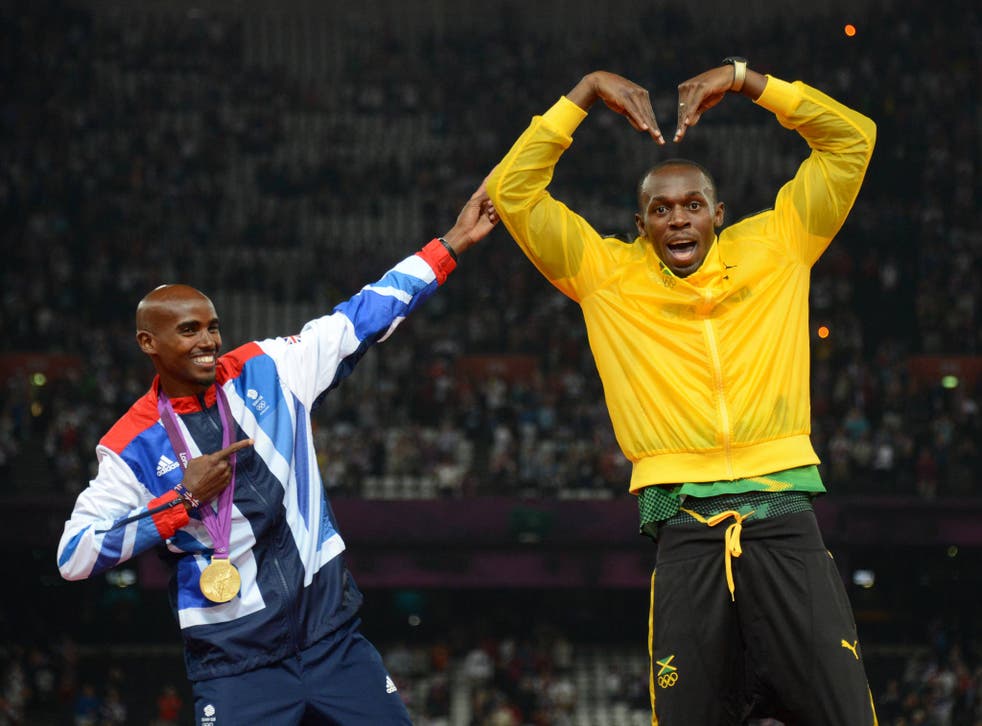 As if there was ever any chance the world's fastest (and most confident) man on the planet would ever shy away from a challenge, Usain Bolt appears to have accepted Mo Farah's offer of a race.
The mouthwatering showdown between the two Olympic champions arose at the weekend when Farah challenged the Jamaican to a race over either 600 metres or 800 metres.
The 30-year-old who won the 5,000 metres and 10,000 metres events at London 2012 said: "It would be great to do a distance where people vote in - proper athletics fans - on what distance they think is most suitable."
He then went on to challenge Bolt: "Are you up for that? Come on, you've got to do it. Let's get it on."
Bolt has now responded to the challenge, which would be run in aid of the pair's respective charity foundations.
"That sounds fun," said the six-time Olympic gold medallist. "It's going to be hard but it's charity so it's all about fun and enjoyment. I'm up for anything, anything's possible."
Bolt appears to be leaning to the shorter distance after ruling out a race over 1500 metres.
"It's way too far. Six hundred for sure I can try because I've done 600 metres in training."
Farah, the Somalia-born 30-year-old who grew up in London, has lightning pace over the final stretch and has recently experimented with shorter distances, setting a European 1500m record of 3:28.81 this summer.
Farah laid down the challenge to the Jamaican sprinter after running a personal best of 7 minutes 36.85 seconds in the 3000 metres at the London Anniversary Games at the weekend.
One intriguing aspect of the race would be how the taller, more powerful Bolt would cope with the early stages of the longer distance and if he would have the acceleration to match Farah's finish after running 500 metres.
Bookies have made Farah an early 2-7 favourite over 600m, and 1-9 over 800m.
Join our new commenting forum
Join thought-provoking conversations, follow other Independent readers and see their replies