Usain Bolt must be careful not to trample on innocent dreams
The Last Word: The 100 metres will be reduced to a supposed clash between good, in the form of Bolt, and evil, in the guise of Justin Gatlin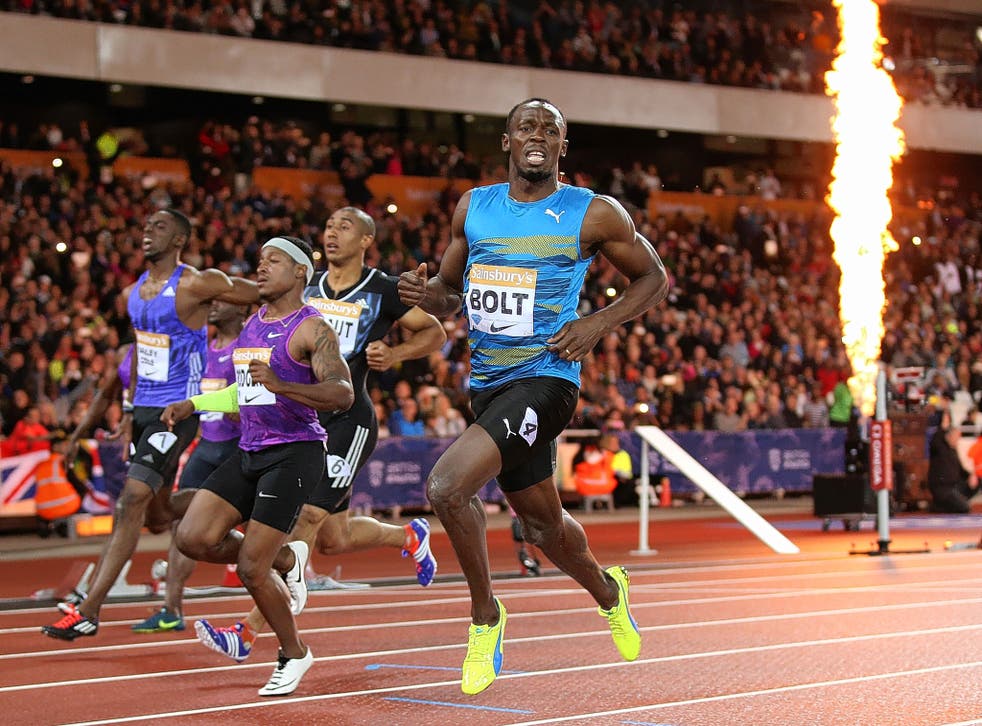 F or half-a-dozen strides, Usain Bolt levitated. His feet kissed the wet ground with a courtesan's ardour and he did enough to win. Awe gave way to relief that the Great Redeemer was back. Gratitude quickly mutated into obsequiousness.
Athletics readily pays its debt to a champion deemed to offer desperately needed credibility. The official Twitter account of the IAAF, the sport's global governing body, responded to Bolt's victory in London on Friday night by asking: "Anyone got any questions? Didn't think so."
Such unseemly exultation matched the mood. Bolt's post-race TV interview was cloying to the point of servility; former athletes on the punditry panel metaphorically waved cheerleaders' pom-poms. The infantilism of the narrative for next month's World Championships in Beijing is set.
The 100 metres, their most compelling spectacle, will be reduced to a supposed clash between good, in the form of Bolt, the multiple Olympic champion, and evil, in the guise of Justin Gatlin, the defiant drug-cheat whose seasonal dominance challenges convention. It's Chariots of Fire rewritten for Marvel Comics.
To answer the IAAF directly, of course questions remain. It is disingenuous to suggest otherwise. No one spits directly in the Jamaican's face, the ordeal that cyclist Chris Froome endures because of malicious disinclination to suspend disbelief, but plenty still whisper behind his back.
Richard Moore, whose book The Bolt Supremacy seeks to place his success in a cultural context, cites the normally staid New Yorker magazine, which in 2013 compared the sprinter's status to that of Lance Armstrong before his downfall, as an indication of provocative but permissible cynicism.
It must be stressed that all available evidence suggests Bolt is running clean. He insists he welcomes an increase in the number of drug tests he has undergone this year. He excoriates those convicted of chemically-induced performance enhancement, and suggests harsher punishment would "make them really second-guess themselves".
Yet there is a strange reluctance to concentrate his fire on Gatlin who, at 33, is running faster than at any time in a career punctuated by two drug bans. Bolt speaks of "driving fear" into cheats but resists attacking the American's truculence and swaggering self-righteousness.
He has been more overtly critical of Tyson Gay, another beneficiary of a disciplinary system compromised by self-destructive leniency. Gay's two-year ban, for testing positive for a banned steroid in 2013, was halved because he broke ranks and co-operated with the authorities.
Athletics, like many professional sports, is a disconcertingly small world. It is shaped by firm friendships and frigid alliances. Power is concentrated in the hands of relatively few participants and promoters with a vested interest in the pretence of purity.
Expedience scars the landscape. Let's not forget Bolt's £150,000 fee for Friday was tax-free at the express insistence of the Chancellor. The Jamaican graced a £700m Olympic Stadium which has gifted squatter's rights to a Premier League football club, West Ham United, for a mere £15m.
Bromance is rarely bad for business. The warmth in the relationship between Bolt and Mo Farah, expressed in the former's very public support for the embattled British athlete in London, is genuine, yet convenient for their shared agent, Irishman Ricky Simms. The acclaim Farah received from a home crowd could not entirely disguise his brittleness. He has reacted poorly to intense scrutiny and is compromised by the inherent artificiality of a communications strategy overseen by newly employed PR consultants.
Authenticity cannot be plotted on a whiteboard. It comes from the heart. That's why believers will cling to the memory of Bolt's sublime burst of acceleration on Friday. It was anthemic, balletic, poetic. Tread softly, Usain, lest you trample on our dreams.
Sepp's days draw to a close
Sepp Blatter is still being feted and fawned over, ferried by private jet and armour-plated car. That familiar death-mask smile seems more mocking than ever. This weekend, at least, he is a potentate in his palace, rather than a five-star fugitive whose travel plans have been complicated by the US Department of Justice.
He has been hailed as "a victim" and "a very brave person" by his Russian hosts, who have shamelessly denied that endemic racism casts a shadow over their World Cup. But for how long can the pretence of dignity and relevance be preserved? Blatter is a target for first-rate investigators and fifth-rate comedians.
Millions of ordinary football fans, too far down the food chain to matter, will be beguiled by the possibilities thrown up by last evening's draw for the 2018 World Cup qualification programme, but something fundamental has changed. Sponsors have finally found their voice. That doubtless owes more to commercial self-interest than a sudden summoning of moral courage, but it represents Blatter's nightmare scenario. Should Fifa's lawyers and marketing executives fail to assuage their corporate paymasters next month, grandiose revenue targets of $6bn (nearly £3.9bn) from the 2018 tournament will be unsustainable.
Blatter will be gone on 26 February, when his successor is elected. Will the organisation built in his grubby image survive in his absence? Let us hope not.
Burgess storm brewing
The cull is coming. England's 45-man rugby union squad return to England on Sunday, ready for reduction following a ferociously competitive training camp in Colorado. Attention in the coming weeks will focus on the polarising figure of Sam Burgess, the refugee from rugby league who is being considered as a centre rather than a back-row forward.
Stuart Lancaster, England's head coach, applauds his versatility, physicality, durability and agility. Critics who insist Burgess lacks the requisite game-management skills and nous under pressure are likely to get short shrift.
A storm is brewing. When it breaks, rugby's World Cup will finally feel real.
Join our new commenting forum
Join thought-provoking conversations, follow other Independent readers and see their replies