Jose Aldo convinced the UFC will stand in the way of a Conor McGregor v Floyd Mayweather superfight
'It will never happen,' Aldo said of the speculated superfight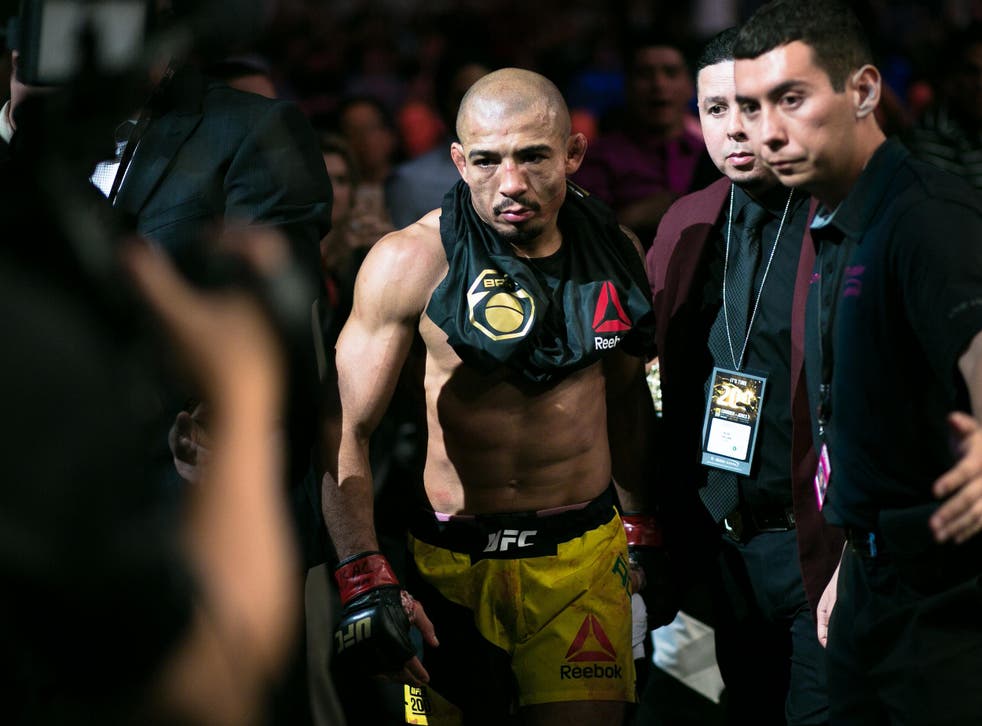 Reigning UFC Featherweight champion Jose Aldo has rubbished rumours that his bitter rival Conor McGregor could pause his MMA career to meet the undefeated boxer Floyd Mayweather in the ring.
Aldo ruled the UFC's featherweight division for over five years until he was infamously knocked out by McGregor in just 13 seconds at UFC 194.
The Brazilian legend took eight months to return to the Octagon in the wake of that defeat, and even threatened to retire from the sport, but made a successful return at UFC 200 where he beat Frankie Edgar by a unanimous decision.
The victory saw Aldo claim the interim UFC Featherweight Championship, later promoted to the undisputed Championship when McGregor was stripped off the 145lb belt after moving up to beat Eddie Alvarez in a Lightweight title fight.
McGregor has since gone on to target a lucrative boxing match with Mayweather, but a dismissive Aldo told Omnisport that the fight is an unrealistic target for the enigmatic Irishman.
"It will never happen," Aldo said. "This will only happen if the UFC wants to. It could be against Mayweather or anyone else, if a fighter has a contract with the UFC, nobody can go over the UFC."
Aldo also questioned whether McGregor possesses the necessary appeal to headline a crossover fight, claiming that the 28-year-old lacks popularity outside of his native Ireland.
"McGregor's reputation is already bruised. The only ones who like him are the Irish people, and nobody else," Aldo added.
"If you ask in Brazil or in any other country, nobody cheers for him. No one even considers him a champion, they always consider him a piece of s***."
"There have been some proposals for us to fight again, the UFC has already tried to get us to do the rematch, but he never wanted to. My life does not revolve around him."
There had been earlier reports that Aldo was himself considering a money-spinning move into boxing, with the 30-year old commenting at the end of January that: "Yes, I think about having a career in boxing, but I want to start from the bottom, start from zero.
"I want to get ranked and one day fight for a belt. I don't want to fight just to fight, for money, to go after big fights and challenge a great champion.
"I respect every boxer, but I want to start from the bottom. I want a career in boxing. That was my biggest dream, to one day become champion in MMA and boxing. That is my biggest dream."
However, in his latest interview, Aldo appeared to row back on those claims.
"When you get in a new world, I think you have to be aware of where you are treading, and I think he has no idea of what a boxing athlete is who have trained in it their whole lives.
"I was raised in jiu-jitsu, I have always fought in jiu-jitsu, but nowadays, if I go back to jiu-jitsu with the beasts that we have today, everyone will beat me.
"I'm not going to practice boxing and learn it in two months or a year."
Join our new commenting forum
Join thought-provoking conversations, follow other Independent readers and see their replies