Justin Bieber challenges Tom Cruise to UFC fight, Conor McGregor offers to host
Conor McGregor hints at Nate Diaz trilogy with rival an 'inspiration' for UFC comeback
The Irishman has been out for almost a year but was impressed by his former rival's comeback win vs Anthony Pettis 
Conor McGregor claims Nate Diaz is an "inspiration" for his comeback and is ready for the trilogy against the UFC welterweight.
The Irishman has been out of the Octagon since losing to Khabib Nurmagomedov last October.
But Diaz's own comeback has fuelled McGregor's desire, with the 'Notorious' heaping praise on his rival after his points decision over Anthony Pettis.
"3 years to the day myself and this Mexican warrior went to war," McGregor said.
"Congrats on the win this weekend Nate, it was motivating to see it for my own comeback. I don't blame you not mentioning me for the trilogy bout post fight, you know what I'm like when I get going. Vicious.
Khabib vs Conor McGregor

Show all 30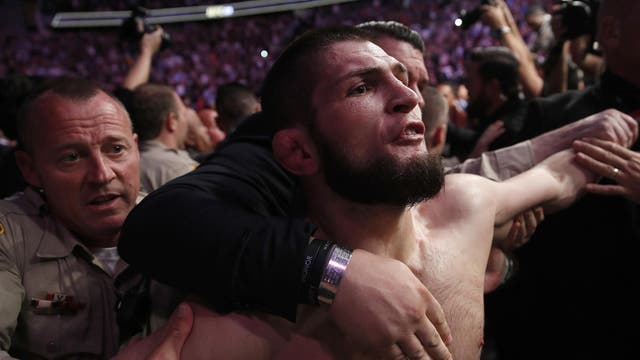 "I loved the round 3 style from round 1 that you implemented. It's what I was hoping you would implement for this bout and was glad to see you do it.
"I'll be prepared for it when we go again. If we go again.
"If not, respect always. A war for the ages. No b**** talk. Just real s***."
And UFC supremo Dana White believes McGregor is itching to fight Diaz next.
"I was just saying to Brett [Okamoto, ESPN reporter], I haven't looked at my phone yet," White said after the Diaz vs Pettis fight
"He said, 'Well, if you had to bet whether there's a text from Conor, what would you think?'
"I bet there is. I haven't looked at my phone. I don't know if Conor text me or didn't text me."
Join our new commenting forum
Join thought-provoking conversations, follow other Independent readers and see their replies