Mirko Cro Cop profile: Becoming the equalizer
On Saturday night, UFC veteran Mirko Cro Cop will return to the Octagon for a rematch of epic proportions, as he takes on Brazilian heavyweight Gabriel Gonzaga. UFC commentator, John Gooden travelled to Croatia to learn more about the MMA legend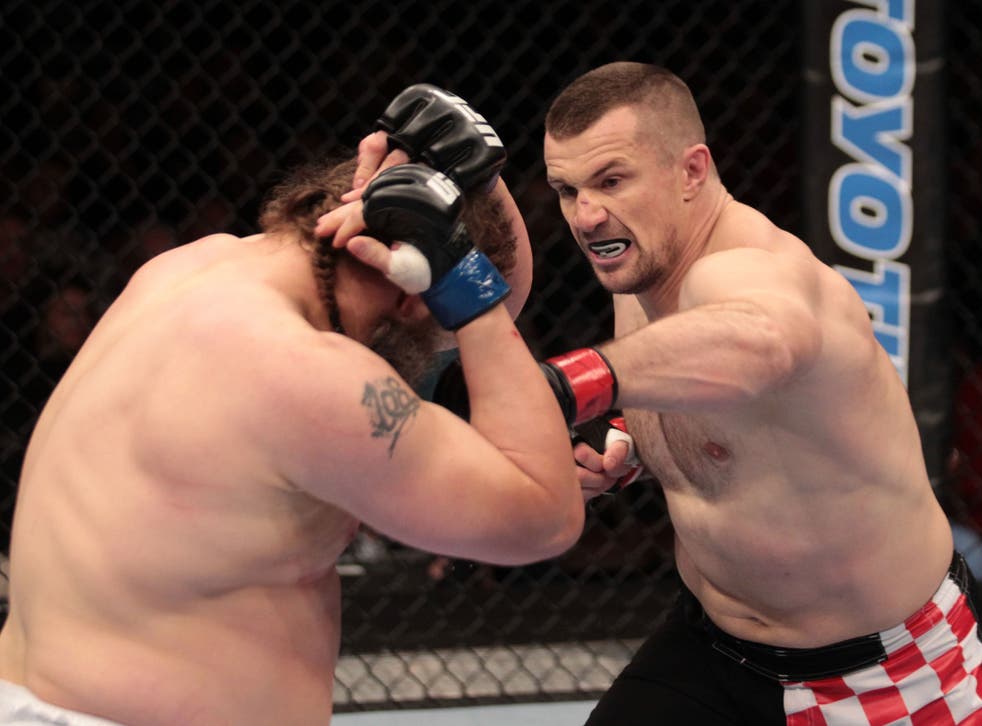 Sitting down in a stranger's living room is always a slightly uncomfortable situation at first. My situation, in this particular living room, was somewhat more remarkable as I was about to be in the company of a legend…a combat sports legend, no less.
As I sat on a modern high-back chair gazing at the art on the walls and pieces of furniture, the relative scale of the task ahead started to augment. My train of thought was interrupted by some of the decorations around me. A few key pieces really started to rouse the fan in me. To my left was a painted portrait of my soon to be interviewee showcasing his famous high kick. To my right there were two gleaming championship belts - one was the 2006 PRIDE Grand Prix belt and the other, a 2012 K-1 World Grand Prix belt. They were sat on Mirko Cro Cop's living room unit, next to his television and below a picture of his late father. On the same unit were pictures of his sons. This unit alone, perhaps unintentionally, beautifully captured Mirko's timeline of triumphs.
I had never met Mirko before this moment. Up until this point he was, to me, a destroyer of some of the planet's most fearsome men…and a prankster who had an appetite for intimidating commentators (as the excellent Mauro Ranallo discovered). Now, I was, quite literally, in his kingdom and he was deep into his fight camp, ahead of his rematch with Gabriel Gonzaga.
As we continued to set up, the crew and I had a chance to introduce ourselves. Mirko has a strong presence, as any fight fan would expect. Nonetheless, he made us feel welcome in his home from the outset. Mirko needed no precursor to what we were hoping to achieve during our visit; this was Mirko Cro Cop, after all, and he had experienced this many times before. He was quick, even, to offer ideas on how to capture the best scenes and where the best opportunities were to see him in action.
With the positions set, the blinds were lowered to obscure the sunlight reflecting back off the spectacular view of Zagreb. And Mirko began telling his fascinating story.
It apparently all started with watching Bruce Lee and Van Damme films, which encouraged a young Cro Cop to explore ways to emulate his heroes:
"I was training in an old garage - just a roof. And when its snowed it would cover the floor so I would have to clear this first. I didn't have a punch bag. There was no place to buy it so I managed to get a speed ball, but it didn't have the swivel mechanism, so I just nailed it to the ceiling and started kicking. I couldn't box with it as it was so light and small. I was just training my high kicks. A few hundred everyday. That's how I developed myself. That's how everything started."
Given the exceptional nature of Mirko Cro Cop's high kicks, this was a skill I had him discuss at great length. He was quick to correct me when I quoted that it takes 10,000 repetitions to become a master of a technique….apparently that was too few. "100 kicks everyday for 3 months does not make a master". Unbeknown to the young Mirko, the accidental focus on the high kick was an excellent choice. But as his career developed, he would need further tools:
"I like the high kick or middle kick…[land] one and the fight is finished. Low kicks, you need to throw at least 20 to finish the guy and he has 20 chances to block you and you can break your leg.
"Everybody is studying my fights. It's harder and harder to land the high kick. Everybody is expecting the high kick. It's much easier to do it at the beginning of your career."
We meandered through Mirko's spell as an international amateur boxer, and his matches against World champions and Olympians. But a defining time in the life of this fascinating man came during his time in the army:
"In 1993 I joined the Croatian army. I was a radio telegraphist. There was a Colonel who was Commander of my military base who I wrote to to request I go to train for two weeks with the Croatian national kickboxing team. I was surprised he approved it. After two weeks I was behind in my military learning and I was summoned to the Commander. He said to me, 'I don't think you will be a special soldier, but I believe you will be a good fighter one day. So you don't have to learn [with the radio telegraphists]. I release you and I want you to train twice a day. And I want you to make your country and your homeland proud one day.' "
Mirko described this as one of the best days of his life.. He knew he had to succeed, given the trust that had been placed in him. And he rose fast through the ranks of K-1, upsetting the odds and coming close to championship glory. Following that, he embarked on a new venture in mixed martial arts stepping onto the hallowed canvas of the PRIDE Fighting Championships. Mirko described how his toughest challenge was that of his first PRIDE outing against Fujita.
"The biggest shock was the first fight. I didn't know what to expect. I fought Fujita. At that time he was one of the most dangerous PRIDE fighters. He was a complete beast and with 130 kilograms of pure muscle. A guy without a neck…he was all connected (laughs). I knew he was going to take me down and that what I was training for. I would counter with the knee and exactly that happened. I caught him with a good knee to the head and the fight was finished and that's how everything began.
"After, there were many good fights; with Vovchanchyn, with Nogueira, with Fedor, with Wanderlei, with Josh Barnett, with Heath Herring…many, many great fights."
As our conversation progressed, I started to understand Mirko a little better. He was full of life experience and he naturally exuded intelligence, which has served his career well. We spoke a little about his family life, which involves raising his two sons with his wife. It became very clear that Mirko Cro Cop is a well principled man with strong values. He would bet us that his oldest son (a junior Croatian wrestling champion) would greet us with a firm handshake and eye contact. It is a bet he would have won.
In terms of his fights, Mirko spoke about his losses with almost as much affection as he did about his wins. He did not dwell on his wins, but humbly recognised them when prompted. We talked about his first tenure with the UFC and he explained how he had underestimated the difference that fighting inside the Octagon - and the atmospheric conditions of Las Vegas - presented, compared with previous experiences in other organisations. Mirko also spoke of how the rule sets were different, as well as the effectiveness of elbows, something that he believes brought about his demise against Gabriel Gonzaga on that historic night in 2007.
"He hit me at least 10 or 15 times…clean shots to the head. It was a miracle that I didn't start bleeding. Maybe it would have been better for me if he had cut me, as the referee would stop the fight. But when we stood up I saw 3 opponents. I was finished already. I took too many shots to the head.. I was totally out of control. He threw a high kick, it landed on my head and that was it. But I'm a fighter and there's no shame in falling down, only not to rise again. But that's my life, you cannot win all the time. But of course the goal is that you must try [to always win]. It was my mistake. He did what he had to do. He had his plan and he threw too many elbows and I lost the fight and that's it.."
On Saturday, 11th April a few borders away from Croatia in Poland, Mirko Cro Cop and Gabriel Gonzaga are the main attraction. This is the first event in Poland for the UFC, making it a historic one. But it's also a big deal for the fighting legend.
"It's very important to settle the score. I don't like to put one fight ahead of another but maybe this is one of the most important fights in my life. I just want to rematch and I want to beat him. This is just sport and competition. Gonzaga is a decent guy, he is a sportsman who is fighting to feed his own family like I am and there is no bad blood. But, I believe I am a better fighter and I have to prove it. The difference between the first fight and now is that I want this fight most of all. This time I didn't come to the UFC because of the money, now I come because of my own pleasure."
Mirko has put the eight surgeries he has undergone behind him. Now, he is healthy again. For this camp his focus has been on boxing and on conditioning. For the last two years he has been working with former WBC Champion, Stipe Drews and it has been paying dividends. The 'young lions' in his gym have been pushing his body and he states he is in great shape. He knows the importance of a good gas tank as, in his own words, 'tiredness makes a coward of heroes'.
For this fight camp Mirko was joined by Stipe Miocic, who has given him the elite level MMA sparring that he feels is crucial in his quest for victory. I saw the respect and camaraderie between the behemoth's of the MMA world as well some jesting and joking.
We wrap the interview and Mirko thanks me for not going on longer, as he feared he would suffer a stroke! It was one of a few jokes he would share during our trip.
I left Croatia with a much better understanding of Mirko 'Cro Cop' Filipovic. He has earned and battled his way to a lifestyle that affords him more choices for his career. His handsome property sits in an enviable spot above Zagreb and his huge basement has been converted to the ultimate martial artist's playground. It has everything a champion needs. There's a cage that was given to him and built by Throwdown, a number of bags, a matted area, a selection of weights and racks, a spotless changing room and even a table tennis table for that all important hand-eye coordination. Or maybe it's just for fun!
As far as Mirko goes, he is not thinking about a swan song; far from it. He has a clear focus and that is to settle some scores, starting with Gonzaga.
Watch UFC Fight Night: Gonzaga vs. Cro Cop 2 on Saturday 11 April on PICK, available on Sky (152), Freeview (11) Freesat (144) and Virgin Media (123)
Join our new commenting forum
Join thought-provoking conversations, follow other Independent readers and see their replies