Boxing: Marquez seeks trial of strength with Pacquiao
Mexican uses services of controversial coach to bulk up for fourth fight against nemesis tonight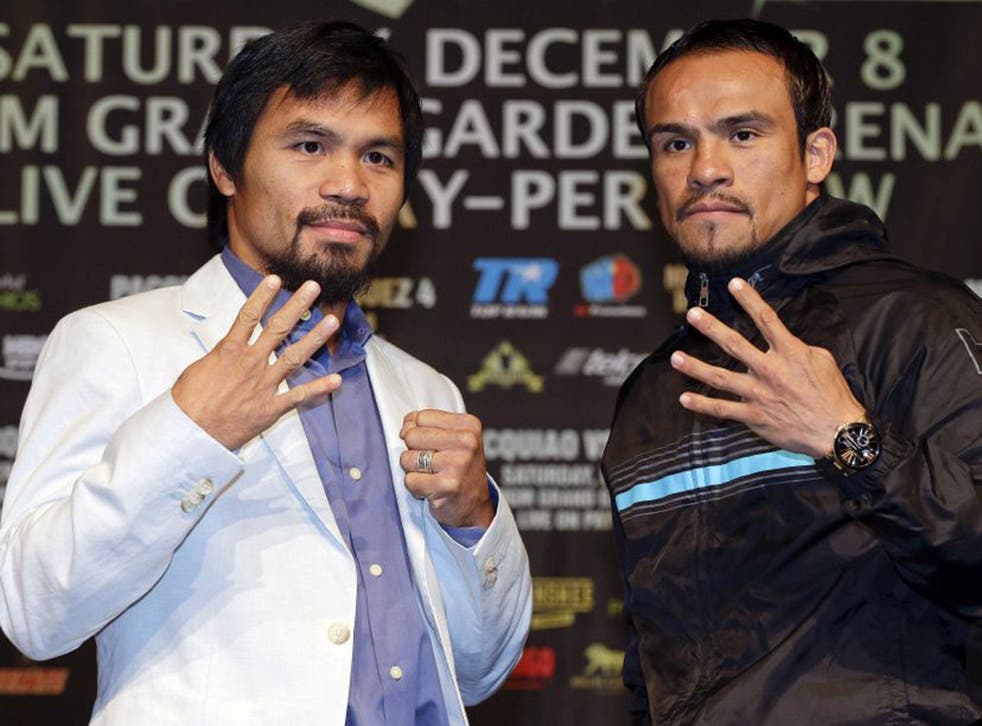 They call Manny Pacquiao "Republican enemigo numero uno" in Mexico because of his ability to ruin the reputations and careers of their best fighters in a series of clashes at eight different weights that continues tonight at the MGM in Las Vegas.
Pacquiao will make as much as $25m (£16m), securing his position as the second-highest earning athlete in the world (Floyd Mayweather is first, Tiger Woods third), for what will be his fourth fight with Juan Manuel Marquez. Pacquiao leads two wins to a draw; he is 2-1 up against Erik Morales and 2-0 up against the great Marco Antonio Barrera.
Pacquiao will weigh 10.7 stone for the fourth Marquez fight, but he started beating Mexicans in 1999 in the first defence of his first title when he stopped Gabriel Mira in the fourth round to keep his WBC flyweight title. Pacquiao weighed just 7.13st for that fight.
There was a sequence of 12 bouts between 2003 and 2008 when Pacquiao sealed his fate with 10 wins from 11 fights against Mexicans, including stoppages of Barrera, Morales, Hector Velazquez and Jorge Solis. In late 2008 he even battered and sent Oscar de la Hoya, the bilingual crossover fighter, into retirement for good measure.
Pacquiao has beaten Mexican fighters from Mira at flyweight all the way through to the fearsome and huge Antonio Margarito at light middleweight in fights that cover a shift in weight from just 7.13 to 11st, during a span of 12 years. In boxing history no one has come even close to replicating his astonishing physical achievements over such a sustained period of excellence.
"The thing that we will never know is just how big he could have been," said Bob Arum, Pacquiao's promoter. "His early diet was terrible and he starved so often when he was growing up that we have no idea what size he really is."
Marquez and Pacquiao first met when they weighed nine stone exactly, the rematch was made four pounds heavier and their last fight in November 2011 was the same weight as tonight's clash. Marquez has won world titles at three weights compared to the astounding eight that Pacquiao has held and he has decided to finally try to match his nemesis for strength.
However, Marquez has employed the services of strength and conditioning coach Angel Hernandez, aka Angel Heredia, who was a star witness for the United States federal government in its infamous drug abuse case against Balco. Marquez does appear to have put on a lot of extra bulk, leading to Pacquiao's long-term trainer Freddie Roach issuing the ripe challenge: "If that is natural, I will kiss his ass." Pacquiao has been at the centre of gossip even after testing clean, always insisting that his strength comes from mixtures of exotic Filipino herbs, roots and dead animals.
So tonight the Mexican people will boo the little man from Manila, who left home when he weighed about five stone and was just 13 after his dad slaughtered his pet dog to feed the family. The "dog" story is probably a fantasy but Pacquiao's passage from a penniless seven-stone pro 17 years ago to Las Vegas star, weighing 10.7st and making in excess of $25m right now, is not a fairy tale.
Join our new commenting forum
Join thought-provoking conversations, follow other Independent readers and see their replies