Cycling: America refuses to accept a hero's downfall
Sponsors, celebrities and fans stand by Lance Armstrong despite damning evidence in the Usada report that is still making waves across the cycling world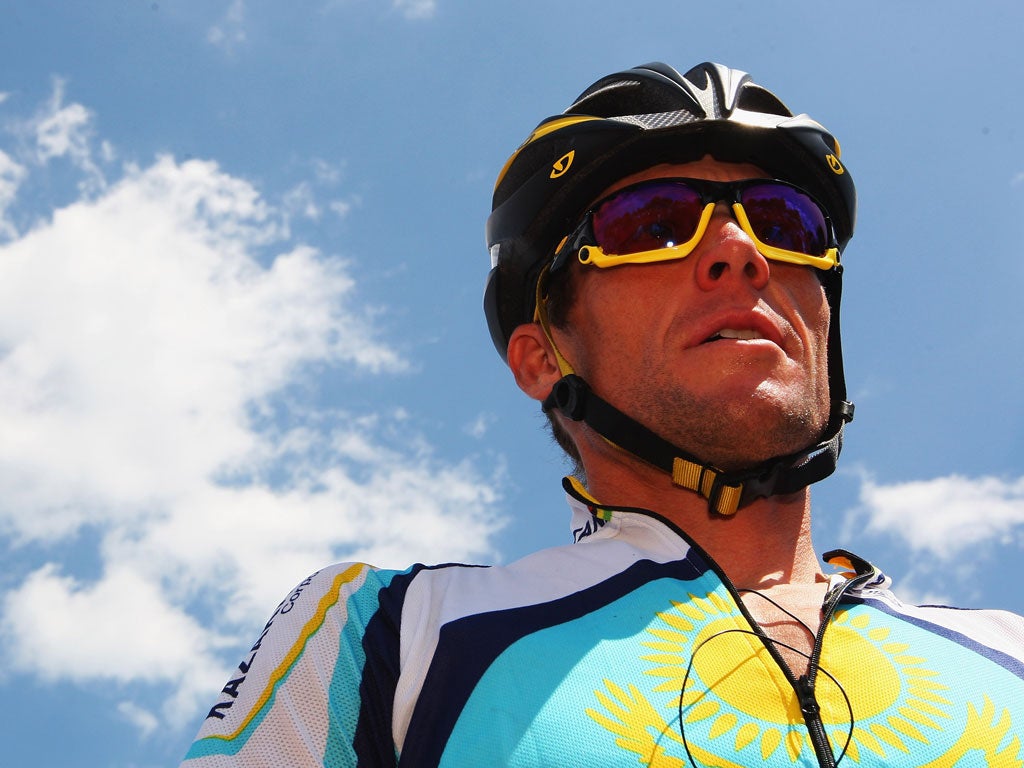 The canonisation of Lance Armstrong will commence on Thursday, when he will be lauded for "15 years, of serving and empowering" 2.5 million cancer survivors. The following day Hollywood will pay its respects, in the form of a gala featuring Sean Penn, Ben Stiller and Robin Williams.
On Saturday, more than 100,000 American Football fans, and millions of TV viewers on ABC, will laud the cyclist, and his eponymous foundation, at the start of the second quarter of the College game between Baylor and the University of Texas. The entire student section, which seats 17,000, will simultaneously don specially designed Nike shirts, promoting Armstrong's Livestrong brand.
On Sunday 4,000 cyclists will pay $50 to participate in a challenge event in Armstrong's home town of Austin, Texas. His foundation's sponsors will underwrite performances by local drama groups, musical acts, and sporting activities ranging from tennis to yoga.
Livestrong speaks of "taking control of the global conversation" in relation to cancer. A similar strategy is being employed, as Armstrong seeks to counter his depiction as an amoral, manipulative bully in the most damning report into a prominent athlete in the modern era.
Armstrong's status, in his constituency of the United States, is largely unchallenged, although by yesterday morning his official Twitter feed was finally infiltrated by critics, who made obscene comparisons between him and fraudster Bernie Madoff.
Donald Trump, whose populist instincts are impeccable, spoke for the vast majority of his countrymen by branding the United States Anti-Doping Agency (Usada) report "brutal". He observed: "I guess they have Lance Armstrong cold. A waste of taxpayer money to take down an American hero."
Sponsors are circling the wagons. Nike, who pay Livestrong a minimum $7.5 million a year from its merchandise profits, are particularly exposed. Their marketing strategy promotes the myth of Armstrong as a warrior king, plucked from an oncology ward. Promotional videos feature him on his bike, against intermittent images of cancer patients undergoing chemotherapy, confronting mortality and conquering fear.
Armstrong's principal product is himself as a symbol of hope. That is a force sufficiently pure and powerful to lure such celebrated acolytes as former president George W Bush and Bono, the ultimate good cause junkie.
To reinforce the point, the front page of Armstrong's website carries a freshly-posted paean of praise from Sarah O'Leary, who is described as a "marketing expert, public speaker, licensed minister and issues-focused independent".
She writes: "The gun that should be smoking isn't, and wouldn't have any real effect on the brand Livestrong if it were. Lance stopped being a mere professional cyclist while he was still on his bike, and the accusations against him have had their 15 minutes of fame. Unlike mere mortal performers, Lance lives in rarefied air that only a scant few professional athletes reach. He is substantially bigger than his sport."
That hoary old cliché misses the point. Armstrong behaved, and continues to behave, as if he is the sport which enriched him. Cycling around the world is being hit by a tsunami of guilt and retribution as a result of his exposure as a man with the morals of a gang boss.
In Australia last night, Matthew White, a former team-mate of Armstrong, admitted to doping and stood down from key roles in both professional cycling and the Australian Olympic squad.
His status, as a leading proponent of so-called clean teams made his downfall doubly significant and served to underline the ambivalence of the debate about appropriate punishments for a doomed generation of chemically-driven athletes.
The previous evening, Johan Bruyneel, Armstrong's former team manager, was forced out of the Luxemburg-based Radioshack team. The Belgian Cycling Federation alerted their prosecutor and did little to dampen speculation they will recommend a lifetime ban.
Should that occur, few tears will be shed for a man accused of being pivotal figure in what Usada described as "the most sophisticated, professionalised and successful doping programme that sport has ever seen".
In Italy, recently-retired cyclist Leonardo Bertagnolli was summoned to a hearing involving the Italian Olympic Committee's anti-doping prosecutor after revealing details of drug use supervised by the infamous Michele Ferrari, Armstrong's former doctor.
In Chicago, Christian Vande Velde, another member of Armstrong's tainted team, was dealing with his mother's shame after revealing his guilt to her. He admits he has yet to summon the courage to explain himself to his father John, a former Olympic track cyclist.
In Beijing, Matthew Dowsett, a British rider for Team Sky, recanted his belief in Armstrong as a "legend" in what bore all the hallmarks of a humiliating piece of PR-inspired penitence. Also in China, Pat McQuaid, the president of the UCI, cycling's global governing body, was under pressure, together with "honorary president" Hein Verbruggen, the IOC member whose denial that he said Armstrong "never, never, never" doped was torpedoed by the publishing, in Holland, of the transcript of his original interview.
His claims that the UCI "could have done nothing and did not hide anything" in an era of sophisticated doping merely confirmed the wisdom of David Millar's conviction that he has no part to play in a rehabilitated, recalibrated sport.
McQuaid's abject leadership skills were highlighted on Friday by his resistance to calls for cycling to set up a "truth and reconciliation" process. He suggested something similar at the London Olympics, retracted the idea at last month's World Championships, and now says an amnesty for the cheats is against the World Anti-Doping Agency code.
The enormity of the fraud needs to be exposed, and acknowledged, by its perpetrators, as the first stage in a process of renewal. Anecdotal evidence suggests the code of omerta, which allowed Armstrong to spread his poison, is being sustained by the fear that anyone re-opening Pandora's box would suffer reprisals.
The manifest failings of the UCI must be addressed. In return, athletes must accept that suspicion will be the neutral observer's default position until change is tangible.
As for Armstrong, he is in a netherworld of victimhood, and false heroism. The threat of legal action is potent, but his exposure as a common cheat carries little personal penalty, because he is conditioned to living a lie.
The real victims are those cancer sufferers, who invested in the mirage of his magnificence. Perhaps, instead of concentrating on the Livestrong celebrations, they should listen to the authentic voice of Lance Armstrong, as expressed the Usada report: "I can destroy you… We are going to fucking tear you apart… I am going to make your life a living fucking hell."
Saint Lance? Draw your own conclusions.
10 key questions over the Lance Armstrong affair
Can governing bodies be trusted to be self-policing?
The evidence suggests not. Governing bodies are conservative and self-protective of their sport. Usada's persistence in pursuing Armstrong suggests independent scrutiny of fundamental moral and financial issues is overdue. Usada's Armstrong file is in the hands of UCI lawyers, said UCI president Pat McQuaid on Friday.
Have Bradley Wiggins, and Team Sky, been compromised?
Undoubtedly. While the integrity of Wiggins and Dave Brailsford, director of the Tour de France-winning team, is unchallengeable, Sky's "zero tolerance" stance on drugs is open to question. Directeur Sportif Sean Yates, a close associate of Armstrong, says he knew nothing about the drug cheat's activities. How could he have understood so little?
Will the US attorney's investigation be renewed?
Federal prosecutors are under pressure to revive the process, terminated in February. A separate inquiry is being pursued by the Department of Justice. This was prompted by a lawsuit, filed by former team-mate Floyd Landis, which alleged Armstrong used public money to fund a doping programme.
Will Armstrong be stripped of his Olympic medal?
Yes, if the IOC value consistency and credibility. They have already stripped Tyler Hamilton, Armstrong's former team-mate, of the gold medal won in 2004. No, if they choose strictly to observe the eight-year statute of limitations, stipulated in the world anti-doping code. Armstrong won his bronze in 2000.
What are the precedents for prosecuting an athlete for perjury?
Marion Jones's fall from grace, after winning five medals in Sydney, was completed when she admitted lying to a jury about her use of drugs. She was convicted of perjury, and sentenced to six months in prison in 2008.
Are the UCI still taking legal action against Paul Kimmage?
The defamation case, brought against the former cyclist, turned campaigning journalist, is still due to be heard in the Swiss district court on 12 December. Donations to Kimmage's defence fund, which are more than £37,000, can be made through www.nyvelocity.com.
Will new winners of the seven tainted Tours de France be announced?
No, according to director Christian Prudhomme, whose plans to promote the centenary edition of the Tour, beyond its European heartland, are in tatters. He had little option – 20 of the 21 podium places between 1999 and 2005 were filled by riders associated with doping.
What are the implications for other sports?
Possibly profound. Italian football endured an EPO scandal in the late Nineties. Eufemiano Fuentes, the Spanish doctor exposed in cycling's Operacion Puerto, claims he also doped footballers and tennis players. Luis Garcia del Moral, banned for life for links to Armstrong, insists he was "medical advisor" to Barcelona and Valencia.
Will cycling's status as a boom sport be affected?
Probably not. The timing of the announcement of British cycling's success, in attracting a million new participants, was unfortunate, but drug controversies can be detached, at grassroots level, from the benefits of a healthy outdoor activity.
What about the Armstrong apologists?
They must live with their consciences. The most poignant case involves British TV commentator Phil Liggett. Many feel he compromised himself earlier this year with a bizarre pro-Armstrong, anti-Usada rant on South African radio, which quickly went viral.
Michael Calvin
Join our commenting forum
Join thought-provoking conversations, follow other Independent readers and see their replies