NFL: LaGarrette Blount runs himself into the history books but he'll have to do it all again if the New England Patriots have dreams of Superbowl glory
Blount has been at the forefront of a Patriots side that has shifted their emphasis to a running game but they come up against the free-scoring Denver Broncos for a place in the season showcase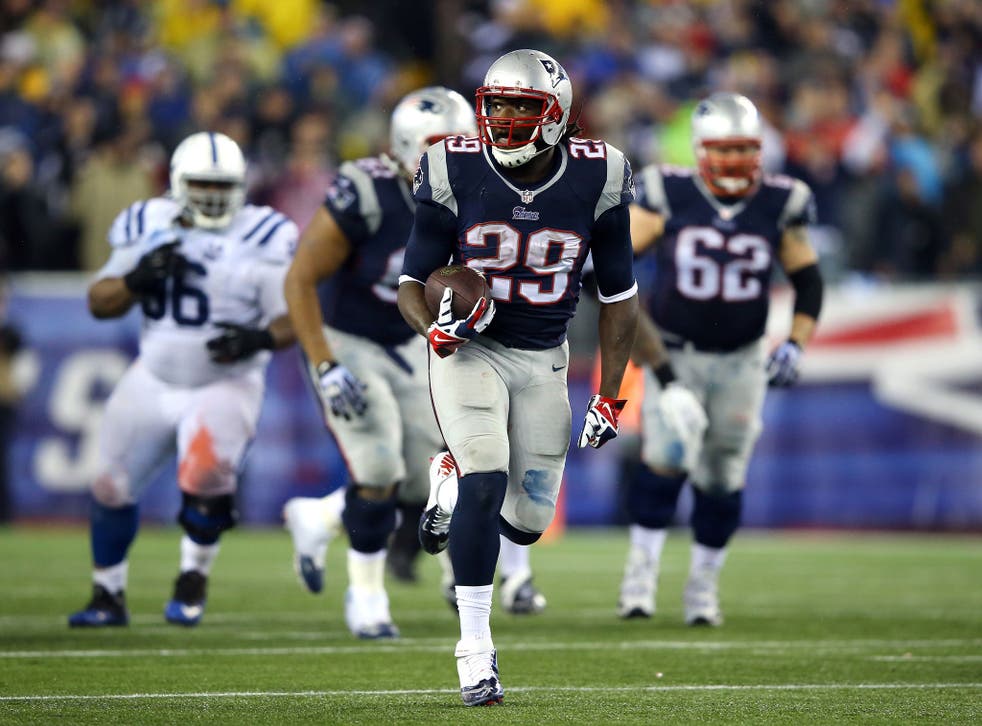 Early Sunday morning LaGarrette Blount, New England's bulldozer of a running back, eased himself in to NFL history with a four touchdown, 166 yard performance that moved his team one-step closer to the Super Bowl.
It marked his second outstanding performance in two weeks, a spell in which he has racked up over 350 yards on his own.
The back, who New England traded for prior to the season, has become the face of a Patriot team that continually evolves and, as they secured their place in the AFC Championship game for a third straight year, the most surprising thing about it is...it's not surprising at all.
This has been coming and the signs over the past few weeks have been plain to see. New England's transformation into a run-first offence follows their previous spread identity and this new hand-in-the-dirt approach has taken teams by surprise. Offensive co-ordinator Josh McDaniels deserves credit for, not only the shift into a run-first team that can overpower opponents but, also, the continual rotation of his backs over the last few weeks.
On Saturday, in particular, the performances of Blount, Stevan Ridley and Shane Vereen ensured that Tom Brady didn't have to be anywhere near his best – finishing with less than 200 yards and no touchdowns.
In part, this was due to the Colts being on the back-foot from their first series as Alfonzo Dennard picked off Andrew Luck's pass, returning it to the 2 yard-line before Blount got his record setting day in motion.
Speaking after the game, Blount, who tied Curtis Martin's team record of 166 yards, was full of confidence.
"Once I get into the open field, they're going to have to chase me.
"And if they catch me, they do, and if they don't, they don't. They usually don't," he said.
Bill Belichick was suitably impressed too, noting "He's got that combination of size, power and quickness and speed.
"He can run hard. He can make guys miss and he can go the distance" he said to nfl.com after the win that sees Brady lead New England into the eighth Championship game of his career.
Their opponents, the Denver Broncos – fresh from their suffocating win over San Diego, will look to test a New England defence that, at times, looks far from a cohesive unit.
One bright-spot however, despite the enforced absence of Brandon Spikes (placed on injured-reserve last week), has been the emergence of rookie Jamie Collins.
Improving each week, Collins has showcased his abilities in coverage and against the run and New England will need him - and others - to keep up their level of play as they prepare to take on the highest-scoring offense in NFL history.
Hospitality?
In preparation for San Francisco's visit, the Seattle Seahawks have done what all friendly neighbours do; banned ticket sales to that area's locals.
It's no joke either and, to highlight their efforts, the team will only do business with bankers who have registered addresses in Washington, Alaska, Hawaii, the Canadian Provinces and Oregon and they're not the only ones.
With home-field advantage so crucial at these late stages Denver have also announced that they will only be shipping tickets for their clash with New England to addresses in New Mexico, South Dakota, Colorado and Utah.
Other than making it difficult to get tickets, it's hard to say whether this sales method is particularly effective – something we saw on Sunday in Charlotte where the Bank of America stadium was full of 49ers fans who are known to travel well.
Seattle however, aren't taking any chances and the twelfth man may be more vocal than ever at the weekend, especially with a rejuvenated Niners offence in town.
End of the road
For those eliminated this weekend, San Diego, New Orleans, Indianapolis and Carolina, the off-season is not only a time to re-evaluate what went wrong, but also to assess where they can improve.
For the Saints, much of their ability to manoeuvre ahead of next year is how they handle Jimmy Graham's impending free-agency. They're already projected to be way over the salary cap so moves will have to be made. On top of that, receivers franchise tags are worth more than tight ends' so it'll be interesting to see which side of the fence their dominant tight end decides to place himself.
For the Colts, it's simple. A defence that gives up 87 points over two games needs improving and this must be their main aim. Robert Mathis could do with help, despite his own herculean efforts, while Vontae Davis and Antoine Bethea are due to hit free agency unless something is sorted soon.
The Panthers need help offensively, Steve Smith is 34 and the whole receiving core needs an upgrade if they want to build on this years' promise while, in San Diego, cap issues are prohibiting their efforts to find space to get another weapon for Philip Rivers. Their offensive line needs work too but it may come down to Rivers and his willingness to restructure his own contract if they are too bring in new faces.
Join our new commenting forum
Join thought-provoking conversations, follow other Independent readers and see their replies