Robbie Britton: The Grand Union Canal Race attracts the eccentric - some might say peculiar - but real hard runners
Team GB ultra-runner and world 24hr bronze medallist Robbie Britton on The Grand Union Canal Race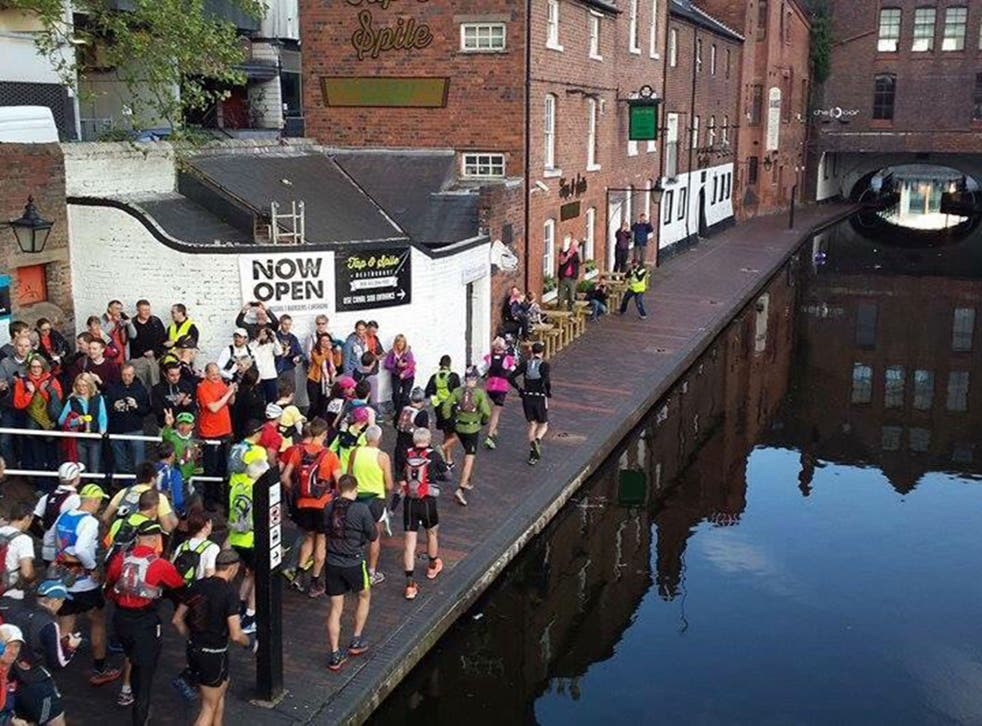 In the penultimate weekend of May two men fought a great battle and British sporting history was made. Although I'm not talking about muscular strongmen wearing big gloves tickling each other – these were real hard men.
The Grand Union Canal Race runs from Birmingham to London, along towpaths, for 145 miles and every year a reasonably eccentric, some might say peculiar, group of 100 people line up at 6am on the Saturday of Spring Bank Holiday to run this Classic of British ultra-running.
Organised by Dick Kearn and his army of volunteers, it is a logistical nightmare that involves very little rest for the runners or the crew that selflessly drive throughout the night to swap drinks bottles, hand over pork pies or point your runner in the right direction when they start running back to Birmingham.
The race has some legendary figures: Debs Martin-Consani who won outright in 2012 after falling in the canal, or Henk van der Beek, who insults all those who make it to his 130 mile check point, merely because he cares so much. When I did the GUCR in 2011 his words to me at the final checkpoint were: "Robbie, you've got two minutes then you can f*** off".
Then there is grandmother Mimi Anderson, this years women's winner and in 2014 the first to run The double GUCR (there and back) and Pat "Paddy" Robbins, Team GB runner, five-times winner and course record holder in 25:35. Until this weekend.
Two slight figures lined up at Gas Street Basin, one just returned from a team gold at the World 24-hour Championships, the other with a 12 hour, 4 minute 100 mile (on a 400m track) in his 2015 build-up. Both highly tuned athletes in a sport that you need to love to compete in.
Both Dan Lawson and Mark Perkins are here to win. Both have the aim of being the first man to finish under 24 hours, something not done in the 20 GUCR races before 2015, although many have tried. In a sport very much alive on social media there is very little pre-race bravado from any of the competitors you might see in more commercial sports.
There is a 45-hour limit to the race and many take the full allowed time to make it to Little Venice in London, some enjoying the pubs along the way, the candy barge (exactly what is sounds like – a barge full of sweets) and getting their crew to pop to McDonalds for a Big Mac. Ultra runners may lead a healthy lifestyle but the racing itself is sometimes far from good for the body, especially the feet.
Many have run themselves into a real state, head-butting branches, sleeping on the floor, falling into canals and somehow getting lost and running the wrong way. Your brain plays strange tricks with the mixture of extreme fatigue and the dawn light so people see all kinds of things, although some of these are just normal views from a canal going through Milton Keynes.
At just £30 to £70 to enter, depending on whether you have your own crew or are relying on the organisation to feed you, it is much better value per mile than most 10ks or even the London Marathon, although probably fewer than ten people will watch the finish under a small banner on the side of the canal.
The prizes are typically understated too: a water jug presented by British Waterways that is as beautiful as you would expect it to be. The finishers medals are serious bling, often the final nail in the coffin for tired legs when put around your neck.
Lawson and Perkins are neck and neck through the first 65 miles, separated by only 30 minutes at 100 miles and pushing each other the whole way into town. In a fitting tribute to Dick Kearn's last year as organiser, both smash the old course record, both are way under 24 hours.
In any of the other years of the Mark Perkins would have won by three hours with his time of 22:42 but Dan Lawson really pulled it out of the bag with an astounding 22:16. That's a mile every nine minutes, 13 seconds or just over five and a half marathons, all run in about four-hour pace.
Events like this, real grass-roots British ultra-marathons are at risk of disappearing as the sport commercialises, but as long as the top notch volunteers, the bedrock of this race, are still around, it will continue. I for one will do what I can to make sure that happens.
It may not be across mountains, deserts or frozen tundras, but this race is tough, really tough. It may not have the mass appeal that others races do, but this is one thing that keeps it special and I treasure my medal as much as any other. The Grand Union Canal Race is truly a British ultra race, next year go to a pub along the route, volunteer or just cheer these brilliant people on. If you're really brave then go racing.
Join our new commenting forum
Join thought-provoking conversations, follow other Independent readers and see their replies