Ruta Meilutyte: Meet our secret world and Olympic star
Robin Scott-Elliot meets the Plymouth schoolgirl who is the fastest breaststroker ever – famous in Lithuania but unknown here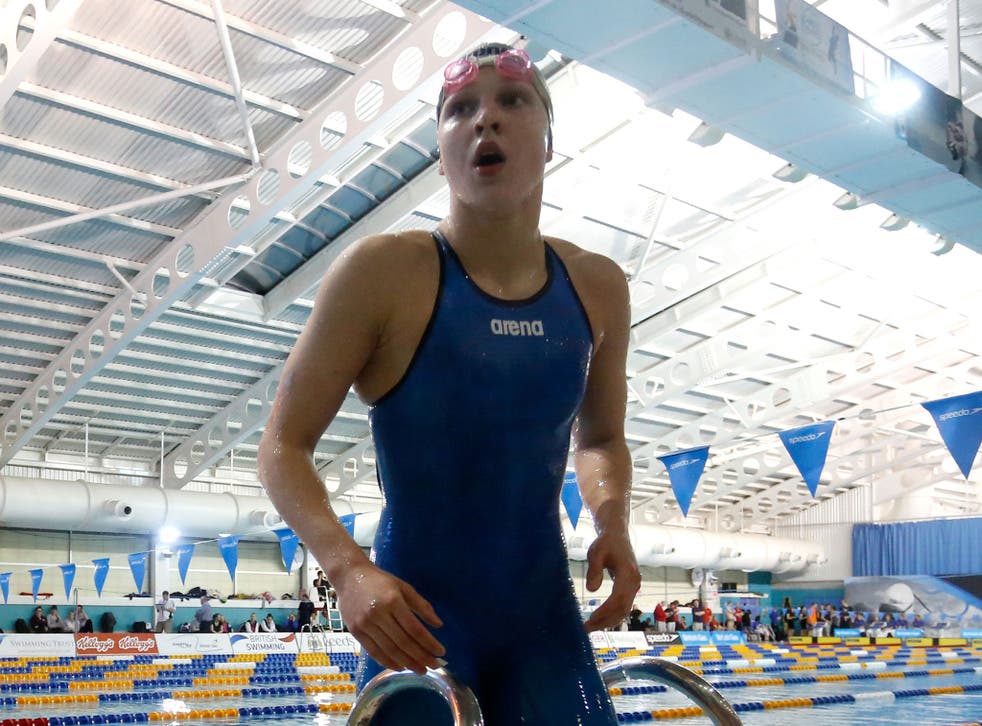 Ruta Meilutyte points through a grey winter morning towards a large building visible above the surrounding houses on a neighbouring hill. It's the pool where she trains, and trains, and trains. And then trains some more.
"I get up at 4.50am, have a little breakfast and get my stuff ready for school and swimming," says Meilutyte. "I start swimming at 5.30am pretty much every morning of the week. All the swimming sessions are two hours and 15 minutes. I get to school at 8.30am. School finishes at half three and then I head back to the pool and finish between six and seven. Then it is homework, eat and sleep."
The next morning it starts all over again. The morning after our meeting she tweets: "Those mornings when all you want to do is go back to sleep but you choose to go to the pool instead are the ones that count the most."
We are sitting on the top floor of a pavilion that runs the length of the main rugby pitch at Plymouth College; to the right the stone buildings of the older part of the school are visible. It's where she will soon head for an afternoon of double chemistry, and then it will be up that hill and back to the pool.
Meilutyte is Britain's best kept sporting secret, even if she is not really ours. She has lived here for three years and during that time has been transformed from a promising 12-year-old freestyler to an Olympic champion, a world champion and the fastest female breaststroker the world has seen, all by the age of 16.
"The programme that she does is extremely gruelling," says Jon Rudd, her coach at the Plymouth Leander club. "The psychological day-to-day pressure and difficulties ultimately would grind anybody down because there is no easy way of doing this. There are a lot of hard yards in the pool. It is lonely, there is a lot of work to be done in the gym. She has to be extremely disciplined with her diet, with her sleep, her social life. It is hard; it is very hard. But the beauty of the situation is when she stands on the podium with a medal around her neck she remembers and knows what it's for."
The sporting year that follows an Olympic Games can be one long, cloying hang-over, a combination of falling from a great high, a recalibration of what it's all for and then the tough mental and physical slog of starting out again down the long road to Rio. For Meilutyte 2012 was spectacular. An unknown unknown, high up the Rumsfeldometer, she won gold and became the most famous sports star in her country.
"The Lithuanian interest in her is ridiculous," says Rudd. "She only has to change her sock colour and it's a headline."
It marked Meilutyte out as remarkable and what she has done in 2013 has only added to the evidence that Plymouth is hosting a special one. There has been no hangover. At the World Championships in Barcelona this summer Meilutyte broke the world record in the 100m breaststroke in the semi-finals and then took her first world title. She broke her second world record in the 50m breaststroke semi-finals but was beaten to gold by Russia's Yuliya Yefimova. "I was not happy with that at all," she says.
There was more to come. In October she competed in the World Cup in Moscow. Rudd did not want her to – she had been ill and had had back problems. Meilutyte insisted, climbed from her sickbed and flew to Russia, where she broke the 100m short-course breaststroke world record. All this from a girl young enough still to compete in the World Junior Championships last summer; she won five golds.
"People were wondering whether it was a one-hit wonder, a fluke," says Rudd of how Meilutyte has followed London. "But I knew different. I knew the calibre of the person. She has all the tools –work ethic, character traits, self-discipline, personal sacrifice. A lot of kids aren't willing to go that extra yard and she was."
Ask Meilutyte how she handles the workload, or balances the two diverse sides of her life, being one of the best swimmers in the world with studying for GCSEs, and the response is the same: a little laugh, a shrug. This is what she knows, it does not seem unusual in the slightest. She still swims for the school.
"You can't think, 'Oh, I'm an Olympic champion' – you still have to do well in school, do your homework," she says. "That's important to me."
Meilutyte arrived in Plymouth aged 12. It was her father, Saulius, who wanted her here. He had come to Plymouth to work, liked what he saw and persuaded Rudd to take a look at his daughter. At the time Meilutyte was living with her grandmother. Her mother, Ingrida, had been killed when Meilutyte was four, hit by a car on a pedestrian crossing.
"I didn't want to come – the thought of leaving all my friends..." says Meilutyte. "I was all settled in Lithuania – it was scary to think of leaving. I didn't want to but I couldn't say no, could I? It's paid off but it has been a big sacrifice."
She is happily settled in Plymouth now and plans to remain at the college where Tom Daley was also able to juggle the demands of sport and education. She is on a scholarship part-funded by the Lithuanian Olympic Committee. Her A levels will come in the same year as the Rio Games.
Dramatic improvements for teen swimmers are far from unheard of – the Australian Ian Thorpe took five seconds off his best time in the 400m freestyle in the space of a year when he was 16, while Katie Ledecky of America also won gold in London aged 15. How special then is Meilutyte?
"She is the fastest female breaststroker of all time," says Rudd. "That's not a bad start. How good can she be? She can be faster. You can always be better – I am not dealing with a robot here, I'm dealing with a human being. It's never going to be perfect. You strive for it, though. She is getting stronger; I don't think she has stopped growing and I don't think we have seen the best from her."
Join our new commenting forum
Join thought-provoking conversations, follow other Independent readers and see their replies