Slovakian cyclist Peter Sagan criticised for pinching the bottom of podium girl after Tour de Flanders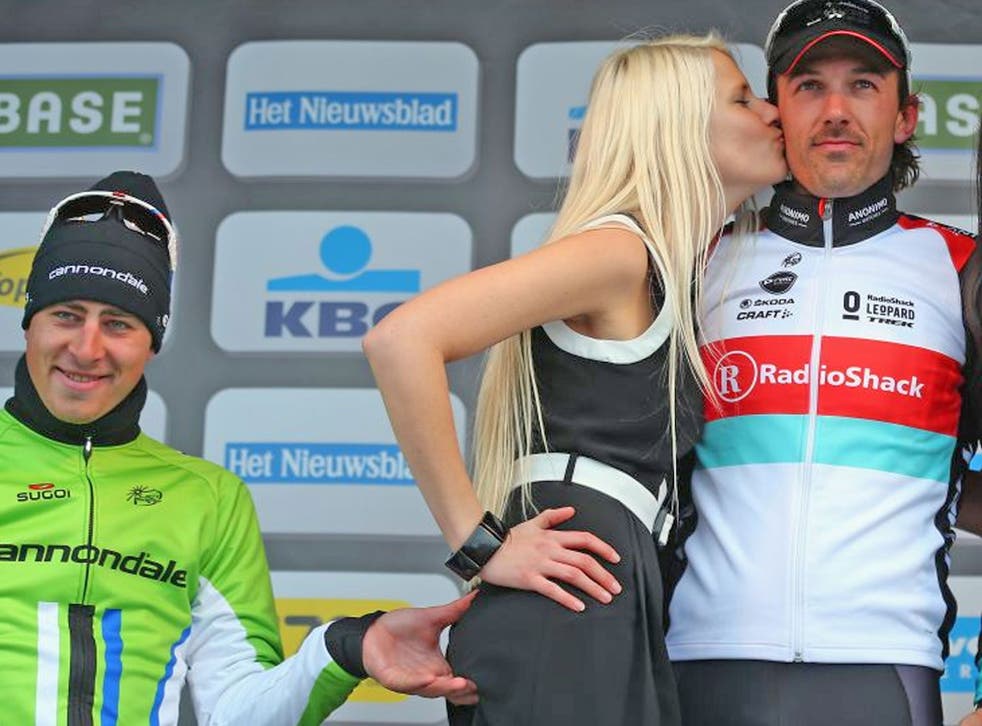 He is an athlete more normally known for his dedication to his sport – and his talent on a bike. In fact, before today, perhaps the most notable thing about Slovakian cyclist Peter Sagan was his reputation for wacky victory celebrations: doing the running man or impersonating the Incredible Hulk to mark a win.
But that was before a photograph of him pinching the bottom of a podium girl at the end of the Tour de Flanders emerged.
Sagan was placed second in the Tour de Flanders race today and climbed onto the winners' podium, along with third-placed Jurgen Roelandts and winner Fabian Cancellara, who was flanked by two hostesses.
As the women leaned in to give the Swiss champion the customary peck on the cheek, Sagan extended a cheeky hand of friendship – and goosed the blonde. Cue social media outrage.
Michael Hutchinson, top British cyclist and 2012 Irish Time Trials National Champion, tweeted: "Shame that Peter Sagan has so much class on a bike and so very little off it."
UCI World cycling champion and Irish Paracycling Team member Colin Lynch wrote: "Despite the symbolism of being kissed by scantily-clad women & then spraying champagne all over the place, groping them before is [off] limits.
"The podium move by Sagan was like school on Sunday. No class."
Other cycling enthusiasts pointed a feminist finger.
Jane Aubrey, editor of Australian cyclingnews.com, tweeted: "Anyone excusing Sagan's behaviour due to his age, needs to think again. In the workplace, it's called harassment."
Adam Tranter, editor of website Cyclosport, retweeted the picture and wrote: "The moment you realise Sagan is actually just a bit of an idiot."
And Dave Dee, cyclist from the Wirral, said: "Now a chance for enlightened tour organisers to drop podium girls."
And one posted a photo taken a week earlier, of the podium of winners of the E3 Harelbeke race in Belgium. It shows a familiar set-up: Cancellara in first place, a hostess on either side, Sagan in second position – and a Slovakian hand stretching out towards the closest podium girl's behind, palm extended as if to spank her.
The 23-year-old is regarded as one of cycling's promising young talents, known for excelling in almost all cycling disciplines, except for high mountains, with which he can struggle.
In the four years he has been racing professionally he has won a record eight stages in the Tour de California and others in Paris-Nice, Tirreno-Adriatico and the Tour de Romandie. He was junior world champion in the UCI World Mountain Bike and Time Trials in 2008, before switching to road races.
Cycling writer and broadcaster Ned Boulting told The Independent that cycling was only just beginning to emerge as a mainstream sport in the UK and therefore practises were led by the Continent – with all the 'traditions' that brought.
"To say it's OK for winners to celebrate in these ridiculous clinches with these poorly paid, barely dressed and no doubt freezing cold women – I think it looks bad and pretty repressive," Mr Boulting said.
"It's seen as completely normal to have podium girls but it doesn't need to be. If they ceased to exist [as a feature of cycling] overnight, no one would miss them."
Sagan yesterday apologised for the Flanders incident through Twitter. "Was not my intention to disrespect women today on the podium. Just a joke, sorry if someone was disturbed about it," he wrote.
Podium girls are a tradition in cycling races, although in recent years they have sometimes been replaced by podium men – or podium people, to give them their non-sexist, all-for-equality name.
Competition to be picked as a hostess can be fierce. The Tour de France organisers have to whittle down a pool of 500 applicants to 50. The job description includes presenting stage awards, serving as ambassadors for various race sponsors, dressing in the appropriate outfit for presentations – polka dot for mountain climbs; yellow for overall title contenders - as well as touching tastefully-painted lips to sweaty cyclists' cheeks.
Fraternising between competitors and podium girls is frowned upon. In 2003, hostess Melanie Simonneau was fired for accepting a note from winning cyclist George Hincapie. But in that instance there was a happy ending.
Reader – she married him.
Join our new commenting forum
Join thought-provoking conversations, follow other Independent readers and see their replies