In breaking free of their past, Catalans Dragons have carved out a bright new future for themselves
Victory at Wembley on Saturday may have ushered in the end of one journey, but another may be soon be starting for the French outfit
Jonathan Liew
Chief Sports Writer
Sunday 26 August 2018 21:16 Comments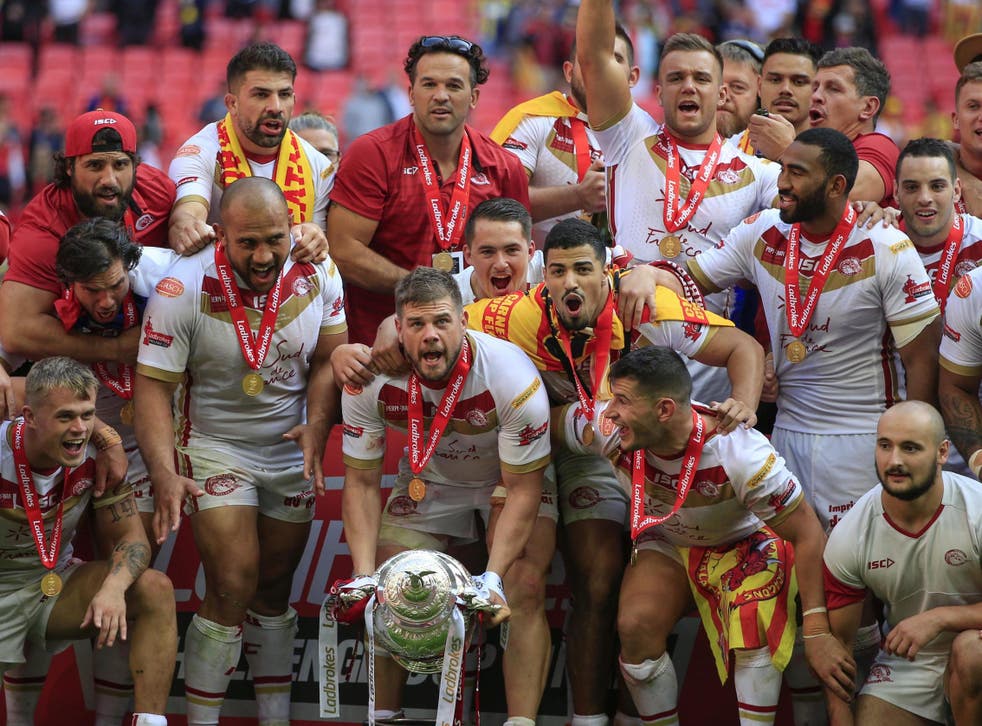 It was long gone midnight when the charter plane touched down at Perpignan Airport, carrying 19 victorious Catalans Dragons players and one hefty silver trophy. And yet it was immediately clear that nobody was going anywhere in a hurry. From wall to wall, the tiny terminal building heaved with humanity and shook with song; a weary squad shuffled through the throng overjoyed Dragons fans, raising the Challenge Cup to the heavens as if presenting it for approval.
This was not the first time the Challenge Cup had seen French soil. It had occasionally been flown to Perpignan on promotional tours, but this time it was here to stay. On Monday night, the trophy and the men who won it will be paraded at the town's Castillet monument in front of a crowd of thousands. And though Catalans are the first team from outside England ever to win the competition, it will feel, curiously and powerfully, like a homecoming.
"It's been a long, long journey," said Tony Gigot, winner of the Lance Todd trophy for man-of-the-match. "But I never stopped dreaming. I always believed there would be better times."
Catalans' 20-14 win against Warrington Wolves at Wembley Stadium marked the end of a journey that has had many beginnings. Back in April, when an ailing Dragons side travelled to third-tier York City Knights for their opening game in the competition, with the BBC cameras in place sniffing an upset. Or earlier than that: last September, when Catalans were fighting for their future in the Million Pound Game relegation play-off. Defeat, says captain Remi Casty, "would have been the end of Catalan Dragons, for sure".
Or maybe the beginning was even earlier than that: back in 2000, when a local butcher called Bernard Guasch took the bold and visionary step of merging local rivals XIII Catalans and St Esteve to form a new team - Catalans Dragons - with the aim of establishing themselves in Super League. With the sport in perpetual peril, Guasch recognised that the English leagues, and English money, was the only way of saving the sport in France.
But perhaps you have to go right back to the very beginning: to the early 1930s, when rugby league first took its grip in France. With rugby union in dire straits, having been kicked out of the Five Nations for excessive violence, the new sport surged into the vacuum, crowds flocking to watch a skilful, athletic fast-flowing game that many felt was perfectly suited to the French character.
By the time the Second World War began, rugby league was growing at a pace seen nowhere else in the world, before or since. It was attracting some of union's best players, its reach extending as far east as Lyon. But then came the collapse of France to Nazi Germany, and the installation of the puppet Vichy government under Marshal Petain. Former Wimbledon tennis champion Jean Borotra was brought in as minister of sport, a decision that would have grave consequences for the sport in France, and as a whole.
There is a slight misconception that rugby league was banned on political grounds, because of its links to socialism, as well as its indelible association with Britain. In fact, it was a little more complicated than that. Borotra was a Corinthian at heart. As Mike Rylance explains in 'The Forbidden Game', the definitive history of the episode, he saw sport as an essentially moral enterprise, one essentially inseparable from the principle of amateurism. Professionalism, on the other hand, equalled degradation, corruption, vice. The leading figures in French rugby union, many of who had close ties to the Vichy establishment, spotted an irresistible opportunity.
Egged on by his friends at the French Federation for Rugby, Borotra acted with devastating speed. League was declared illegal virtually overnight: its assets seized, its fields and clubhouses confiscated, even its kits requisitioned. Union took the lot; even the name 'rugby', which the league federation wasn't allowed to use in its name until 1991. As a 2002 French government report concluded: "The action against rugby league was the result of steps taken by the French rugby union federation, which saw an opportunity to get rid of a dangerous rival."
And even though the Vichy regime was mercifully brief, the damage had been done. By the time the war ended, many of league's best players had switched over, many had found other jobs, and so rugby league was faced with the task of building itself up again from nothing, in a society where sport could scarcely have been lower down the list of priorities.
Even so, it thrived for a while. It was a Frenchman called Paul Barriere who came up with the idea for a World Cup, which was first held in France in 1954. France toured and beat Australia in 1951 and 1955, and as late as the 1970s were still turning over both Australia and Great Britain on a semi-regular basis.
But by then, the decline had long since begun, driven by the growth of rugby union, the rural exodus of the 1960s that denuded many small towns of their best young men, league's failure to recognise the potential of television, mismanagement, financial difficulties, in-fighting and occasionally real fighting. The grand final of 1981, broadcast live on television but abandoned after less than 10 minutes because of an on-pitch brawl, marked the nadir for a sport that had been sinking for decades.
And despite everything that has happened since, rugby league in France remains precarious. It has little money and only a small well of talent. At international level, it's been a generation since France were remotely regarded as a force. An attempt to establish a team in Paris in the mid-1990s failed miserably. And the fact that Catalans' triumph on Saturday was buried away on page 29 of L'Equipe, the country's sports daily, offers some indication of where the "jeu à treize" sits on the national radar.
"In France, it's mostly about soccer," says Casty. "Soccer is huge, and rugby union too, so it's hard for us. It's good winning the Challenge Cup, but we need to win something with the French [national] team, and that is a big step."
What it does have, on the other hand, is passion. Dragons fans are more fanatical about rugby league than virtually any other set of supporters in the world. Partly it's that frontier spirit, that sense of being all alone on the edge on the world. Partly it's that sense of affront, the legacy of a stolen history, the defiance of a sport first wronged and then ignored by those in power. "When I was young, you had something in your heart," Casty says. "It hurts. You feel bad that it's not a good sport, they win nothing. You have a fire in your belly."
It's a blue-collar area, which explains why only about 5,000 were able to make the trip to London at peak holiday season. Many fans had already taken several trips already this season and hadn't budgeted for another. "People at home were heartbroken," says the club's English coach Steve McNamara. "They're working-class people, they don't get anything handed to them, and to take this [trophy] back is worth its weight in gold. We've gone down in history."
The next task is to convince the rest of the country. "The difficulty we have now is that it's not seen as a pretty game in France: you just carry the ball, you tackle hard, you give it someone else," says Casty. "We have to try and change this mentality. We are on television - beIN Sport helps us, now everyone in France can watch a rugby league game. When I was young, it was just rugby union on TV. Never rugby league."
Casty reckons - optimistically - that it will be at least "four to eight years" before France are ready to challenge on the international stage. At club level, though, the picture is healthier. From being a club predominantly propped up by Australian expatriate talent, nine of the Catalans 17 at Wembley were French, bringing all the quintessentially Gallic qualities - individual artistry, creativity, clever kicking and above all a desire to entertain - that were encapsulated by Gigot's brilliant, game-changing 40/20 kick in the second half.
t's not just Catalans, either. Toulouse have been on a run in recent seasons, and are currently scrapping in the qualifiers for promotion to Super League. In the medium term, McNamara wants to build on this triumph and create a team capable of challenging for Grand Finals, of smashing the traditional triumvirate of Wigan, Leeds and St Helens. The arrival next season of Sam Tomkins, one of the biggest names in the sport, should help them. And in the long term, perhaps some of the younger viewers of Saturday's game will have their interest sufficiently piqued to head down to their local club and pick up a ball.
Gigot was asked what he thought the legacy of Catalans' win might be on the next generation. "To make them dream," he replied. And from the Royal Box at Wembley to the airport terminals of Perpignan to the flickering front rooms of a nation: it's the end of one journey, but it may just be the start of another.
Register for free to continue reading
Registration is a free and easy way to support our truly independent journalism
By registering, you will also enjoy limited access to Premium articles, exclusive newsletters, commenting, and virtual events with our leading journalists
Already have an account? sign in
Join our new commenting forum
Join thought-provoking conversations, follow other Independent readers and see their replies