England vs New Zealand: Steve McNamara wants better start for England to seal historic series victory
England stand on the brink of winning the best-of-three series at London's Olympic Stadium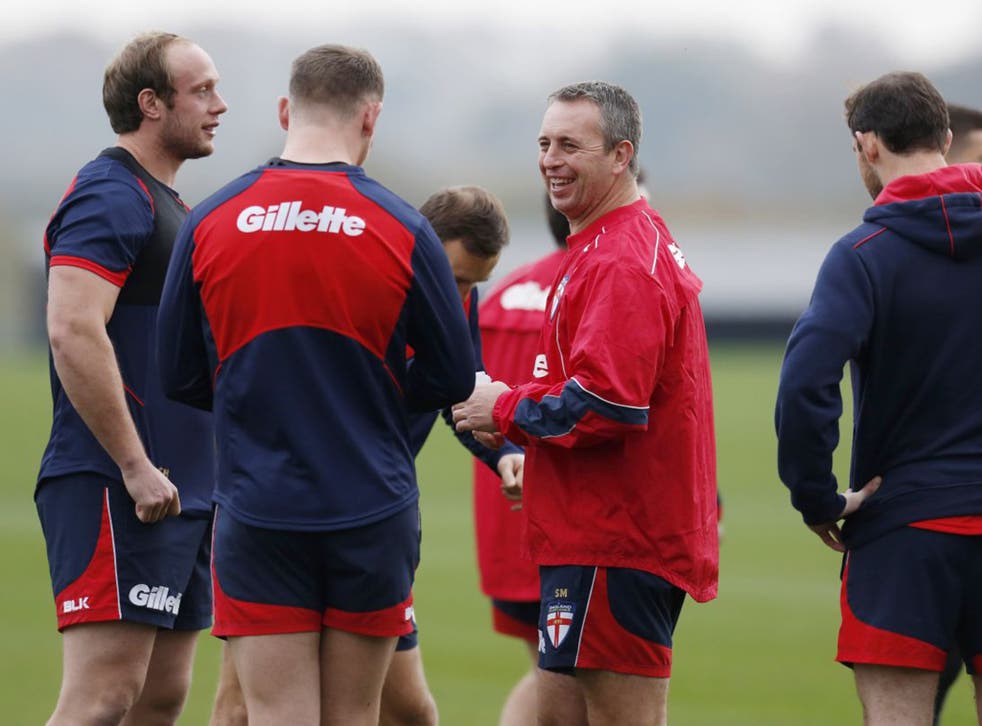 When Sam Burgess returns to the England rugby league team, he could be rejoining a side with global ambitions.
New Zealand, the 2008 World Cup winners and currently ranked above Australia as No 1 in the world, were beaten in Hull on Sunday and take on Steve McNamara's side again this weekend.
England stand on the brink of winning the best-of-three series at London's Olympic Stadium. Beating a below-strength Kiwi team might not be too much upon which to base a claim of international prowess, but when you have not got the better of southern hemisphere rivals since 2007, it will do to be going on with.
Although McNamara has already publicly welcomed Burgess back from his sabbatical in rugby union, re-integrating him into the national side is a job for later.
More pressing is the question of whether players like his younger brother, Tom, James Roby and Brett Ferres can have the same sort of impact that they had in the 26-12 win at the KC Stadium. If ever there was a match won off the bench, this was it – and therein lies the challenge.
It has become a cliché of sport that when a team wins a match it immediately insists that it will need to play better next time out. The meeting between England and New Zealand on Saturyda afternoon might just be one that justifies that warning. England won by what looked like a handsome 14-point margin, but that was only half the story.
McNamara and his players know that it could all have been very different. England could have gone in at half-time 18-0 down but for a couple of line-ball decisions which went in their favour – and there would have been no coming back from that. "We improved as the game wore on in certain areas," said McNamara. "I do feel, though, that we left ourselves with too much to do with the start we made. We've got to put that right."
In other words, England will not get away with it again.
Not surprisingly, McNamara has named an unchanged 19-man squad, with every indication that this will become an unchanged 17 for the first game of rugby league at the Olympic Stadium.
His opposite number, Stephen Kearney, has made limited adjustments but potentially significant ones. Out go two of the younger players who will be part of the next Kiwi generation, the Brisbane hooker Kodi Nikorima and the massive forward Sio Siua Taukeiaho.
Into their places on the bench come two relative veterans, Lewis Brown of Penrith and Brisbane's Alex Glenn. It is as good as an admission from Kearney that, when things started to go wrong in the second half at Hull, he lacked the experience to bring on and steady the ship.
"Both those guys were unlucky to miss out the previous week and offer a great deal of experience," Kearney said. "Looking at last week's game, that will be an improvement for us."
The Kiwis, meanwhile, are playing to preserve the title of No 1 in the world – a badge they have not often worn in this code of rugby.
They will not want to give it up on a tour to England with a weakened team, so they can be expected to show more fire than they did on Humberside. The Kiwis might lack a Benji Marshall or a Shaun Johnson – to name but two players who have tormented England in the recent past – but they have a strong sense of will-power, something that will have been sharpened by the All Blacks' success in their World Cup.
That could make it a compelling contest with which to break new ground for rugby league, in front of a near full house in Stratford. Not only that, but the third game at Wigan is already sold out for what might be a dead rubber next week – surely a reminder to the code's movers and shakers of the potency of international competition.
Probable teams: England Hardaker; J Burgess, Watkins, Bateman, Hall; Widdop, Williams; Graham, Hodgson, Hill; Whitehead, Farrell, O'Loughlin. Subs Roby, T Burgess, Ferres, Cooper. New Zealand Tuiuvasa-Sheck; Nightingale, Kahu, Whare, Kenny-Dowell; Hiku, Lolohea; Bromwich, Luke, Moa; Proctor, Harris, Blair. Subs Brown, Taupau, Matulino, Glenn. Ref G Sutton (Aus). TV BBC1, 2.30pm today.
Join our new commenting forum
Join thought-provoking conversations, follow other Independent readers and see their replies