Leeds Rhinos storm to victory in Grand Final to deny Castleford fairytale ending
Castleford Tigers 6 Leeds Rhinos 24: The 2015 champions were exceptional as they stunned the league leading Tigers, a team who had beaten them four times this season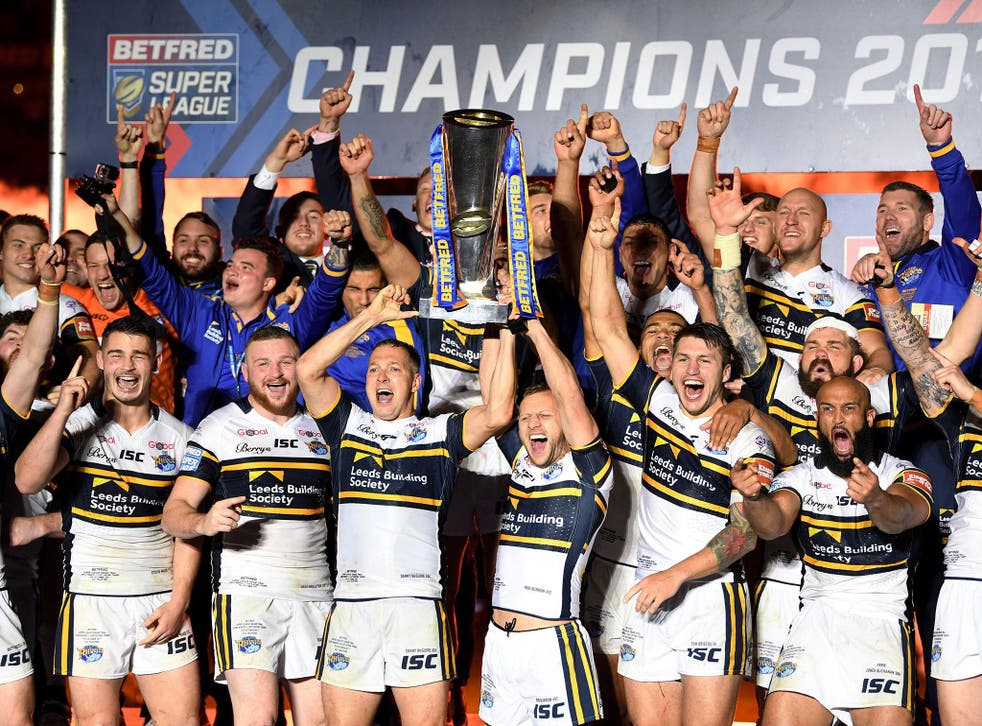 In driving rain at Old Trafford, Castleford's dreams of a first league title were drowned, deluged, demolished. They ran into one of the great Grand Final defensive performances from Leeds Rhinos. They ran into a team that knows better than anyone else how to manage these big occasions. They ran into Danny McGuire, the Leeds captain playing his final game for the club, who ran the show so consummately he may as well have been waving a baton.
That Castleford so resoundingly failed to show, having dazzled Super League all season with their mesmerising attacking play, was a genuine shock. But it was also a testament to Leeds's sustained excellence, stifling a team who had beaten them four times this season, running up 156 points in the process.
As so often, though, Leeds turned the heat on when it mattered. This is their eighth Super League crown in 14 seasons, and on a wet evening, with the ball slipping around like soap, they played the perfect, disciplined, frill-free game, squeezing Castleford's pressure points until they popped. The Tigers will wonder, in the traumatic days and weeks ahead, how a team so well-drilled and well-honed could commit so many basic handling errors.
"It's going to be pretty numbing," said Castleford coach Daryl Powell. "This'll hurt for a long time. But I would like them to remember how outstanding they've been this year. I said they've got to use this as fuel. But you get a lot of blank eyes looking back at you."
Might things have been different if Zak Hardaker, Castleford's inspirational full-back, had been on the field rather than watching on television after being left out for disciplinary reasons? Perhaps. The Tigers missed his vision, his craft, his poise. His replacement, Greg Eden, was mercilessly exposed under the high ball. Man of Steel Luke Gale, meanwhile, was a ghost. Leeds had all the energy, all the cutting edge.
And of course, they have their own tale of renaissance to tell. Castleford may have captured the hearts of the romantics and the neutrals with their spectacular rise under Powell, but a little over a year ago Leeds were staring into the abyss and facing the genuine prospect of relegation from Super League. Coach Brian McDermott made it his personal mission to drag the club back to their former pedestal, and in a way this triumph was a fitting reward for Super League's longest-serving, stubbornest coach.

"Castleford have been more skilful than us this year," McDermott said. "But I question anyone who says they've worked harder than us. Grand Finals are won on many different facets, one of them sheer bloody-mindedness not to lose. This isn't the coach's win, this isn't even the players' win. This is for the club."
That bloody-mindedness was evident from the start. The Castleford fans getting off the tram at Old Trafford looked left and right. The Leeds fans only looked right. They knew where the station exit was. They had been here many times before. And when Castleford turned down an early two points and failed to break the Leeds line, the pattern of the match was set.
Tom Briscoe broke the deadlock on 11 minutes, gratefully clinging on after Jy Hitchcox had failed to claim a high ball. McGuire, meanwhile, was making his presence felt at both ends of the pitch, forcing a crucial fumble from Eden just as he was about to go over in the corner, and then putting over a drop goal on the half-time hooter to extend the lead by a point.

The half-time entertainment – Razorlight performing 'Before I Fall To Pieces' – offered a portent of what was to follow. A high kick by Joel Moon; Eden flapped ineffectively at it under pressure from Ryan Hall, and McGuire was there to pick up the loose ball and dive triumphantly over the line.
And that, even though there were only two scores in the game, was pretty much where the wheels started to fall off for Cas. Adam Milner messed up a simple play-the-ball. With 20 minutes to go, Briscoe went over again in the corner to make the game safe. Rob Burrow, also playing his last game for the Rhinos, received a rapturous welcome as he sprang off the bench for one last valedictory run-out. McGuire touched down again after a fumble by Mike McMeeken.
With seven minutes remaining, the Tigers finally looked like they had their score. Hitchcox darted down the left and shoved the ball inside to Eden, only to put a foot in touch just before he released. Instead, McGuire turned the screw with a simple, utterly unnecessary drop goal.

Two years ago, all the talk was of how Leeds would replace the inspirational Kevin Sinfield, Jamie Peacock and Kylie Leuluai. Now, how do they replace McGuire, who moves to Hull Kingston Rovers next season? "You don't replace them," McDermott insisted. "You don't go finding another Danny McGuire, because there isn't one. You just adapt and evolve."
The last word, really, should go to McGuire, a unanimous and popular choice as man-of-the-match. "You want the fairytale ending, don't you?" he said. "All week we spoke about leaving everything out there, and it's easy when you've got a bunch of players running through brick walls for you."
There was still time, however, for Castleford to avoid the ignominy of becoming the first team ever to end a Grand Final scoreless. With a little over a minute left, Gale nudged a little kick and Alex Foster plunged over. A few defiant orange flags waved in the Stretford End. Castleford had got their fairytale, all right. Just not the one they wanted.
Join our new commenting forum
Join thought-provoking conversations, follow other Independent readers and see their replies