The self-sufficient second-rower heads back to his Whitehaven roots
Brother's death in the Cumbria shootings and his dad's illness have made Rob Purdham quit Quins for the family farm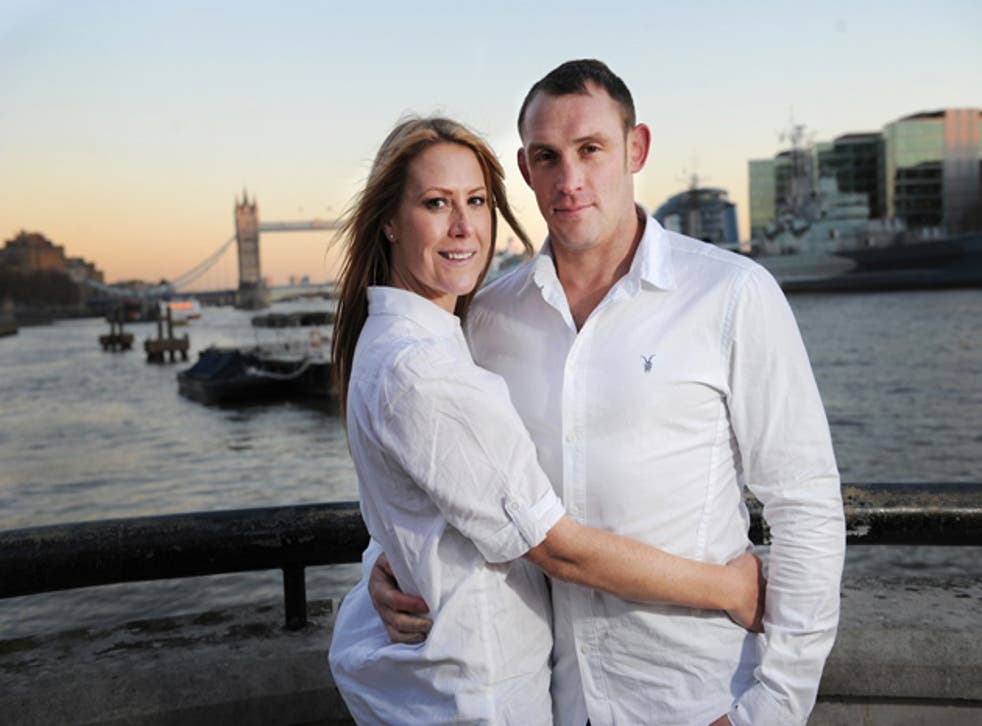 After ploughing the often lonely furrow that is rugby league in London for 10 years, Rob Purdham is leaving a legacy as he goes back to the soil of his native Cumbria.
The captain of Harlequins RL plays his final game for the club at home to St Helens today. It also marks the end of his testimonial season, but instead of the usual valedictory brochure that most players leave behind, Purdham is bequeathing food for thought.
He is giving up Super League and returning to the family farm near Whitehaven, partly because of the death of his rugby league-playing brother, Garry, in the West Cumbria shootings last year and partly because of his father's illness.
His parting gift, which will benefit three charities close to his heart, is a combination of cook book and treatise in support of British farming entitled From Farm to Field, assembled with his wife, Sarah.
"I'm always being asked by people 'What does Rob eat?' and 'Are rugby players on a special diet'?" she says.
The answer is provided by a selection of favourite recipes, including some hearty stews and soups with a distinct Cumbrian flavour, some more exotic, like pesto and spring onion chicken and salt and pepper squid.
Well, he has lived in London for a decade. In fact, he is the only player from the North who has lasted that long, going all the way back to Fulham setting up shop in 1980.
Purdham signed for what was then the London Broncos in 2001. "But for that, I don't know if I'd ever have come to London," he says. "I'd never been before that." Despite that, he put down roots – in more ways than one – in a manner that few players transplanted to the capital have done.
His house in Surbiton – appropriately, the area where The Good Life was set – has a patch of land which he turned into a vegetable garden, making the Purdhams self-sufficient in the best Richard Briers-Felicity Kendall tradition.
"My interest in growing vegetables goes back to growing up on the farm," Rob says. "My diet used to be terrible, though. I lived on bacon butties.
"Nutrition's a massive issue in a sport like rugby league. You can't run a Ferrari on diesel. Nothing tastes as good as what you grow yourself. If you can't do that, the book encourages you to buy local, ideally straight from the farm."
Throughout his long exile in London, Purdham, whose highlights have been five England caps between 2006 and 2008, has never lost faith in the ability of rugby league to thrive on alien soil.
"If we're ever going to match Australia and New Zealand, we need to get the game played all over the country at the highest level – not just a token club in London. Mind you, we need a Cumbrian side in Super League too. At the moment, talented lads get to 16 and have to decide whether to leave the area to pursue a professional career. It's not a choice they would have to make if there was a Super League club in Cumbria."
All three of the county's part-time professional clubs – Whitehaven, Workington and Barrow – have approached him about playing for them next season. He has deferred a decision on that, although Whitehaven are the obvious favourites. "I have to see how it goes. The main reason I'm going back is to be with my family and to help my dad on the farm," he says. "It was always in my mind, though, that I might go back to Whitehaven and then maybe go full circle by finishing off at my amateur club at Egremont."
Garry being gunned down in such shocking circumstances was followed by his father being diagnosed with cancer – and that was when Rob knew it was time to go home. "I missed those 10 years with my brother," he says, "and you don't get that time back."
Those events, which made him consider immediate retirement at the time, are also reflected in two of his chosen charities, Cancer Research and the Rugby League Benevolent Fund, which provided the family with much-appreciated support in the aftermath of his brother's murder.
The third charity underlines the way he has made the big city his second home – Help a London Child. "We've loved our time down here," Purdham says. "Although it will be an emotional afternoon and not the way I planned on it ending, I'm already looking forward to next season and following the team's results."
He is convinced that, after a couple of difficult seasons, those results will improve markedly. "They are signing some good players and, for the first time in a few years, they will be spending up to their salary cap. I would love to have been a part of it.
"I'm very proud that I'm the first player here to have had a testimonial year, but I really wanted to make the most appearances and I'm just going to miss out on that."
For the record, Purdham will fall a few matches short of the record set by Steele Retchless, one of the numerous former London players with whom he has stayed in touch.
It is, Purdham says, that sense of togetherness that has kept the club going. "If a few of us hadn't decided that we were staying a year ago, the club could have folded. Now I'm sure there are better times ahead."
There are different times ahead for the Purdhams, back on the Cumbrian fells, with their first baby due on Christmas Eve. Rob will be taking a long-distance view of his former club, soon to be known once more as the London Broncos. He will not be there to see the harvest at first hand, but few have done more to sow the seeds.
'From Farm to Field' is available from the Rob Purdham Testimonial website for a suggested donation of £14.95.
Join our new commenting forum
Join thought-provoking conversations, follow other Independent readers and see their replies