Bianca Belair on winning the 2021 WWE Women's Royal Rumble and inspiring the next generation
Belair became the first black athlete to win the women's Rumble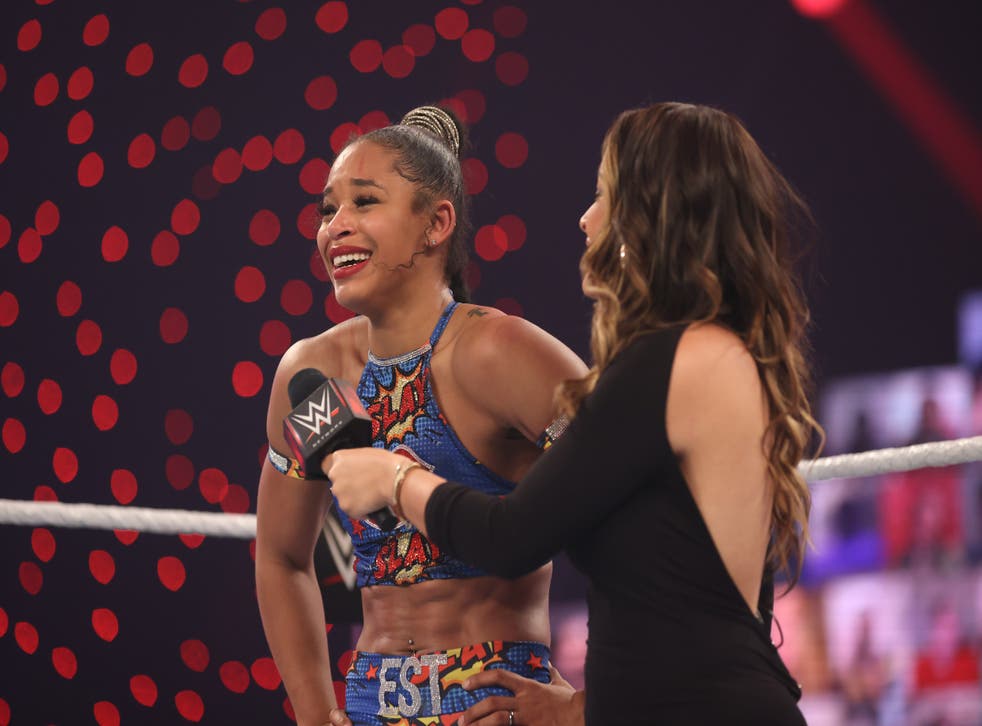 2021 WWE Women's Royal Rumble match winner Bianca Belair radiates positivity and maturity in a way that far belies her relatively young years. The 31-year-old enjoyed the biggest moment of her professional wrestling career by far this past Sunday, spending almost an hour in the ring to win the bout.
Rumble winners traditionally go on to feature in marquee matches at the company's biggest show of the year – WrestleMania – in the Spring, so it's no small endorsement to the starlet's popularity and talent that she's already been afforded such an opportunity.
The moment itself transcended wrestling and entertainment. By being the last competitor standing in the match, Belair became the first black athlete to win the women's Rumble.
Yet so assured and composed as she is when speaking to an assembled mass of international media including The Independent, it would be a gross understatement to say she was taking it all in her stride.
That's not to say she doesn't realise the enormity of the whole affair – she described it as "amazing" – but it speaks to her drive and focus that the Tennessean wasn't even aware of her achievement until after the show had gone off the air.
"Being the first black woman to win a Royal Rumble match is an honour," she admitted. I take my platform very seriously and representation is a huge, huge thing. I'm so glad that I can be a part of it - I get to go down in the history books and it is amazing.
"What I pull from that is that I had no idea that statistic existed until I got backstage when someone pulled me aside and actually told me. I didn't even realise I was creating history in the process of being unapologetic in who I am in going after my goals.
"I just want that to be motivation for everyone else out there that you don't always have to go through the history books to find history. There's history within your own self and you can create your own... there's history within your own family. Just by staying true to yourself and going after your own goals and accomplishing them, you are creating history for yourself.
"I want everyone else to see that and use that as an inspiration."
It's modest of Belair to only hope her victory on Sunday will inspire – there's absolutely no doubt that it will.
Just as it will act as a pivotal moment for many millions of youngsters and would-be athletes of all ages, genders and backgrounds, it will also, she hopes, do plenty of good close to home, too.
Professional wrestling is far from an industry in which it's easy to find success and stardom. To an extent, the former Crossfit competitor's path to the higher echelons of the company has been more straightforward than many – or at the very least it's been quicker; just five years ago she embarked on her first WWE try-out at a time when she confesses, she "knew nothing."
It's for those who are finding that path more difficult to tread that she also wants to act as a ray of hope – and a reminder that the "grind" us is worthwhile.
She added: "I'm someone who had a unique journey to get to WWE. I didn't come from [within] the wrestling industry. Sometimes through life, we have plans and things change, and you end up somewhere you'd never thought you'd be, and you realise this is what was meant for you.
"So my story just shows that the possibilities are endless in life. In NXT with the people who are coming in and just getting started, I was there and was just getting started five years ago. I didn't know anything, I didn't know how to do a headlock or a wristlock, and I'm here now.
"I hope that does inspire the wrestlers down in NXT. I know the positions they're in and how much of a grind it is, and that you have to fight to get to where you are - the patience of it all.
"It is possible and it happens, and I'll tell you this - the journey might be wild and might get tricky with some ups and downs, but when it all comes together, it all makes sense and it's all worth it. You won't have any regrets."
Having made history around the world, inspired those watching at home and those toiling behind the scenes at the same craft, where does such a momentous week leave Belair the person?
Typically, predictably, the 'EST of WWE' is as grounded and unflappable as ever – as poised talking about her own journey as she is about the impact it has on everyone else.
"At this point now," she goes on, "I feel like I've learned so much about patience and about focusing on the things that you can control. Your happiness is the most important thing and I say all the time that I just want to be happy. I want to enjoy what I'm doing and don't want to be frustrated, and angry and bitter with what I'm doing.
"I always try and find a purpose in what I am doing - even when it comes to wrestling... when I go into a wrestling match I'm trying to find a purpose for why I want to win. Through that, it brings happiness.
"I think i am just evolving as a person and no matter how old you get, you're never gonna stop learning. I'm never going to know it all and I'm always thirsty to get better. I want to get in the ring with as many girls as I can, with Sasha Banks, Bayley, Charlotte, Nia Jax - all these women I want to get in the ring with and learn, and keep getting better.
"Winning the Royal Rumble match, I feel like I am getting started... I haven't even scratched the surface yet."
Watch Bianca Belair each week on WWE's Friday Night Smackdown, airing at 1am on BT Sport. For more details visit wwe.com
Register for free to continue reading
Registration is a free and easy way to support our truly independent journalism
By registering, you will also enjoy limited access to Premium articles, exclusive newsletters, commenting, and virtual events with our leading journalists
Already have an account? sign in
Register for free to continue reading
Registration is a free and easy way to support our truly independent journalism
By registering, you will also enjoy limited access to Premium articles, exclusive newsletters, commenting, and virtual events with our leading journalists
Already have an account? sign in
Join our new commenting forum
Join thought-provoking conversations, follow other Independent readers and see their replies