Tyler Bate is crowned WWE UK champion
WWE legend Edge opens up on his injury nightmare, triumphant return and knowing when to retire
Canadian star made his second major comeback inside 15 months at the Royal Rumble
WWE legend Edge admits he never considered calling it quits after his damaging injury last year - but says he'll be honest in not "outstaying his welcome" in the company.
The Canadian star is enjoying the highs of another high-profile return to the ring, having won Sunday's Men's Royal Rumble match.
It was his second major comeback inside 15 months, too, with the 47-year-old stunning fans with an incredible return at the 2020 Rumble event, some nine years after being forced to retire with a serious neck injury.
That in itself seemed to be enough of a fairytale for anyone. Edge, real name Adam Copeland, went on to enjoy one of the company's best storylines of that year with Randy Orton.
It had been at arguably its hottest point when the two met at Backlash in April, Edge suffering a torn triceps near the bout's conclusion.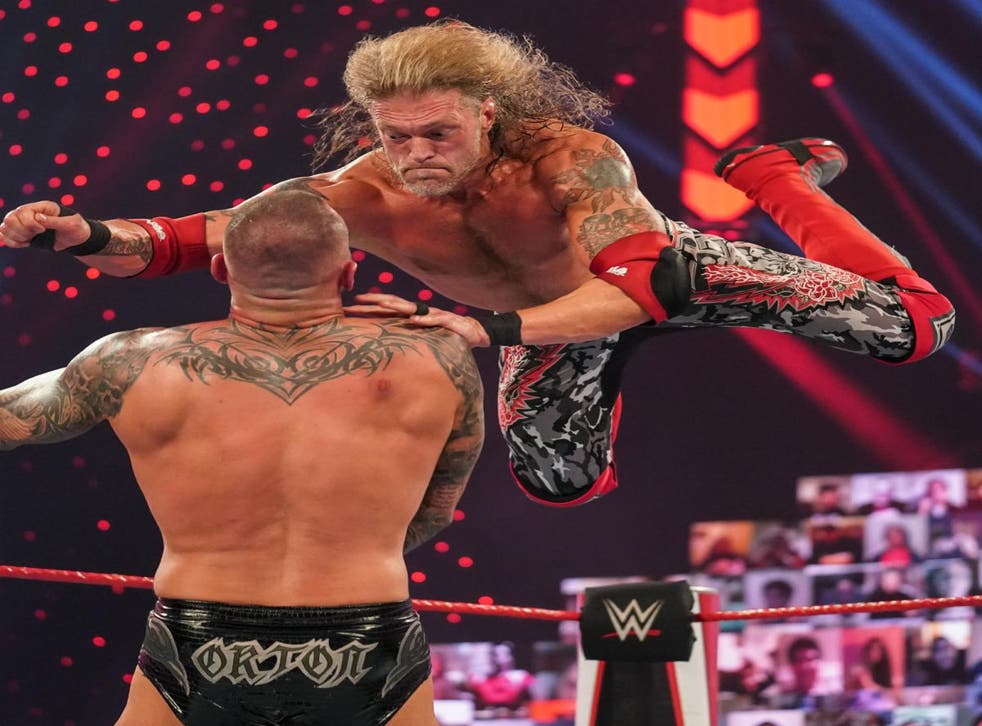 It meant that after years battling to get cleared and to overturn numerous Doctors' decisions to let him return following the better part of a decade out, he was once again be back on the sidelines.
Speaking to The Independent, the man himself rightly pointed out that a torn triceps was some way shy of the triple neck fusion surgery he had all those years ago, but it nonetheless gave him many more months to mull things over.
With the injury coming so soon after such an incredible return, was there ever a point he considered hanging up his boots and calling it a day?
"No," he said defiantly. "I knew that wasn't going to be it. It couldn't be it. "I didn't scratch and claw back from a much more serious injury than a torn triceps - not that that's nothing, but triple fusion in your neck is much more invasive... I knew that if I can get back from that, I can get back from this. 
"It's just a matter of putting in the work - and that being said, at my age I have to put in twice the work that I used to have to put in to get back from an injury. 
"So now I just know there's more work, there's more sweat equity - there's just more of that involved, but I'm okay with that. I'm at a point in my life where I'm not afraid of hard work, I actually almost kind of enjoy it because it makes that end result more satisfying. 
"So there was never a point where I was like 'This is just someone trying to tell me [this is the end]. It's just one more roadblock, and it just makes the story all that more.. if it were too easy, there's no story. So we have to take these things that get thrown in our path and I'm going to use them.
"Yeah I tore my triceps, but I worked four hours a day in the gym to get back, and that's real, so let's tell it."
Copeland the man is cripplingly self-aware and is armed with a self-honesty that would serve many in the wrestling business well.
That's why, at 47 and with the storied career behind him, he readily admits he can't keep going forever. That brings about the one question that all successful athletes have to ponder - when to stop.
It's perhaps more pointed in wrestling than many an industry. History is littered with stories of those past their prime pushing their bodies beyond all natural limits in the pursuit of former glories.
It's only right to say that, right now, Edge is far from that. With an hour under his belt at the Rumble and a stellar main event against Orton on Raw the following night, there's no argument he's putting himself and his fellow performers at risk just by being there.
He knows, though, he has to make the most of what is an extended second chance at finishing his career on his own terms. For now, he wants to help WWE's next generation of talent and give back to the business that's given him so much.
Of the mortality of his in-ring days and whether he has a time in mind, he pauses thoughtfully before smiling and adding: "You know, that's the hard part. That's the hard part to say. 
"What I will say is that I'll be gone before a young talent looks at the [match] sheet and goes 'this is going to be difficult' - I don't want to be that guy. I want to be the guy that the young talent looks at and goes 'Oh man, this is gonna be [great], I get to get in there with him!'
"I don't want to overstay my welcome and I want this run to help, I don't want it to hinder and I don't want to take away from the business, the industry and the talent. I want to add.
"While I can do that, that's what I want to do. I have to be honest with myself, I know that, and I also have my inner circle [who are] brutally honest with me."
We've had the discussion and Beth [Phoenix - his wife] is gonna tell me 'It's time - you're embarrassing yourself now.'"I don't want to get there, so it'll be before that - but I don't know when that is, I honestly don't."
WWE airs Monday Night Raw, NXT on Wednesdays and Friday Night Smackdown, all live on BT Sport. For more details visit wwe.com
Join our new commenting forum
Join thought-provoking conversations, follow other Independent readers and see their replies